Friday, August 6

1:00 ET
10:00 PT
The HR Department of One Workshop
In this 75-minute dynamic online training, you will learn how to:
Master your compliance & employee duties.

Real-life advice from a true expert with 30+ years as an HR pro, business owner and consultant.

Get control of your HR day.

Use the "HR Pyramid" to set priorities and align HR with your organization's goals.

Create a more strategic, in-demand role.

Learn the skills to become an HR partner your C-suite wants (and will make yourself more marketable).
Essential tips to make your HR job easier, more efficient and less stressful
Sole HR practitioners are pulled in a million different directions. Employees want answers to their questions now … the exec team expects you to have CHRO knowledge … all the compliance and admin burdens fall squarely on your shoulders. And the pandemic has only doubled your duties and your stress.
You need help. On August 6, take 75 minutes to rethink how you're doing your job. Discover dozens of practical, real-world tips to become successful in running your one-person HR show. A true HR expert, consultant Lori Kleiman, SPHR, will help you grab control of your workday and shine in the HR function. Plus, each attendee will receive a copy of Lori's popular book, HR You Can Use (see below).
No matter how many people are on your HR team, these tips and techniques will be helpful. But for a department of one, they're absolutely essential. This will be a fast-moving, advice-packed 75 minutes. Lori's training mixes a sense of humor with real-world examples that will instantly help improve your HR performance.
Agenda for The HR Department of One Workshop
Align HR's goals with the strategic actions of the organization.
Identify your key administrative, functional and strategic tasks—and which are most important to your boss (print the "HR Pyramid" for your bulletin board!).
Find out what your CEO wants from you—and what to do about it.
Take simple steps to ease your stress.
Explore external relationships and opportunities that will improve your HR career.
Understand and improve your vendor management process.
Complete a valuable HR assessment, using the handy checklist.
Know which functions to outsource and which to keep in-house (don't outsource yourself out of a job!).
Embrace technology to ease your burden and show your innovative side.
Push for your HR priorities—and get them funded.
Interactive Q&A time included
Get answers about your specific one-person HR issue during the Q&A session.
Lori Kleiman, SPHR, has a background as an HR professional, business owner and consultant that gives her unique insight into how HR professionals can achieve their business and personal goals. Lori is the president of HR Topics and has consulted with more than 450 companies to improve their HR functions. She teaches HR courses at DePaul University and is the author of HR-related books, including Fire HR Now! and HR You Can Use. She speaks regularly at national HR conferences and she makes sure participants learn practical tactics … have fun … and leave with action steps in hand.

Lori Kleiman

HR professional and consultant
Professional Certification Credit Hours Included With This Webinar
Business Management Daily is recognized by SHRM to offer Professional Development Credits (PDCs) for the SHRM-CP® or SHRM-SCP®.
The use of this official seal confirms that this Activity has met HR Certification Institute's® (HRCI®) criteria for recertification credit pre-approval.
Register now and receive this free bonus!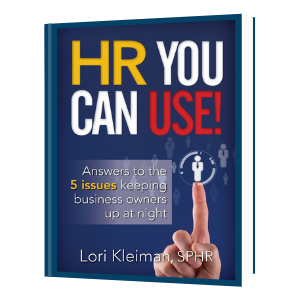 HR You Can Use
The sad truth is that most businesses have a self-defeating approach to HR. Lori Kleiman's 140-page book, HR You Can Use, aims to help business leaders embrace HR (and vice versa) in an effective and affordable way. You'll receive a downloadable copy simply for attending the webinar. Lori's motivation for this book was more than 30 years in the businesses as an HR professional, business owner and consultant.
We promise you'll be satisfied.
If The HR Department of One Workshop fails to meet your needs in any way, we will refund 100% of your tuition – every penny you paid – but your course materials and registration bonuses will be yours to keep. No hassles, no questions asked.