Thursday, April 21

1:00 ET
10:00 PT
The I-9 and E-Verify Compliance Workshop
During this 75-minute online training, you'll learn how to:
Understand all the new changes.

The pandemic rewrote your I-9 obligations … and Biden is changing things again.

Survive the spike in I-9 audits.

Employee inspections are up 400% and expected to rise.

Comply with the new form.

Strict compliance is your only hope. We'll teach you how.
When it comes to government fines & HR headaches, the I-9 tops the list
For HR departments, the legal process for completing I-9 forms has changed more in recent months than in the past 30 years. The same is true for the E-Verify system. One thing that hasn't changed: Federal audits of I-9s are skyrocketing—up more than 400%.
Your only protection against serious financial penalties—and even criminal prosecution—is strict compliance with all these changing rules. On April 21, take time to make sure your employment verification practices comply with all the new federal and state changes in this timely new webinar.
Join John Fay, one of America's top experts on employer immigration, to discover your legally smart steps to navigate this shifting environment and remain compliant in 2022 and beyond.
Agenda for the I-9 and E-Verify Compliance Workshop
Your I-9 and E-Verify compliance obligations have changed ... here's how you MUST revise your policies/practices in response
Now that virtual verification is allowed, here is John's 6-step SOP flow chart for completing I-9 forms remotely (print the handout)
Almost anyone can now serve as an "authorized representative" to review I-9 documents … how do you benefit?
What's new on the updated I-9 form and a list of acceptable documents
The latest enforcement trends, including how ICE auditors are conducting audits and what they're looking for
How to handle the E-Verify process during the pandemic (DHS is giving new flexibility!)
How to plan for even more compliance obligations and enforcement coming from the Biden administration
How to revise your own I-9 and E-Verify policies and procedures in light of all these new changes
Dealing with new electronic signature requirements, delayed EADs, I-9 remediation and much more!
Interactive Q&A time included
Bring your trickiest I-9 and E-Verify questions.        John will answer them and provide expert resources.
John Fay is an immigration attorney with a unique background in advising organizations on immigration issues and designing technology for HR compliance. In addition to his immigration practice, he is the president and general counsel for LawLogix, a division of Hyland, a leading provider of I-9 and E-Verify compliance software, where he oversees product design and content compliance. John is a sought-after speaker on this topic at national conferences and is the main author of the popular I-9 and E-Verify Blog.

John Fay

immigration attorney and author
Professional Certification Credit Hours Included With This Webinar
Business Management Daily is recognized by SHRM to offer Professional Development Credits (PDC) for SHRM-CP® or SHRM-SCP® recertification activities.
HRCI has pre-approved this activity for recertification credit toward the aPHR®, PHR®, PHRca®, SPHR®, aPHRi™, PHRi™, GPHR® and SPHRi™ certifications. The content of the activity submitted has met the criteria of the Approved Provider Program.
Register now and receive these free bonuses!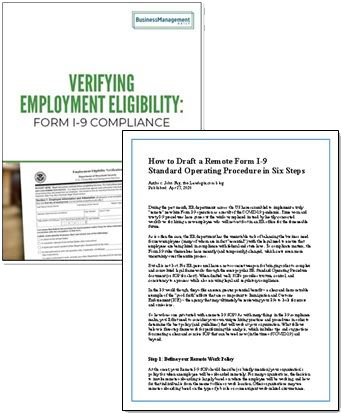 Verifying Employment Eligibility: Form I-9 Compliance and How to Draft a Remote Form I-9 Standard Operating Procedure in Six Steps
Everyone who signs up will receive our updated special report, Verifying Employment Eligibility: Form I-9 Compliance, which explains the correct step-by-step actions to complete your I-9 forms. Plus, you'll receive John Fay's timely new white paper, How to Draft a Remote Form I-9 Standard Operating Procedure in Six Steps, which includes a flow chart that walks you through the legally safe HR steps to completing I-9s remotely.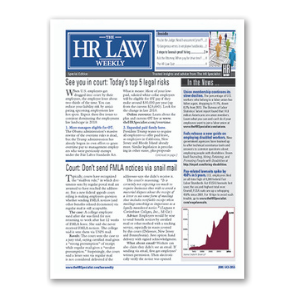 5 free issues of The HR Law Weekly newsletter
We'll also show you how to "lawsuit-proof" your HR practices – from avoiding handbook mistakes to training managers on hiring and firing the right way, and much more.
To make sure you continue to benefit from this advice, we'll keep The HR Law Weekly coming for just $79/quarter until you tell us "no, thanks."
We promise you'll be satisfied.
If the I-9 and E-Verify Compliance Workshop fails to meet your needs in any way, we will refund 100% of your tuition – every penny you paid – but your course materials and registration bonuses will be yours to keep. No hassles, no questions asked.