Friday, April 28

1:00 ET
10:00 PT
I-9 Workshop:
Legally Verify Employees and Comply with Confidence

Develop solid, audit-proof I-9 practices
During this 75-minute online training, you'll learn how to:
Confidently review and assess employee documentation

Properly verify and file correct paperwork

Appropriately manage records
Avoid common I-9 mistakes with serious consequences
Getting I-9 verification right is serious business. Consider the potential consequences for missing a fraudulent document and letting a new hire who isn't legally authorized to work slip through. These range from hefty civil penalties to criminal prosecution, not to mention the negative publicity accompanying a raid. And one of the agencies responsible for enforcing the nation's immigration laws, and U.S. Immigration and Customs Enforcement (ICE), has made no secret of their plan to increase both I-9 audits and workplace raids when it suspects employers are turning a blind eye to obviously altered or fake identification.
Then there is the recently announced joint task force aimed at stopping illegal child labor. As part of a new initiative, DOL will initiate investigations where child labor violations are most likely to occur and seek injunctions, penalties, criminal referrals and goods embargos. With over 600 active investigations underway and a record $1.5 million employer fine for using child labor illegally, DOL isn't letting employers off the hook when they don't catch obvious age discrepancies when completing I-9s. The fact is, a routine I-9 audit will reveal sloppy verification. It's more important than ever to make sure documents are in order.
But that's not all. There are documenting problems with the current flood of H-1B visa holders laid off from their visa-sponsored jobs. Employers not used to hiring workers holding a  H-1B visa may not understand what to do next to secure the new employee's legal right to work, including petitioning USCIS to extend the visa.
Agenda for the I-9 Workshop
I-9. Know how to complete the I-9.
Worker's choice. Understand when and if you can challenge documents workers present and when you can't.
Fraud. What to do when you suspect altered or counterfeit documents.
Visas, green cards and citizenship. Understanding the limits of each type of work authorization and any additional requirements that come with each.
Reverification. Know when to pursue reverification for various work authorizations.
Audits. How to handle a request for an I-9 audit, including when to call in counsel.
Workplace raids. Your rights during and after an ICE/DOL raid.
Virtual verification. Learn about the remote verification process, its limits and where it currently stands.
Discrimination. Understand when you can withdraw a job offer and when you can't based on documents submitted. Hint - it's under very limited circumstances.
Interactive Q&A time included
You'll also be able to ask Anniken your specific question about these new I-9 changes and timely issues during the live Q&A.
Anniken Davenport is a noted employment law attorney and the editor of the HR Specialist: Employment Law newsletter series. She has authored several books, including Bullet-Proof Your Employee Handbook and Overtime & Other Tricky Pay Issues, published by HR Specialist. She is the co-author of the upcoming Labor & Employment Law for the 21st Century by Prentice Hall. Anniken has served as a professor at Penn State University, where she taught business law and HR management, and she directed the Legal Studies Program at Wilson College. Her legal career includes representing government units in discrimination and other employment law cases and representing school districts in labor negotiations.

Anniken Davenport

Attorney and author
Professional Certification Credit Hours Included With This Webinar
Business Management Daily is recognized by SHRM to offer Professional Development Credits (PDC) for SHRM-CP® or SHRM-SCP® recertification activities.
The use of this official seal confirms that this Activity has met HR Certification Institute's® (HRCI®) criteria for recertification credit pre-approval.
Register now and receive these free bonuses!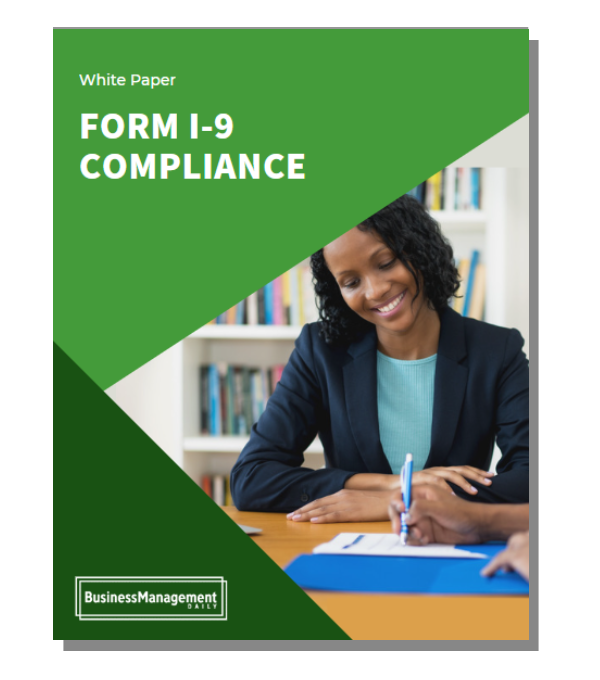 Form I-9 Compliance
Everyone who signs up will receive our updated white paper, Form I-9 Compliance, which explains the correct step-by-step actions to complete I-9 forms along with helpful compliance information such as deadlines, line-by-line details, verification requirements, exceptions, and compliance advice.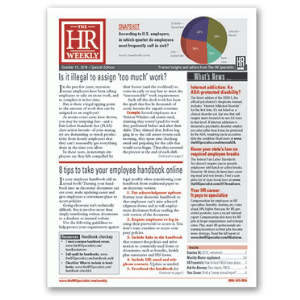 4 free issues of The HR Weekly
You'll also receive one month of exclusive access to The HR Weekly – our comprehensive service with all the HR advice and compliance tools to simplify your job … and to keep your organization out of court. So that you continue to benefit from The HR Weekly, we will continue your subscription after that for the then current rate, unless you tell us "no, thanks" – your choice.
We promise you'll be satisfied.
If the I-9 Workshop fails to meet your needs in any way, we will refund 100% of your tuition – every penny you paid – but your course materials and registration bonuses will be yours to keep. No hassles, no questions asked.