Thursday, October 6

1:00 ET
10:00 PT
During this 75-minute live and interactive online training, learn how to:
Break through rehearsed answers from job candidates

Encourage long-form responses, insight into subject knowledge, and workplace strengths

Ask questions to gauge motivation and attitude

Learn behavioral interview questions to help indicate future performance

Improve your quality of hire

Find a candidate who will add value to your company and succeed
How to identify candidates' motivation, grit, and attitude
With this historic labor shortage and quit rates at an all-time high, you can't afford to make a bad hire. That means job interviews are more important than ever to help you correctly identify the right candidates when you get the chance.
On October 6, this must-attend webinar will teach you how to ask the right questions to gauge each candidate's true level of motivation, attitude, and passion, essential drivers of employee performance. Discover how to cut through stiff, scripted answers and sort out the wheat from the candidate chaff.
Carol Quinn, one of America's foremost experts on interviewing, will help you and your managers improve your interviewing skills and discover the real truth about your candidates. For signing up, receive a print copy of Carol's 225-page book, Motivation-Based Interviewing: A Revolutionary Approach to Hiring the Best, which the former VP of Disney World called "the best book ever written on the topic of interviewing and hiring."
Studies show that properly trained interviewers are 86% more likely to make successful hiring decisions, but few HR pros and managers ever get training on interviewing. Take 75 minutes to learn the best questions to ask and how to ask them.
Agenda for Interviewer Boot Camp
Why it's so important to gauge attitude and the questions that allow you to quantify it
How to get past canned answers and gain valuable candidate information
How to expose the REAL reason why an applicant left a job & why this is so important
The effectiveness of behavior-based interview questions to determine if they are helping or hurting your hiring process
The shifty actions some applicants are taking these days—and how to sniff out their deceits
How to rephrase traditional interview questions to obtain a candidate's truth
A motivation-based interviewing technique to separate the pretenders from the genuine high performers
Interactive Q&A time included
Get answers to YOUR specific questions from a true interviewing expert
Carol Quinn is one of America's foremost experts on interviewing and hiring. She is the author of four books on the topic, a highly rated speaker and CEO of the Hire Authority consulting firm. Quinn's cutting-edge interviewing methodology is used by organizations around the world to accurately identify and select the genuine high achievers.

Carol Quinn

speaker and author
Professional Certification Credit Hours Included With This Webinar
Business Management Daily is recognized by SHRM to offer Professional Development Credits (PDC) for SHRM-CP® or SHRM-SCP® recertification activities.
HRCI has pre-approved this activity for recertification credit toward the aPHR®, PHR®, PHRca®, SPHR®, aPHRi™, PHRi™, GPHR® and SPHRi™ certifications. The content of the activity submitted has met the criteria of the Approved Provider Program.
Register now and receive these free bonuses!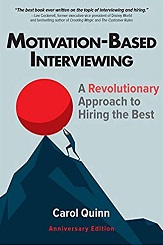 Motivation-Based Interviewing: A Revolutionary Approach to Hiring the Best
Everyone who signs up will receive a print copy of Carol Quinn's book, Motivation-Based Interviewing: A Revolutionary Approach to Hiring the Best, published by SHRM. This is the complete guide to asking the right questions – in the right way – so you can accurately assess skill, attitude and passion. Once you learn how to separate the pretenders from the high performers, you'll never conduct an interview any other way!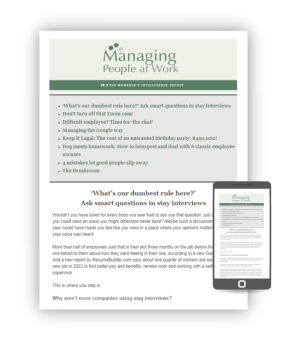 30-Day Free Trial to Managing People at Work
You'll also receive one month of exclusive access to Managing People at Work – our comprehensive online resource designed to make you a stronger, better-prepared manager. So that you continue to benefit from Managing People at Work, we will continue your subscription after that for the then current rate, unless you tell us "no, thanks" – your choice.
We promise you'll be satisfied.
If Interviewer Boot Camp fails to meet your needs in any way, we will refund 100% of your tuition – every penny you paid – but your course materials and registration bonuses will be yours to keep. No hassles, no questions asked.