Wednesday, Feb. 2

1:00 ET
10:00 PT
Learning the Law: Employment Law 101 for Managers
In this 75-minute interactive online training, give supervisors a training course that explains:
Employment laws that managers MUST know.

"They didn't understand the law" is no defense in court. It's your job to teach it.

Day-to-day legal decisions.

From hiring to terminations, managers face employment law risks every day.

Good-faith defense for lawsuits.

If your company gets sued, proving managers received this training will help prevent liability.
The most effective way to develop managers capable of legal obligations for 2022
Do your managers know what can legally be said to employees about COVID vaccines, tests, and privacy? Do they know which job interview questions are illegal? Do they know how to respond to employees' requests for leave? 
If not, their lack of basic employment law knowledge is putting your organization (and your HR reputation) at risk. On February 2, gather your management team for this ideal beginning-of-the-year training on employment laws that every manager should know.  
Learning the Law is the perfect way to help supervisors understand how their actions can inadvertently be supporting lawsuits against your organization, and possibly against the supervisors themselves. 
Bonus: If your organization gets sued, the court will investigate to see if you've ever trained managers on their legal responsibilities. This simple 75-minute training is proof to the court that HR has done its part.
Agenda for Learning the Law
Employment law 101. We'll review the top 10 decisive laws and how managers can stay in compliance.
Timely new requirements. From COVID safety and vaccines to diversity and social media.
Hiring and firing. Learn the legal way to conduct these two most legally-risky areas for managers.
Performance reviews and communications. From casual conversations to reviewing documentation, learn what to say and NEVER say.
Personal liability. Yes, managers can get sued personally. Review how to avoid this worst-case scenario.
Manage difficult situations. From accommodation requests to long-term leave, learn how managers should react to these legal curveballs.
Handling "invisible" workers. Remote employees carry a whole new set of legal risks for managers.
Interactive Q&A time included
Employment law is confusing. Get your personal questions answered by Anniken during our dedicated, live Q&A time.
Anniken Davenport is a noted employment law attorney and the editor of the HR Specialist: Employment Law newsletter series. She has authored several books, including Bullet-Proof Your Employee Handbook and Overtime & Other Tricky Pay Issues, published by HR Specialist. She is a co-author of the upcoming Labor & Employment Law for the 21st Century by Prentice Hall. Anniken has served as a professor at Penn State University, where she taught business law and HR management, and she directed the Legal Studies Program at Wilson College. Her legal career includes representing government units in discrimination and other employment law cases and representing school districts in labor negotiations.

Anniken Davenport

Attorney and author
Professional Certification Credit Hours Included With This Webinar
Business Management Daily is recognized by SHRM to offer Professional Development Credits (PDC) for SHRM-CP® or SHRM-SCP® recertification activities.
HRCI has pre-approved this activity for recertification credit toward the aPHR®, PHR®, PHRca®, SPHR®, aPHRi™, PHRi™, GPHR® and SPHRi™ certifications. The content of the activity submitted has met the criteria of the Approved Provider Program.
Register now and receive these free bonuses!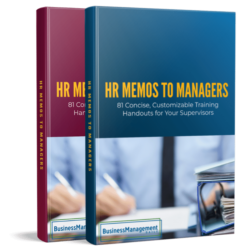 HR Memos to Managers Volumes 1 & 2
This series is continuously recognized as a must-have by readers. The premium offering is a collection containing 162 concise and customizable training memos that will equip managers to handle sensitive tasks, avoid lawsuits, and improve employee productivity and morale.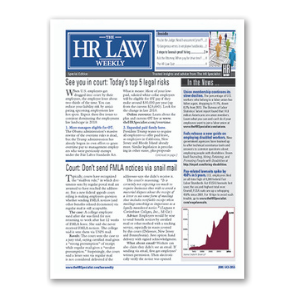 5 free issues of The HR Law Weekly newsletter
We'll also show you how to "lawsuit-proof" your HR practices – from avoiding handbook mistakes to training managers on hiring and firing the right way, and much more.
To make sure you continue to benefit from this advice, we'll keep The HR Law Weekly coming for just $79/quarter until you tell us "no, thanks."
We promise you'll be satisfied.
If Learning the Law fails to meet your needs in any way, we will refund 100% of your tuition – every penny you paid – but your course materials and registration bonuses will be yours to keep. No hassles, no questions asked.