Thurs. July 15

1:00 ET
10:00 PT
Developing an Effective Administrative Procedures Manual
In this 75-minute virtual how-to, you'll learn:
A step-by-step SOP process

From development to distribution, learn how to create and organize your manual.

What to include … and what to remove.

Get the best practices for formatting, wording and more.

When to update and why.

Learn a simple strategy for maintaining your procedures manuals.
Get everyone on the same page with a clear, well-organized SOP
While you can't prevent unplanned business disruptions, you can be prepared for them. A standard operating procedure is essential to helping maintain everything from workflows to morale. And now more than ever, having them up to date and easy to access is critical.
That's why we've asked admin expert and procedures pro Julie Perrine to lead you through our all-new virtual workshop, Developing an Effective Administrative Procedures Manual. This live, interactive training session is a simple way to create an SOP manual that is so clear and effective that you – and other key players – will never be left in a lurch or scrambling to figure out how to do something.
Agenda for Developing an Effective Administrative Procedures Manual
5 important steps for your administrative process. Learn 5 simple steps to get you started creating your procedures binder
What belongs in your SOP binder? Identify the appropriate items to include in your SOP
Documenting the correct way. Discover how to document understandable processes and procedures
Hard copy and electronic procedures both need to be maintained. Find out how to maintain your procedures binder in hard copy and electronic formats
Interactive Q&A time included
Got an SOP SOS? Bring your questions for Julie to address in the dedicated Q&A time.
Julie Perrine is an administrative expert, trainer, author, and all-around Procedures Pro. She is the founder and CEO of All Things Admin, a company dedicated to developing and providing breakthrough products, training, and resources for administrative professionals worldwide, and she is a featured keynoter at the Admin Pro Forum. Julie has created several innovative tools and programs for administrative professionals including the Administrative Procedures Toolkit, Kick-Start Creating Your Administrative Procedures Binder Course, Professional Portfolio Builder, e-Portfolio Builder, and the AdminPro Training Membership. She is also the author of Become a Procedures Pro: The Admin's Guide to Developing Effective Office Systems and Procedures, The Organized Admin: Leverage Your Unique Organizing Style to Create Systems, and The Innovative Admin: Unleash the Power of Innovation In Your Administrative Career.

Julie Perrine

administrative expert, trainer, motivational speaker, and author
Register now and receive these free bonuses!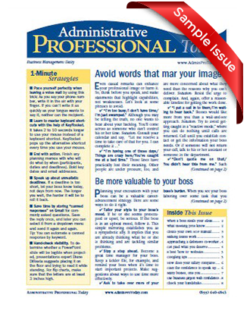 One month of members-only access to AdminProToday.com
This career-boosting website gives you tips on how to succeed in your job – and in your career – offering daily tips, helpful tools, and thousands of informative articles.
So that you continue to benefit from AdminProToday.com, we'll continue your members-only access for just $59 per quarter, unless you tell us "no, thanks" – your choice.
Become a Procedures Pro
Each attendee will receive a free copy of Julie Perrine's complete and easy-to-follow book for creating effective office systems and procedures.
We promise you'll be satisfied.
If Developing an Effective Administrative Procedures Manual fails to meet your needs in any way, we will refund 100% of your tuition – every penny you paid – but your course materials and registration bonuses will be yours to keep. No hassles, no questions asked.