Wednesday, Nov. 8

1:00 ET
10:00 PT
Personnel Records: What to Create and Keep, What to Toss and When
 Clean out your HR files with confidence!

In this 75-minute workshop, you'll learn:
What to create and keep, for how long, and where.

Discover an airtight, step-by-step records management strategy.

How to write legally safe HR documents.

Learn 10 simple steps to keep you in compliance.

The different rules for paper and electronic records.

Retention and disposal procedures can vary widely.
One simple HR paperwork mistake can cost you big.
Maintaining personnel records used to be a lot simpler. Any HR department that wanted to be "safe" relied on a "keep everything" policy. Today that approach could violate the rules on the "reasonable disposal of sensitive documents." But if the wrong document is destroyed, it could result in big fines and penalties. It could even mean willful destruction of evidence and a lost lawsuit. Then there's not creating records in the first place. Many laws require creating records. And sometimes it's just good policy to document everything from job applications to interview notes and disciplinary records – just in case – and then know when to toss them.
On November 8, discover how to toss all that HR paperwork clutter but keep lawsuit-proof "armor" when it comes to personnel records. This engaging, entertaining webinar will explain HR recordkeeping requirements under federal, state and local laws and regulations, including when regulators want to see COVID-related records.
Don't fall victim to a simple mistake that could have been easily avoided! Remember, in employee legal disputes, the winning side often has the best-documented case.
Agenda for Personnel Records
Discover exactly how long to retain all types of documents, including applications, résumés, FMLA forms, payroll records, leave requests, medical data, benefits info, and more
Learn which records should never be deleted and why
Learn the right way to organize documents. Understand which documents need to be maintained in separate files and why
Reasonable accommodation records, including requests related to disabilities, temporary pregnancy impairments and religious objections to vaccinations, and scheduling
How electronic storage rules differ from paper storage. Consider privacy and illegal record breaches
I-9 rule updates. How new I-9 rules, the pandemic, and telework affect the handling of these immigration forms
Reviewing personnel files. What to do when lawyers ask to review personnel files, or employees ask. Hint: It depends on what state you operate in and when the request is made
To delete or not to delete? The requirements for storing and deleting company emails, texts, and other communication forms
Plus, answers to your questions about HR recordkeeping and much, much more!
Interactive Q&A time included
Bring your trickiest personnel records questions. Anniken will answer them and provide expert resources.
Anniken Davenport is a noted employment law attorney and the editor of the HR Specialist: Employment Law newsletter series. She has authored several books, including Bullet-Proof Your Employee Handbook and Overtime & Other Tricky Pay Issues, published by HR Specialist. She is the co-author of the upcoming Labor & Employment Law for the 21st Century by Prentice Hall. Anniken has served as a professor at Penn State University, where she taught business law and HR management, and she directed the Legal Studies Program at Wilson College. Her legal career includes representing government units in discrimination and other employment law cases and representing school districts in labor negotiations.

Anniken Davenport

Attorney and author
Professional Certification Credit Hours Included With This Webinar
Business Management Daily is recognized by SHRM to offer Professional Development Credits (PDC) for SHRM-CP® or SHRM-SCP® recertification activities.
The use of this official seal confirms that this Activity has met HR Certification Institute's® (HRCI®) criteria for recertification credit pre-approval.
Register now and receive these free bonuses!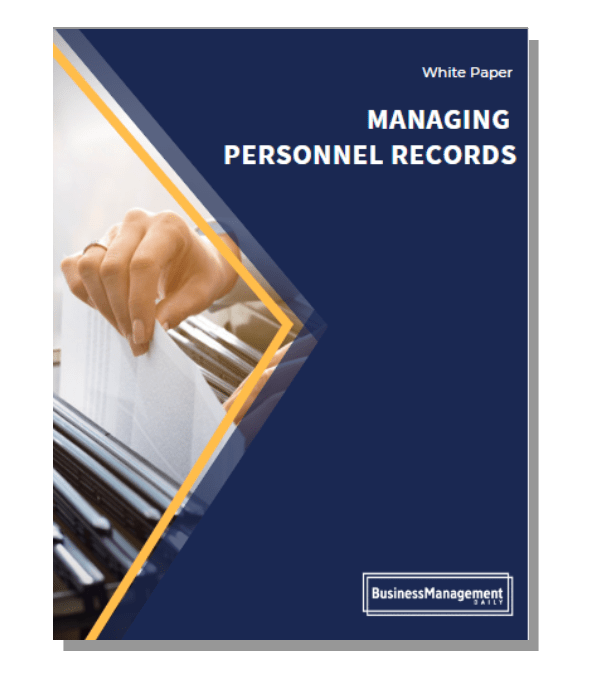 Managing Personnel Records
Everyone who signs up will receive a free copy of our Managing Personnel Records white paper, which will show you how to turn all that HR paperwork into "lawsuit-proof armor."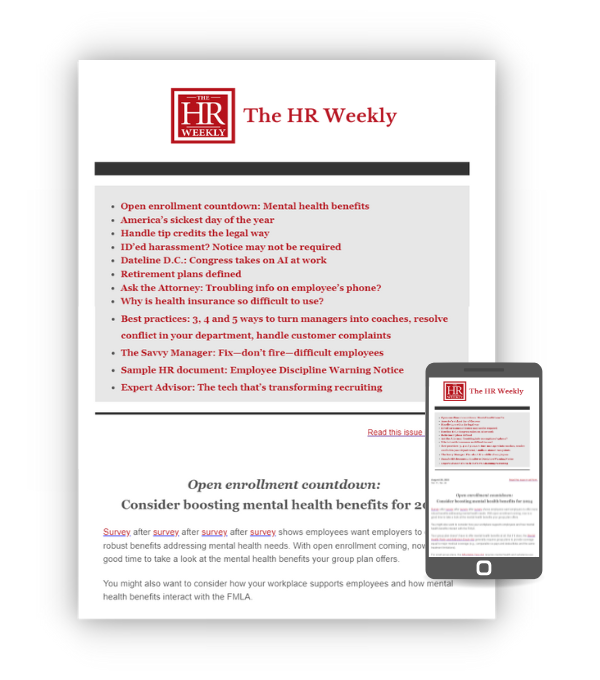 4 free issues of The HR Weekly
You'll also receive one month of exclusive access to The HR Weekly – our comprehensive service with all the HR advice and compliance tools to simplify your job … and to keep your organization out of court. So that you continue to benefit from The HR Weekly, we will continue your subscription after that for the then current rate, unless you tell us "no, thanks" – your choice.
We promise you'll be satisfied.
If Personnel Records fails to meet your needs in any way, we will refund 100% of your tuition – every penny you paid – but your course materials and registration bonuses will be yours to keep. No hassles, no questions asked.