Friday, December 17

1:00 ET
10:00 PT
Managing Your E-Records: A Compliance Workshop for HR
In 75 minutes, you'll get expert advice and easy-to-implement strategies, including:
Understanding the law

Employers face a maze of federal & state laws on electronically stored information (ESI).

Minimizing risk, maximize compliance

One simple mistake can trigger painful audits and seven-figure fines.

Knowing what to keep & for how long

Discover how to store, save and shred your paper and electronic records.
More than 75% of your company's records are created and stored electronically—everything from emails to Slack messages to social media. Are you 100% confident that your HR department is retaining (and purging) those legal documents in full compliance with the law? And what are the retention rules if employees are working at home on their own laptops?
Don't leave the handling of your electronic HR documents and business records to chance. Compliance with the law is mandatory, and mistakes can be expensive (to your company and your career). On December 17th, discover a step-by-step HR strategy for preserving … protecting … producing … and even destroying your e-records.
Agenda for Managing Your E-Records Workshop
In this interactive webinar, led by nationally recognized recordkeeping expert Nancy Flynn, founder of The ePolicy Institute, you will learn:
Record Retention for HR Professionals: What You Need to Know
How to ensure the effective management of electronic business records in 7 steps
How social media and mobile devices increase your record risks—and how to respond
What courts demand when it comes to the retention & disposition of HR documents
Records Management and E-Discovery
Best practices for preserving, protecting & producing lawful ESI
E-discovery: Courts can demand that you quickly hand over e-documents
Electronic evidence: How to ensure electronic records are legally valid
Effective E-Record Policies & Procedures
How to write effective record retention policies—and "litigation hold" rules
How to draft e-policies governing email, mobile devices, BYOD, social media, text messaging, the web and more
How to create—and adhere to—e-deletion schedules
Best Practices to Minimize Record Risks & Maximize Legal Compliance
How to support your record management with employee training
Technology solutions to shore up privacy violations & security breaches
Interactive Q&A time included
Ask speaker Nancy Flynn YOUR specific questions about managing electronic records
A recognized expert on workplace compliance and communication, Nancy Flynn is the founder and executive director of The ePolicy Institute and Business Writing Institute. She provides training and consulting services to clients seeking to minimize compliance risks and maximize communication skills. Nancy is an in-demand trainer and the author of 13 books including The ePolicy Toolkit, The Social Media Handbook and Writing Effective E-Mail. She also serves as an expert witness in litigation related to workplace email and web use. A popular news source, she has been quoted in The New York Times, Wall Street Journal, USA Today, Time, Fortune and CNN.

Nancy Flynn

The ePolicy Institute and Business Writing Institute
Professional Certification Credit Hours Included With This Webinar
Business Management Daily is recognized by SHRM to offer Professional Development Credits (PDCs) for the SHRM-CP® or SHRM-SCP®.
The use of this official seal confirms that this Activity has met HR Certification Institute's® (HRCI®) criteria for recertification credit pre-approval.
Register now and receive these free bonuses!
Personnel Records: What to Keep What to Toss
Our popular executive summary that explains the rules for developing a lawsuit-proof records-retention policy for disciplinary documentation, performance evaluations, workplace investigations and medical data.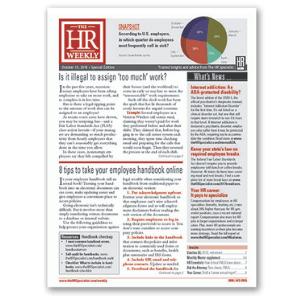 4 free issues of The HR Weekly
This newsletter is your best source for all the HR advice and compliance tools to simplify your job … and to keep your organization out of court.
So that you'll continue to benefit from this service, we'll continue your subscription automatically for just $79 per quarter, unless you tell us "no, thanks" – your choice.
We promise you'll be satisfied.
If the Managing Your E-Records Workshop fails to meet your needs in any way, we will refund 100% of your tuition – every penny you paid – but your course materials and registration bonuses will be yours to keep. No hassles, no questions asked.