Thursday, August 19

1:00 ET
10:00 PT
HR Investigations Workshop: A Guide to Legal & Effective Inquiries
In this virtual workshop, you'll learn how to:
Handle investigations in the most legally savvy way.

Conduct investigations that save the reputation of both you and the organization.

Avoid legally devastating mistakes.

Compliance is crucial. Get confident in all the legal do's and do nots of HR investigations.

Craft airtight documentation.

Discover tips on writing up discipline and crafting legally safe investigation reports.
Real-life headline: "Employee wins $15 million lawsuit

after HR fumbles investigation."
Just one mistake when investigating workplace insubordination and misconduct can cost your company millions—and cost you your job. But you've probably received little (if any) training in this crucial area of compliance.
Investigations are harder to conduct in this COVID era, but they're even more important than ever. That's why we created the HR Investigations Workshop.
This must-attend webinar is packed with tips and strategies to investigate any workplace problem quickly and legally. You'll learn what to do—and, as importantly, what to avoid—when conducting effective investigations. Don't risk the reputation of your company or your career.
Agenda for HR Investigations Workshop
A step-by-step HR investigation plan. How to proactively plan and organize each phase of the investigation.
Selecting the right investigator. Learn who should conduct investigations—and when to use outside help.
How to investigate remote workers. How to adjust your process for remote workers—and how HR can conduct investigations remotely.
Where to draw the line. Discover what counts as misconduct that crosses the legal or ethical boundary.
Interviewing best practices. Get tips for interviewing witnesses so you learn the whole story—and the truth.
Avoiding mistakes. Learn how to avoid every kind of legally devastating (but common) investigation error.
Documenting the whole process. Discover the legally safe do's and don'ts of documenting an investigation.
Interactive Q&A time included
Ask investigations expert Kathy Perkins YOUR questions about the process and follow-through of today's unique brand of workplace investigations.
Kathy Perkins is the founder of Kathy Perkins LLC Workplace Law & Mediation in Lawrence, Kan. She brings to her litigation prevention and dispute resolution practice 25+ years' experience litigating employment and commercial disputes.

Her work is in four primary areas: employer counseling, management training, outside neutral investigations and mediation to resolve employment disputes. Prior to starting her practice, she was a managing member of the Constangy law firm. She speaks and writes often on employee relations and mediation issues.

Kathy Perkins

Attorney and founder, Kathy Perkins LLC Workplace Law
Professional Certification Credit Hours Included With This Webinar
Business Management Daily is recognized by SHRM to offer Professional Development Credits (PDCs) for the SHRM-CP® or SHRM-SCP®.
The use of this official seal confirms that this Activity has met HR Certification Institute's® (HRCI®) criteria for recertification credit pre-approval.
Register now and receive these free bonuses!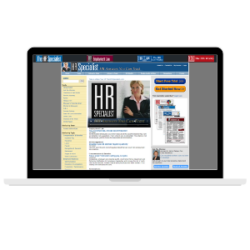 HR Specialist Premium Plus Online
One month of members-only access to Premium Plus Online at TheHRSpecialist.com.
We'll continue your access automatically for just $99 per quarter, unless you tell us "no, thanks" – your choice.
Conducting Workplace Investigations: A Step-by-Step Guide
The 26-page booklet provides the how-to on each step of the interview process, from strategy to conducting interviews to determining credibility to following up.
We promise you'll be satisfied.
If the HR Investigations Workshop fails to meet your needs in any way, we will refund 100% of your tuition – every penny you paid – but your course materials and registration bonuses will be yours to keep. No hassles, no questions asked.
Reserve your spot now at HR Investigations Workshop: A Guide to Legal & Effective Inquiries