Friday, June 10

1:00 ET
10:00 PT
FMLA Certifications & Calendar Essentials
Join the virtual workshop on all things FMLA certification. In 75 minutes, get comprehensive legal training on:
Your FMLA responsibilities

When to provide notices of eligibility, which forms to provide, and what to include in your company's FMLA guidelines.

Setting your calendar

Identify options for the best ways to choose a calendar that's legal, fair, and clear.

Making return-to-work seamless

Learn how to make sure your certification process and calendar plan properly cover when and how employees return to work.
Maintain a happy, productive, and healthy workforce with proper FMLA management.
FMLA certification guidelines and calendars are essential for properly managing your workforce. They protect your business but also your employees' productivity and well-being. FMLA certification guidelines also help prevent employee confusion, abusing leave time, and worst of all, lawsuits.
Get detailed information on FMLA certification and calendar management from expert employment lawyer Anniken Davenport. In only 75 minutes, learn the importance of certification guidelines and calendars and how to apply them to your workforce.
Agenda for
FMLA Certifications & Calendar Essentials
The new forms! Ensure you are using correct FMLA forms and learn how to complete them in the most legally safe and time-efficient manner.
Calendar options: Which one is best? Review the choices available to employers for counting 12 months (calendar method and rolling method options) and decide which is best for your business.
Certification and notification. Understand when leave qualifies for FMLA qualification, when and how to notify employees, and how to manage the certification process.
Disagree with the certification? Learn when and why to request a second or third opinion, and what to do if they conflict.
Intermittent leave. Learn exactly how often you need to recertify intermittent leave, including intermittent paid FMLA leave for COVID-related reasons.
FMLA abuse. Find out what to do if you suspect a worker is abusing FMLA leave, including recertifying and verifying the employee is actually off work for the reasons they say.
Return-to-work. Determine which completed forms are necessary and your limits on requested information.
Forms walk-through. Get a better understanding of each form, including the FMLA notices you must complete as well as how employees' completed forms should look.
Interactive Q&A time included
In addition to providing training, Anniken will be available to answer questions about FMLA certification in the dedicated live Q&A time. 
Anniken Davenport is a noted employment law attorney and editor of the HR Specialist: Employment Law newsletter series. She has authored several books, including Bullet-Proof Your Employee Handbook and Overtime & Other Tricky Pay Issues, published by HR Specialist. She is a co-author of the upcoming Labor & Employment Law for the 21st Century by Prentice Hall. Anniken has served as a professor at Penn State University, where she taught business law and HR management and also directed the Legal Studies Program at Wilson College. Her legal career includes representing government units in discrimination and other employment law cases and representing school districts in labor negotiations.

Anniken Davenport

Attorney and author
Professional Certification Credit Hours Included With This Webinar
Business Management Daily is recognized by SHRM to offer Professional Development Credits (PDC) for SHRM-CP® or SHRM-SCP® recertification activities.
HRCI has pre-approved this activity for recertification credit toward the aPHR®, PHR®, PHRca®, SPHR®, aPHRi™, PHRi™, GPHR® and SPHRi™ certifications. The content of the activity submitted has met the criteria of the Approved Provider Program.
Register now and receive these free bonuses!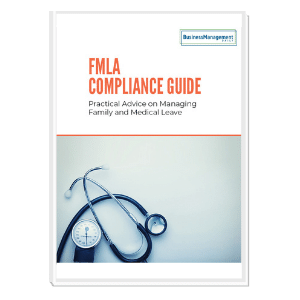 FMLA Compliance Guide
A free copy of our top-selling report that updates you on 10 other recent changes in the law, and provides step-by-step guidelines on hundreds of real-world situations.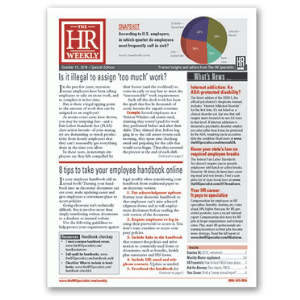 4 free issues of The HR Weekly
This newsletter is your best source for all the HR advice and compliance tools to simplify your job … and to keep your organization out of court.
So that you'll continue to benefit from this service, we'll continue your subscription automatically for just $79 per quarter, unless you tell us "no, thanks" – your choice.
We promise you'll be satisfied.
If FMLA Certifications & Calendar Essentials fails to meet your needs in any way, we will refund 100% of your tuition – every penny you paid – but your course materials and registration bonuses will be yours to keep. No hassles, no questions asked.