Employee Monitoring:
A Legal & Practical Workshop for Employers
Video monitoring … Web-tracking software …. GPS devices in vehicles … biometric timeclocks … location tracking in the workplace to enforce social distancing.
Employers of all sizes are increasing their use of electronic monitoring and tracking in the workplace, fueled in part by the pandemic crisis and the need to keep tabs on remote employees.
But which of these tools are legal? How far can you go in using them? And what kind of legal risks could you face?
On Friday, August 7, discover where you must draw the legal line in keeping electronic tabs on your employees. You'll be learning from a true expert in the field – the founder of the data-privacy practice at one of America's largest employment law firms.
In this important and timely new webinar, you'll learn:
Which federal and state laws you need to understand, from privacy to state laws that prohibit certain monitoring.
The legal rules on monitoring employee computer, phone, Internet & social media – both at work and WFH on personal computers.
How to use video monitoring legally (sound? locations?).
The best way to use GPS monitoring of vehicles (both personal and company owned).
When and how you can monitor employees who are off-duty or off-premises.
How to track employee location in the workplace for social distancing and contract-tracing purposes.
What new laws say about monitoring employee health and wellness data.
The correct way to use biometric data monitoring (facial recognition, fingerprints, etc.) for attendance, timekeeping and access purposes. State laws vary.
How to draft a policy that avoids an expectation of privacy.
What you're required to disclose to employees about your monitoring activities.
How new court rulings have changed your tracking ability.
Answers to YOUR questions and MUCH more!
The explosion of employee monitoring (and remote work) means your organization will likely face these legal dilemmas soon. Don't be caught flat footed!
On August 7, take 75 minutes to educate yourself and your team on this important and timely issue with one of the top experts in the field.
Sincerely,
Pat DiDomenico, Editorial Director
The HR Law Weekly

P.S. Registration Bonus. Everyone who signs up will receive a copy of our best-selling book, The Employer's Practical Legal Guide. Prepared by top employment attorneys – then translated into plain language for business people – this must-have manual has everything you need to know to stop trouble before it starts … and limit the damage from innocent mistakes. More than 80 checklists and self-audit questionnaires help you target your company's weak spots and correct them quickly. A $137.00 resource, yours FREE!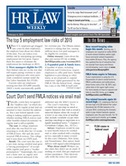 P.P.S. Extra Added Bonus. You'll also receive 5 issues of The HR Law Weekly newsletter. Every Wednesday, our team of attorneys and HR pros reviews the latest case law and regulations that may impact you. We'll also show you how to "lawsuit-proof" your HR practices – from avoiding handbook mistakes to training managers on hiring and firing the right way, and much more. To make sure you continue to benefit from this advice, we'll keep The HR Law Weekly coming for just $79/quarter until you tell us "no, thanks."
P.P.P.S. We promise you'll be satisfied. If Your HR Documents on Trial fails to meet your needs, we will refund 100% of your tuition – no questions asked. Your course materials, registration bonuses and 5 issues of The HR Law Weekly are all yours to keep.
---
About Your Speaker:
Grant D. Petersen is a shareholder with Ogletree Deakins and the founder of the law firm's Cybersecurity and Privacy Practice Group. Based in the firm's Tampa office, Grant regularly represents and counsels employers regarding a broad range of U.S. and international employment and data protection laws. Grant is one of the country's go-to experts on global data privacy in the workplace and the complexity of HR monitoring. He speaks and writes on data privacy and employment issues regularly.
Credit Hours:
The use of this official seal confirms that this Activity has met HR Certification Institute's® (HRCI®) criteria for recertification credit pre-approval.
---
Friday, August 7th

1 - 2:15 p.m. ET
10 - 11:15 a.m. PT
Since this is a webinar, you and your entire staff can attend in the comfort of your office or conference room for one low price! You may include as many people as you wish while listening on a single phone line or computer. Contact us for multi-site discounts.