Thank you for your purchase!
Your order will be finalized in just a few moments…
You've made the right decision — Everyone needs something from you – employees, supervisors, lawyers, the C-suite. But you need someone who can satisfy YOUR needs. And just as everyone makes different demands on you, you have different kinds of needs.
You need regular updates on the latest developments in human resources – everything from just-issued court decisions to new laws and regulations – so you can be sure your HR operations are in total legal compliance.
But you also need analysis and case studies to help you not just "put out fires," but so you can actually plan for the unexpected. So you can train your team and your managers. So you can show upper management that you're not just running your department, but creating a complete HR strategy.
And you need it all without breaking the bank.
In the past, you would have had to turn to multiple sources – one for concise updates, and one for in-depth review. (So much for not breaking the bank.) But now, you can fill both these needs at once. And best of all, this one-stop solution comes to you from the trusted source of HR expertise for 80 years.
Introducing The HR Weekly.
Quick Updates When You Need a Briefing, Analysis and Training When You Need to Plan
The HR Weekly is the ONLY human resources information source that combines briefings on the latest industry developments with a comprehensive look at broader HR trends and strategies. It's really two news services in one – and at one low price. You'll also get FOUR FREE BONUSES (more on that later).
Here's how The HR Weekly works:
1. For the first 3 or 4 weeks of the month, you'll receive a 4-page rundown on what's happening in HR today. It's a quick read for when you need to keep up with what's going on, but don't have all day to track down the news you need.
2. For the final week of each month, you'll receive an 8-page newsletter featuring training tools … forms and checklists … legal analysis … and other tools today's savvy HR professional needs to create a forward-thinking human resources department – the kind of operation that gets noticed (and rewarded!).
And as an HR Weekly subscriber, you'll have exclusive access to our archive of weekly and monthly issues at no additional charge.
The HR Weekly comes to you from Business Management Daily – publishers of The HR Specialist, HR Specialist: Employment Law, HR Specialist: Compensation & Benefits, Payroll Legal Alert and state HR legal newsletters. We also produce webinars … conferences … CDs … books … special reports … and online HR resources. And we've been doing it since 1937.
Our Issues Tackle YOUR Issues
The HR Weekly's experienced team of journalists and attorneys are constantly talking to, and meeting with, your fellow HR specialists. That's why every issue addresses the topics that cross your mind – and your desk – every day:
Employee Handbooks. Almost every employee handbook contains mistakes – errors a sharp attorney can use against you in court. How do you "bullet-proof" your handbook? HR Weekly readers know.
Workload. Assigning "too much" work can hurt morale, retention and productivity. But can it actually be illegal? HR Weekly readers know.
FMLA. Perhaps no other law has caused HR departments more headaches than the Family & Medical Leave Act. A new guidebook explains this landmark legislation to your employees. Where can you find it? HR Weekly readers know.
Hiring. Now more than ever, it's vitally important for you to identify potential superstars amid a sea of applicants. What are the interview questions that separate the best from the rest? HR Weekly readers know.
State HR Law. When it comes to legally required employee breaks, different states have different laws – laws that can vary widely. Do you know yours? HR Weekly readers know.
Goal-Setting. When employees know what's expected of them, they tend to perform better. Are your managers aware of five FREE online tools to help set goals? HR Weekly readers know.
Onboarding. Most new employees who don't work out fail in the first six months. You know the expense and hassle of finding replacements – but do you know the top 10 new-hire pitfalls to avoid? HR Weekly readers know.
Compensation & Benefits. It is estimated that 1 in 10 employers could drop health benefits by next year. What alternatives – if any – are they planning? HR Weekly readers know.
Knowing any ONE of these secrets could help you greatly in your profession.
SPECIAL CHARTER OFFER:
4 FREE Gifts … a $100.00 Discount …
and a Money-Back Guarantee
Start your Charter Subscription to The HR Weekly, and here's what you'll get:
→ Weekly Updates. Every week, you'll receive a concise 4-page update on news, tips and trends in the HR world, mailed or emailed directly to you.
→ Monthly Roundups. The last weekly issue of each month will be an 8-page in-depth analysis of what's working in HR management … labor and employment law … case studies … expert advice … and much more.
→ Compliance Alerts. Sometimes, even weekly updates aren't enough. As an HR Weekly subscriber, you'll receive emailed bulletins whenever news breaks that impacts HR professionals. There is no charge for this helpful service.
→ A $100.00 Discount. You'll get a full year of The HR Weekly at our Special Introductory Discount Rate – saving you $100.00 off the price others must pay.
FREE Bonus Gift #1.
We'll rush you The Employee Problem Solver. If you've got employees, you've got problems. And you certainly don't want a lawsuit because you handled a problem the wrong way. This convenient CD resource helps you quickly figure out the best way to handle more than 160 HR situations so they don't turn into HR disasters. It's a $67.00 value, yours absolutely FREE when you agree to review The HR Weekly.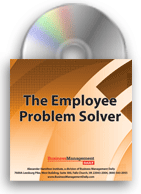 FREE Bonus Gifts #2 and #3.
Hire at Will and Fire at Will (our all-time bestsellers) will help you hire the people you want, and get rid of the ones you don't – while complying with ALL federal employment laws. These two books are a combined $75.95 value, but their true value is almost beyond calculation. And they're both yours at no cost or obligation whatsoever.
FREE Bonus Gift #4.
When you subscribe online, we'll add an incredible fourth free bonus. Bullet-Proof Your Employee Handbook points out the legal blunders most handbooks make – and how you can avoid them. A $39.95 value, this PDF download is also yours FREE.
And Your Satisfaction is Unconditionally Guaranteed
Try The HR Weekly. Read a few issues. Check out your employee problem solver CD. Review your free bonus gift books. If you decide that The HR Weekly isn't all we've promised AND MORE, let us know. We'll refund 100% of your subscription price – no hassles, no questions asked.
Add in your FREE bonus gifts and money-back guarantee, and The HR Weekly's value becomes even clearer. Just click the "Yes" button below, and your credit card will be charged $349 for an annual membership to The HR Weekly. I look forward to welcoming you as a new subscriber.
Phillip A. Ash
Publisher
P.S. Remember: If The HR Weekly fails to meet your needs – at any time, for ANY reason – let us know. We'll immediately refund 100% of your subscription price – no hassles, no questions asked – but your weekly issues and all four free bonus gifts are yours to keep. You have my word on it.