A recent government study showed that the average small business overpaid its taxes by $11,638. That's sad enough. But sadder still is the fact that the tax code is actually written to favor small businesses like yours.
So why do we overpay our taxes? Because most of us are too busy managing our companies to manage our taxes.
Dear Fellow Business Owner:
I want to help you get your money back.
You should take advantage of EVERY loophole the IRS has for you – on your business and personal expenses. And if you don't, you might as well be just another working stiff.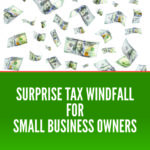 To help you get every break you've got coming to you, I've put together Surprise Tax Windfall for Small Business Owners. This Special Report contains 89 tips to slash your taxes. It'll save you thousands. And I'd like to send it to you FREE.
Why? To introduce you to an exciting advisory from Business Management Daily that will cut your taxes by 20% this year – guaranteed.
Yes! I want to keep my hard-earned profits in my own pocket!
| | | |
| --- | --- | --- |
| | Give YOURSELF a 10-Minute Tax Cut – Every Month | |
Politicians always say that you can spend your money better than the government can. But that doesn't mean they're just going to hand you your fair share. That's why we publish Small Business Tax Strategies.
You're an expert at your business – not your taxes. Small Business Tax Strategies does the heavy lifting for you – giving you a monthly briefing on the simple steps you can take to ease your tax burden. In just 10 minutes a month, you'll give YOURSELF a tax cut.
And Surprise Tax Windfall will jump-start your tax savings. We've gone over every page of the tax code, so you don't have to – and wait until you see what we've found!
You can pull cash out of your company TODAY – and pay ZERO tax.
There's a way to land yourself a $3,000 windfall this December.
A simple real estate move can save you 150% of its value in tax savings alone.
Your colleagues (and competitors) have paid $39.95 for Surprise Tax Windfall. Now, it can be yours – along with four other incisive Special Reports – at no cost to you whatsoever.
| | | |
| --- | --- | --- |
| | THOUSANDS in Tax Savings in EVERY ISSUE. | |
From income tax savings to innovative deductions … estate planning to investing strategies AND MORE, every issue of Small Business Tax Strategies can save you literally thousands of dollars! Here are just a few ideas we shared with our readers in a recent issue:
Help your parents – and YOURSELF – with a single stroke of the pen
Nab five tax perks when you put your spouse on the payroll
Should you turn down a family inheritance? Well, maybe …
Squeeze every penny out of your 401(k) plan
Cash in on a hefty "manufacturing" deduction for nonmanufacturers
Cut your capital gains rate down to zero!
Any one of these ideas could save you thousands off your tax bill – and all of these examples came from JUST ONE ISSUE of Small Business Tax Strategies. Imagine how you'll benefit from a full year of this valuable service!
| | | |
| --- | --- | --- |
| | Turn the Tables on the IRS! | |
Small Business Tax Strategies is written with you in mind: the business owner who's overtaxed and overworked. That's why you'll find at least one tax-slashing tip just for you in every issue. But Small Business Tax Strategies is more than just a "tip sheet." We'll also help you take a new, activist approach to your taxes.
Let's face it: Most people sit around and wait for "tax reform" to drop money into their pockets. You do it … I do it … and the IRS knows we do – in fact, they count on it! Truth be told, the IRS might prefer that you didn't know about most of the loopholes it's left in the code. But we know where they are – and we're not shy about telling you.
Armed with Small Business Tax Strategies, you'll discover dozens of ideas (AT LEAST 30 in your first 10 minutes) that will allow you and your tax professional to take charge of your tax situation.
Now – for the first time EVER – you'll be the boss of your taxes the same way you're the boss in the rest of your work. You'll be able to ACT rather than REACT. In short, you'll turn the tables on the IRS.
Yes! I want to keep my hard-earned profits in my own pocket!
Special Introductory Offer
FIVE Valuable Bonuses PLUS an Ironclad Money-Back Guarantee
Small Business Tax Strategies comes to you from Business Management Daily. We've been helping business owners and executives improve their operations – and slash their taxes – since 1937.
We put our 80+ years of experience to work for you in every issue of Small Business Tax Strategies. And to make sure you benefit from our expertise, we've put together what I think is the most valuable offer we've ever made. Act today, and you'll get:
We'll send you 12 monthly issues of Small Business Tax Strategies – giving you expert tips on tax reduction for you and your business – for $147 a year. That's just 40 cents a day!
In addition to Surprise Tax Windfall, we'll also rush you three incisive Special Reports with your Introductory Subscription:
The number of small businesses facing audits is soaring, and you're twice as likely to get hit once you make more than $100,000. This insider's guide shows you the smart steps to take if an audit notice shows up in your mailbox.
It takes savvy planning to accumulate substantial funds during your working years to fund a comfortable retirement. Knowledge of the tax code is vital to helping you achieve that goal. We've rounded up the best of the best in this report.
What HR, Payroll & Employers Need to Know About Tax Reform
The Tax Cuts and Jobs Act will have a far-reaching impact on both employers and employees. This report offers a detailed breakdown.
With these four bonus reports, you'll learn not just how to cut your taxes, but how to defend yourself against the IRS. Thousands have paid $159.80 for these valuable assets – and their value is almost beyond estimation! – but they're all yours absolutely FREE.
And for a limited time, you also get a fifth FREE report – with a catch ...
This important report (a $49.95 value) helps you choose from the 13 most effective and most used trusts so you can preserve your wealth for your heirs. It's also yours FREE – when you order in the next 3 days!
The combined value of your special reports totals $209.75. That alone is worth the price of a subscription! It's just my way of showing how much we want you to benefit from Small Business Tax Strategies.
Yes! I want to keep my hard-earned profits in my own pocket!
How can we make such a strong guarantee? Frankly, it's easy. I know you're probably going to save far more than 20% this year, but we prefer to underpromise and overdeliver. Even my accountant, who worries about everything, feels good about this offer – except he thinks we should be charging a lot more for Small Business Tax Strategies!
| | | |
| --- | --- | --- |
| | Your Tax Savings Are On Their Way!  | |
Take a few minutes to preview a sample issue. See for yourself how reliable, actionable reporting and analysis helps you put more money in your accounts, and less in Uncle Sam's.
If you've read this far, chances are that you're starting to see how Small Business Tax Strategies can help you. But if you're still not convinced, try this little exercise:
Grab a pencil and try this: enter the amount of tax you paid last year on Line 1. Divide it by 5, and write the answer on Line 2. That's 20% of your taxes. Next, enter "$147" on Line 3. Subtract Line 3 from Line 2, and write the figure on Line 4.
If Line 4 is more than zero – and I guarantee that it is – then Small Business Tax Strategies pays for itself. Add to that your improved relationship with your tax team … your five FREE bonuses … and your 100% money-back guarantee, and Small Business Tax Strategies' value is clearer than ever.
You work too hard for your money to give it away to the IRS. Small Business Tax Strategies will get your money back. Subscribe TODAY, and your tax savings will be on their way! I look forward to welcoming you as a valued customer.
Profitably Yours,
Phillip A. Ash, CPA
President and Publisher
Yes! I want to keep my hard-earned profits in my own pocket!
P.S. Remember, there's absolutely no risk. If you don't immediately benefit from the advice in Small Business Tax Strategies, we'll refund the entire subscription fee. You'll keep all five of your free bonuses – and have no further obligation.
P.P.S. Don't throw away your money at the IRS. Put your money back in your pocket starting now.
Your Satisfaction Is Unconditionally Guaranteed
If Small Business Tax Strategies doesn't save you 20% off your tax bill THIS YEAR – or, even if, after reviewing a few issues, you don't THINK it will – write to me.
I will immediately refund 100% of your subscription price – no hassles, no questions  asked, no red tape. Your Small Business Tax Strategies issues and all five FREE bonuses are yours to keep.