Mastering Excel Lists and Databases
When you think "database," you don't usually think Microsoft® Excel®. But you should.
You probably use Excel to manage lists of data from a few dozen to thousands of records, from prices to production data, and transactions to test results.
If you spend hours every day tracking, analyzing and maintaining databases, this webinar is for you. We'll show you a few secrets to working with Excel lists and databases that will turn those hours into minutes.
Join us Thursday, October 31, for Mastering Excel Lists and Databases. This 75-minute webinar will give you the edge by helping you understand:
How to build lists that unlock tools you may never have known about
How to turn your "not so ideal" lists into lists that practically manage themselves
How to easily sort, filter, subtotal and group your data in ways that help you repeat success, not reinvent it
When Advanced Filter and DFunctions are the right answer for your data analysis tasks
What options you have for importing data from other systems, so you take full advantage of the powerful tools Excel offers
Veteran trainer and Excel guru Melissa Esquibel, Microsoft® Certified Trainer, shares her secrets for effectively designing and constructing lists to take advantage of Excel's powerful data management and analysis tools.
Not only will you have new tools in your toolbox, you'll have a game plan for transforming your lists and databases into robust information resources. As an added bonus, you can download a workbook that has completed examples of all the tools covered.
Break through and discover some new Excel power tools. Join us October 31 for Mastering Excel Lists and Databases. You'll leave this webinar with the tools you can put to work right away to handle all your Excel lists and databases like a pro.
Sincerely,
Pat DiDomenico, Editorial Director
Office Technology Today Answer Center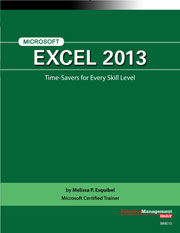 P.S. Registration Bonus. Sign up for Mastering Excel Lists and Databases and we'll send you Microsoft Excel 2013: Time-Savers for Every Skill Level Executive Summary. Avoid the pitfalls of Excel and get the most out of this program. No matter what your skill level is, Excel can save you time and increase your productivity. This Executive Summary is a combination of not one, but TWO Melissa Esquibel training events.
P.P.S. Extra Added Bonus. You'll also receive one month of members-only access to the Office Technology Today Answer Center. This business software training website provides helpful solutions to your Microsoft Office challenges with training videos… informative Executive Summaries on specific Office programs… a "Help Desk" for personal answers to your office tech questions… and much more. So that you continue to benefit from the Answer Center, we'll continue your members-only access for just $89 per quarter, unless you tell us "no, thanks" – your choice.
P.P.P.S. We promise you'll be satisfied. If Mastering Excel Lists and Databases fails to meet your needs, we will instantly refund 100% of your tuition. Your course materials, registration bonus and website access will be yours to keep. No hassles, no questions asked.
---
About Your Speaker:
Melissa Esquibel
Melissa Esquibel is a Microsoft Certified Trainer. She combines her 25 years' experience in information technology with a background in training, technical writing and business risk analysis. Her goal is to help you understand the amazing workflow benefits of Microsoft Office.
---
Thursday, October 31st

1 - 2:15 p.m. ET
10 - 11:15 a.m. PT
Since this is a webinar, you and your entire staff can attend in the comfort of your office or conference room for one low price! You may include as many people as you wish while listening on a single phone line or computer. Contact us for multi-site discounts.