Advanced Excel Pivot Table Techniques
No one has to sell you on using Microsoft® Excel® Pivot Tables. You get it!
Now, you want to take your Pivot Tables to the next level. Whether your challenge is summarizing totals as percentages, analyzing with formulas, or introducing interactivity, this program will pack your toolbox with features that will help you turn your plain Pivot Table into a data-crunching, information-revealing machine. Understand the capabilities (and limitations) of this incredibly important tool.
Join us Thursday, May 16, for Advanced Excel Pivot Table Techniques. Here are just a few of the features we'll cover:
Calculated Fields and Items – When to use one and when to use the other
Summarizing Totals beyond simple sums
Pivoting Multiple Ranges
Building user-friendly interactivity with Report Filters and Slicers
Microsoft® Certified Trainer Melissa Esquibel will share the secrets of crunching big data and generating actionable information in the form of reports and charts.
You'll also be able to ask your Pivot Table questions directly to Melissa Esquibel, Microsoft Certified Trainer and editor of Office Technology Today. And there is NO LIMIT to the number of colleagues who can join in at one site!
Advanced Excel Pivot Table Techniques shows you how to do the hard work only once when it comes to report formatting and data updates. In about an hour, we'll show you how to do it all in Excel with Pivot Tables. You'll have that data talking to you in no time. Join us for Advanced Excel Pivot Table Techniques.
Sincerely,
Pat DiDomenico, Editorial Director
Office Technology Today Answer Center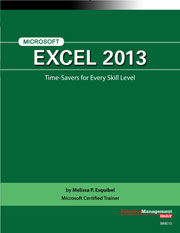 P.S. Registration Bonus. Sign up for Advanced Excel Pivot Table Techniques and we'll send you Microsoft Excel 2013: Time-Savers for Every Skill Level Executive Summary. Avoid the pitfalls of Excel and get the most out of this program. No matter what your skill level is, Excel can save you time and increase your productivity. This Executive Summary is a combination of not one, but TWO training events led by Microsoft Certified Trainer Melissa Esquibel.
P.P.S. Extra Added Bonus. You'll also receive a month of access to the Office Technology Today Answer Center. This business software training website provides helpful solutions to your Microsoft Office challenges with training videos… informative Executive Summaries on specific Office programs… a "Help Desk" for your office tech questions… and much more. So that you continue to benefit from the Answer Center, we'll continue your members-only access for just $89 per quarter, unless you tell us "no, thanks" – your choice.
P.P.P.S. We promise you'll be satisfied. If you decide that Advanced Excel Pivot Table Techniques isn't all we've promised and more, we will refund 100% of your tuition. No questions asked – and your course materials, website access and registration bonus are yours to keep.
Thursday, May 16th

1 - 2:15 p.m. ET
10 - 11:15 a.m. PT
Since this is a webinar, you and your entire staff can attend in the comfort of your office or conference room for one low price! You may include as many people as you wish while listening on a single phone line or computer. Contact us for multi-site discounts.