Microsoft Excel for Project Management
When it comes to project management, you can buy some pretty sophisticated software specifically designed to keep you and everything on track. However, not all of us have access to these expensive programs!
But… you have some powerful tools right on your desktop that you can craft into quite a robust solution. Find out how Microsoft® Excel® can be your secret to project management.
When you think about it, Excel is great at the two things you absolutely need to create a project management tool: date math and maintaining lists. Open Excel and search for the word Project in online templates, and you will find dozens of templates that can help you tame your project planning and tracking tasks.
Join us Thursday, October 3, for Microsoft Excel for Project Management and Microsoft Certified Trainer Melissa Esquibel will show you:
Finding, Customizing and Saving Project Management Templates
Understanding Time & Date Math in Excel
Getting At-a-Glance Project Status Information
Best Practices in List Construction and Formatting
In just 75 minutes, discover how Excel can help you:
Create a project list that lets you know where things are at a glance
Use date math to calculate time spent and time remaining on key tasks
Find templates with powerful project management features already built in
Repeat success by capturing your own repeatable projects and tasks to use over and over
Whether you're an Excel expert or just getting started, these techniques will be easy to implement. You'll discover valuable tips and tricks for letting Excel handle a lot of your more challenging project management tasks! Learn features like:
Conditional Formatting
Time & Date Math Functions
Table Formatting
Filtering
Charts & Graphs
This training will apply to all versions of Excel 2007 and newer.
Electronic project management is the way to go. Now's your chance to be more productive, make your job easier and streamline your project management process. Join us October 3rd for Microsoft Excel for Project Management.
Sincerely,
Pat DiDomenico, Editorial Director
Business Management Daily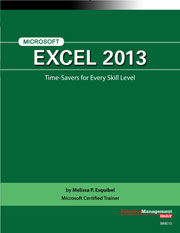 P.S. Registration Bonus. Sign up for Microsoft Excel for Project Management and we'll send you Microsoft Excel 2013: Time-Savers for Every Skill Level Executive Summary. Avoid the pitfalls of Excel and get the most out of this program. No matter what your skill level is, Excel can save you time and increase your productivity. This Executive Summary is a combination of not one, but TWO of my previous training events.
P.P.S. Extra Added Bonus. You'll also receive one month of members-only access to the Office Technology Today Answer Center. This business software training website provides helpful solutions to your Microsoft Office challenges with training videos… informative Executive Summaries on specific Office programs… a "Help Desk" for personal answers to your office tech questions… and much more. So that you continue to benefit from the Answer Center, we'll continue your members-only access for just $89 per quarter, unless you tell us "no, thanks" – your choice.
P.P.P.S. We promise you'll be satisfied. If Microsoft Excel for Project Management fails to meet your needs, we will instantly refund 100% of your tuition. Your course materials, registration bonus and website access will be yours to keep. No hassles, no questions asked.
---
About Your Speaker:
Melissa Esquibel
Melissa Esquibel is a Microsoft Certified Trainer. She combines her 25 years' experience in information technology with a background in training, technical writing and business risk analysis. Her goal is to help you understand the amazing workflow benefits of Microsoft Office.
---
Thursday, October 3rd

1 - 2:15 p.m. ET
10 - 11:15 a.m. PT
Since this is a webinar, you and your entire staff can attend in the comfort of your office or conference room for one low price! You may include as many people as you wish while listening on a single phone line or computer. Contact us for multi-site discounts.