HR Update: The New Independent Contractor Compliance Rules
ALERT: Big changes are coming to the debate over when (and how) you can classify your workers as independent contractors. In late September, the U.S. Department of Labor proposed a brand-new "economic reality" definition that could make it easier to treat your workers as independent contractors. And that could save your organization big bucks and liability risks.
If you classify any workers as independent contractors – or have plans to do so – now is the time to make sure you get that classification correct and understand the upcoming changes.
The past year of government actions (DOL and NLRB) along with COVID-fueled economic changes have added new confusion to the "contractor vs. employee" decision. Meanwhile, several states (led by California) are making it harder to classify workers as contractors.
At the same time, employers have been targeted by a massive new "Misclassification Initiative" launched by the IRS and DOL, targeting employers with more audits and closer scrutiny.
The DOL promises this new employer-friendly, easier-to-understand definition of "independent contractor" will be good news for employers. But what does it say? When will it become final? And how can your company best take advantage?
What to do? Now is the time to understand these changes once and for all – and get in compliance. Join us Thursday, November 5, for HR Update: The New Independent Contractor Compliance Rules. Our timely webinar will teach you:
What the new DOL "economic dependence" test means – and how your company can benefit from it.
How to create independent contractor relationships that meet current IRS, DOL, NLRB and state agency requirements.
The benefits of using independent contractors (same work, lower costs, fewer hassles) and the inherent risks (reclassifications leading to huge tax, wage and benefit payments).
COVID-19 developments affecting independent contractors, such as eligibility for unemployment compensation.
Why the feds are cracking down now, what they're looking for and how you can achieve compliance.
What to expect in 2021 from the federal government and the states on this issue.
The key factors the DOL and IRS consider (and you should, too) in making classification decisions.
Comparing the IRS tests, the so-called "Darden Factors" and the "Economic Realities" standard.
Important court cases that help draw a brighter line between contractors and employees.
The steps you should take to deal safely with independent contractors.
Plus, answers to YOUR questions about independent contractor issues.
Contractor status has exploded in recent years and it can save you big on taxes and benefits. But you must get those classifications right – now more than ever!
The federal government predicts its crackdown on employee misclassification will reap at least $7 billion in federal revenue over the next 10 years. Don't become a notch on the IRS' belt! Discover your compliance mistakes now – before the feds do – and learn how to manage your independent contractors legally using these brand-new DOL rules.
What your colleagues are saying
When this training was given recently, attendees showered rave reviews, including:
"Very important and timely presentation. Great guidelines to follow"
"Obviously expert speakers"
"Great to have all the analysis and tests"
"Great breakdown … causes me to take a closer look at a few individuals"
"Lots of leading-edge knowledge and commentary with humor"
This is your best chance to make sure you get your independent contractor classifications right. I look forward to welcoming you November 5.
Sincerely,
Pat DiDomenico, Editorial Director
The HR Law Weekly

P.S. Registration Bonus. Everyone who signs up will receive Using Independent Contractors at no cost or obligation. This report offers step-by-step instructions on how to comply with IRS requirements without compromising your ability to make cost-effective hiring decisions. Others have paid $39.95 for this report, but we'll send you the download with our compliments … if you sign up today.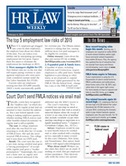 P.P.S. Extra Added Bonus. You'll also receive 5 issues of The HR Law Weekly newsletter. Every Wednesday, our team of attorneys and HR pros reviews the latest case law and regulations that may impact you. We'll also show you how to "lawsuit-proof" your HR practices – from avoiding handbook mistakes to training managers on hiring and firing the right way, and much more. To make sure you continue to benefit from this advice, we'll keep The HR Law Weekly coming for just $79/quarter until you tell us "no, thanks."
P.P.P.S. We promise you'll be satisfied. If HR Update: The New Independent Contractor Compliance Rules fails to meet your needs, we will refund 100% of your tuition – no questions asked. Your course materials, early registration bonus and 5 issues of The HR Law Weekly are all yours to keep.
---
About Your Speakers:
Greg Guidry is a shareholder with Ogletree Deakins, based in Lafayette, Louisiana. He has successfully represented management in all phases of labor and employment law throughout the United States for over 35 years. A significant percentage of his practice involves defending and advising clients on misclassification issues. He is the president of the national Management Labor & Employment Roundtable, is a fellow in the College of Labor and Employment Lawyers, and has been listed for many years in Best Lawyers in America directory in the labor and employment law field.
Jennifer Trulock is a partner at Baker Botts in Dallas, where she is chair of the firm's Labor and Employment Practice Group. Jennifer graduated from Georgetown University Law Center and she represents management in all aspects of labor and employment law. Jennifer also counsels and trains employers on managing workplace issues and preventing employment lawsuits.
---
Credit Hours:
The use of this official seal confirms that this Activity has met HR Certification Institute's® (HRCI®) criteria for recertification credit pre-approval.
---
Thursday, November 5th

1 - 2:15 p.m. ET
10 - 11:15 a.m. PT
Since this is a webinar, you and your entire staff can attend in the comfort of your office or conference room for one low price! You may include as many people as you wish while listening on a single phone line or computer. Contact us for multi-site discounts.