Outlook Strategies for Email Hoarders

Drowning in email information?
You know who you are. You face every new day with an inbox of hundreds or thousands of emails. Makes you tired just thinking about it, doesn't it?
Now is the time to get organized. If you're tired of stepping over mountains of messages just to find out what you're supposed to do today, join us Wednesday, October 9, for Outlook Strategies for Email Hoarders.
If you've lost that oh-so-important needle in the haystack one too many times, this webinar is for you!
Learn 3 ways to reduce your inbox by hundreds of emails in just seconds without losing anything you absolutely must keep.
Get comfortable with the Archive tool and confident about what's happening to your archived messages.
Learn how to use Filtering Rules, Quick Steps and Ignore to keep everything in its place, automatically!
Finally stop creating copies of emails, just so you can find them where you want them.
Microsoft® Certified Trainer Melissa Esquibel will share her secrets for keeping a trim inbox, being able to find whatever you need in fewer than three clicks, and managing over 100 new emails per day without even touching half of them!
If you're ready to finally get unburied and back to work, join us October 9 for Outlook Strategies for Email Hoarders and tame this unruly beast!
Sincerely,
Pat DiDomenico, Editorial Director
Office Technology Today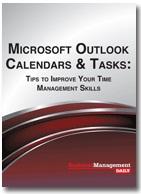 P.S. Registration Bonus. Sign up for Outlook Strategies for Email Hoarders and we'll send you Microsoft Outlook: Calendars & Tasks – Tips to Improve Your Time Management Skills Executive Summary. You already use Outlook for calendars or tasks… maybe for both… but separately. Now you can learn how to combine them to more easily schedule and manage everything you do.
P.P.S. Extra Added Bonus. You'll also receive one month of members-only access to the Office Technology Today Answer Center. This business software training website provides helpful solutions to your Microsoft Office challenges with training videos… informative Executive Summaries on specific Office programs… a "Help Desk" for personal answers to your office tech questions… and much more. So that you continue to benefit from the Answer Center, we'll continue your members-only access for just $89 per quarter, unless you tell us "no, thanks" – your choice.
P.P.P.S. We promise you'll be satisfied. If Outlook Strategies for Email Hoarders fails to meet your needs, we will instantly refund 100% of your tuition. Your course materials, registration bonus and website access will be yours to keep. No hassles, no questions asked.
Wednesday, October 9th

1 - 2:15 p.m. ET
10 -11:15 a.m. PT
Since this is a webinar, you and your entire staff can attend in the comfort of your office or conference room for one low price! You may include as many people as you wish while listening on a single phone line or computer. Contact us for multi-site discounts.