Managing Millennials for
Long-Term Success
"The future of work lies in empowering millennial talent." – Fast Company
Millennials now make up 35% of the U.S. workforce and, in 10 years, they'll be more than half.
But integrating this generation (born between 1981 and 1996) into the workforce has become a major challenge for organizations. Millennials have different wants and needs … and they already have one foot out the door.
Fact: Two-thirds of millennials plan to leave their current organizations in the next four years, and one-quarter see themselves elsewhere within a year, says Deloitte's Global Millennials survey.
This fascinating webinar recording will give you and your management team practical ways to effectively hire, onboard, train and manage your millennial employees.
Millennials are a different breed. Their values, technology and communication methods contrast (and sometimes conflict) with those of older generations. The common result: reduced engagement, less productivity and more turnover.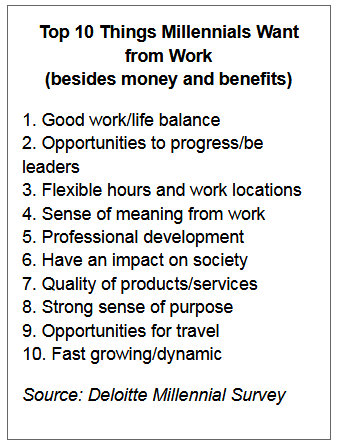 In this recording, trainer Amy Hirsh Robinson will teach you how to effectively integrate millennials into your workplace for maximum retention and competitive advantage. Among the things you'll learn:
6 onboarding steps to boost multi-generational productivity, performance and long-term retention
How to create an "Employee Value Proposition" and why it's critical to millennial recruitment and engagement
3 reasons companies with great intern programs fail to create long-term employees (and how to change that)
5 strategies to successfully balance the needs and practices of older generations with millennial expectations and behaviors
And much more, including answers to questions from an expert on the topic
Integrating millennials into your workplace is like introducing a new technology – there's a big learning curve unless you get the right training.
Managing Millennials for Long-Term Success will help your organization do a better job of recruiting, onboarding and managing your youngest workers. Get your copy today!
Sincerely,
Pat DiDomenico, Editorial Director
HR Specialist
P.S. Your satisfaction is unconditionally guaranteed. If Managing Millennials for Long-Term Success fails to meet your needs, we will refund every penny you paid – no hassles, no questions asked.
View a Free Clip of
Managing Millennials for Long-Term Success
About Your Speaker:
Amy Hirsh Robinson, MBA, is a leading expert on the changing workforce and the impact of generational shifts on organizations, consulting to Fortune 500 companies, privately held businesses and not-for-profits to prepare and retool leaders and their workforces to excel and compete in the New Economy. Her strategies and programs focus on attracting top talent, onboarding new employees to ensure the retention and engagement of top talent, managing and motivating a multigenerational workforce, and building competitive talent pipelines through effective succession planning practices. Amy speaks and publishes widely on workforce strategies for the New Economy and has been cited and quoted in publications such as Forbes, The Los Angeles Times and the Huffington Post.
Credit Hours:
The use of this seal confirms that this activity has met HR Certification Institute's® (HRCI®) criteria for recertification credit pre-approval.
Business Management Daily is recognized by SHRM to offer Professional Development Credits (PDCs) for SHRM-CP or SHRM-SCP.