Friday, Dec. 15

1:00 ET
10:00 PT
Implementing SECURE 2.0 — Helping Employees Work Toward Financial Wellness
With HR struggling to boost retention numbers, some experts believe SECURE 2.0 provides part of the solution

In this 75-minute interactive online training, you will learn how to:
Make it more attractive for employers to offer retirement benefits and encourage employees to save (and save more) for retirement.
Utilize SECURE 2.0 and its sweeping retirement provisions to retain employees.
Utilize the legislation's generous tax credits to help ease the burden of matching employee contributions.
SECURE 2.0 is the game-changing legislation that can help with employee retention
Thanks to SECURE 2.0, HR teams can assist employees in saving for retirement. By proactively assisting employees in their retirement planning, you show that you care about their long-term financial well-being. This fosters a sense of belonging and commitment that leads to higher employee retention rates.
The legislation provides HR departments with a clear framework to ensure compliance with retirement savings regulations. Staying ahead of the curve not only mitigates legal risks but also positions your organization as a forward-thinking employer, making you more attractive to top talent.
Top-tier candidates are looking for employers who invest in their future. By offering a robust retirement savings program, your company becomes a magnet for top talent. This not only streamlines recruitment efforts but also strengthens your workforce's skills and potential for growth. Learn how to utilize this legislation to your advantage. 
Hear from a financial expert how SECURE 2.0 brings new tax advantages that can significantly benefit your employees and organization. Help employees take advantage of tax-efficient savings strategies, ultimately reducing their tax burden while optimizing their retirement funds.
Agenda for Implementing SECURE 2.0
How employers can use SECURE 2.0 provisions to help employees pay down their student debt.
Why employers should take a hard look at their financial benefits and what they should consider offering employees.
How SECURE 2.0 retirement provisions may be used as a key way to retain employees.
Learn how all the provisions, including emergency savings accounts and employer 401(k) matching contributions for employees who are paying back their student loans, will affect your benefits and payroll processes.
Interactive Q&A time included
Matt will answer all your questions related to implementing SECURE 2.0 and how you can help your employees achieve financial wellness.
As vice president and workplace market lead for the Financial Health Network, Matt builds relationships with employers committed to advancing financial health for their workforces. He believes it takes a movement to improve workers' financial lives, connecting HR and benefits leaders with the Financial Health Network's expertise and solutions to create a strong financial health ecosystem.

In his role, Matt leads the development of new capabilities, strategies, and partnerships to help employers achieve their financial health goals. He works with stakeholders across the workplace community to spread awareness about solutions and cultivate connections within the broader financial health ecosystem. Matt has also been instrumental in growing Financial Health Network workplace programs, including the Employer FinHealth Forum, Worker Financial Wellness Initiative, and Workplace Solutions Practice.

A nationally recognized thought leader on workplace financial wellness, Matt previously served as head of financial wellness customer success at Prudential. In that role, he led a team of workplace consultants building financial wellness programs for large employers with a focus on assessing impact. Matt also oversaw a team of HR leaders at MaineHealth charged with improving employee well-being, engagement, and benefit optimization, and served as a labor and employment lawyer advising organizations on a broad range of matters.

Matt Bahl

speaker, financial health expert
Professional Certification Credit Hours Included With This Webinar
Business Management Daily is recognized by SHRM to offer Professional Development Credits (PDC) for SHRM-CP® or SHRM-SCP® recertification activities.
The use of this official seal confirms that this Activity has met HR Certification Institute's® (HRCI®) criteria for recertification credit pre-approval.
Register now and receive these free bonuses!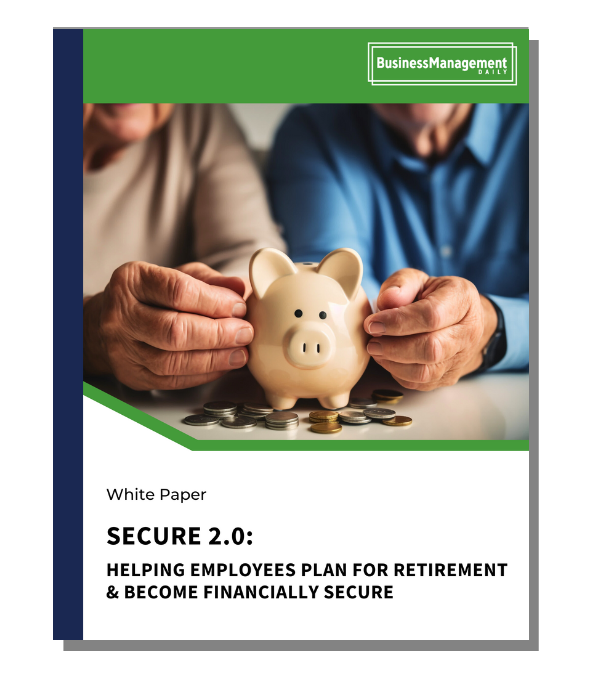 SECURE 2.0
With HR struggling to boost retention numbers, some experts believe SECURE 2.0 provides part of the solution. In this white paper, we've collected the best of our advice on SECURE 2.0 as it applies to retirement plans, student loans, and helping your employees achieve financial wellness.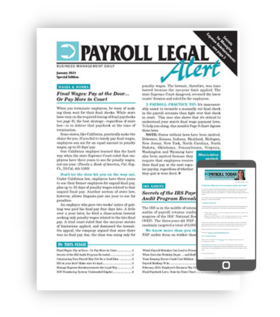 A full month of access to PayrollLegalAlert.com
You'll also receive one month of exclusive access to Payroll Legal Alert – our comprehensive online resource with timely advice, helpful articles, forms, tables and charts that will help you improve every aspect of your payroll operation. So that you continue to benefit from Payroll Legal Alert, we will continue your subscription after that for the then current rate, unless you tell us "no, thanks" – your choice.
We promise you'll be satisfied.
If Implementing SECURE 2.0 fails to meet your needs in any way, we will refund 100% of your tuition – every penny you paid – but your course materials and registration bonuses will be yours to keep. No hassles, no questions asked.