Friday, Nov. 17

1:00 ET
10:00 PT
Goal Setting:
Preparing You and Your Team for 2024
The ultimate guide to mastering the art of setting, managing, and achieving goals that drive results.

In this 75-minute interactive online training, you will learn how to:
Set goals for yourself, your department, and your team members to achieve specific targets that drive results and development.
Establish benchmarks to enhance accountability and drive engagement and motivation.
Utilize strategies to make talking about goals flawless to aid in alignment, connectedness, and purpose.
Driving success through clear goals: A manager's blueprint
Do you envision goals for you and your team to achieve in 2024? As a manager, this is an integral part of your job, and it's not as difficult as you may think.
Prepare for success in the new year now by setting goals for you and your team. This process leads to greater engagement, improves performance, and fosters a culture of collaboration and continuous improvement, while benefiting individual employees and the organization.
When employees are involved in the goal-setting process, they feel a stronger sense of ownership and commitment to achieving those objectives. It's your job as a manager to keep employees accountable and provide direction as needed, which means communicating effectively is crucial. 
On November 17, a management expert will lead you through the process, leaving you ready to set 2024 priorities, then monitor progress with ease.
How to set SMART goals for you and your team
Establish benchmarks to gauge progress
Set goals based on employee strengths and filling any skills gaps through training
Establish realistic targets that push the team to meet them without feeling overwhelmed while completing current tasks
Utilize "storytelling" to ensure you and team members feel connected to goals to drive purpose, motivation, and engagement
Strategies to talk about goals that can aid in employee development
Ways to discuss and set goals allowing employees to weigh in and personalize them
Interactive Q&A time included
Catherine will answer your questions and offer advice on how to set goals for you and your team.
Catherine M. Rymsha, EdD, knows what makes a leader, a leader. Based on her years of training, research and consulting, she's determined how a person becomes one: they make the decision to lead. She details this further in her recent book, The Leadership Decision. Catherine is a lecturer at the University of Massachusetts, Lowell, where she teaches courses on leadership. Catherine spent over ten years in marketing/communications leadership roles and now leads learning and development for a software company. Between her academic and professional experience, she has taught thousands of courses on leadership, feedback and career to global leaders across an array of industries.

Her TEDx Talk, "Want to Become a Better Leader? Here's How. Just Listen," focuses on the importance of listening to leadership. She holds a master of science in leadership and a doctorate of education with a focus on organizational leadership from Northeastern University in Boston and received her bachelor of arts in English/ communications from the Massachusetts College of Liberal Arts in North Adams, Massachusetts.

Catherine M. Rymsha, EdD

leadership expert and educator
Register now and receive these free bonuses!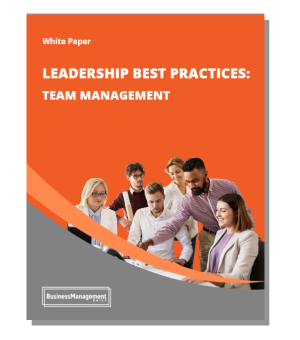 Leadership Best Practices: Team Management
Discover how businesses of all sizes are getting creative with team-building icebreakers and fun team-building activities. Don't forget to take the leadership assessment exercise to gauge your own performance as a team manager.
With this white paper, you will learn 15 eye-opening tips on how to improve your leadership team management and motivate your employees. Read case studies of team-building exercises on what has worked and what hasn't.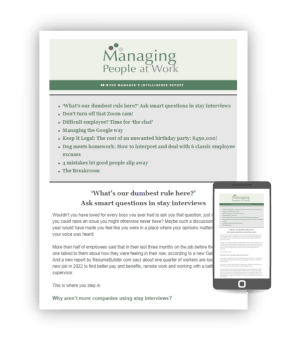 30-Day Free Trial to Managing People at Work
You'll also receive one month of exclusive access to Managing People at Work — our comprehensive online resource designed to make you a stronger, better-prepared manager. So that you continue to benefit from Managing People at Work, we will continue your subscription after that for the then current rate, unless you tell us "no, thanks" — your choice.
We promise you'll be satisfied.
If Goal Setting fails to meet your needs in any way, we will refund 100% of your tuition – every penny you paid – but your course materials and registration bonuses will be yours to keep. No hassles, no questions asked.