Friday, October 20

1:00 ET
10:00 PT
HR Best Practices: Align Your Efforts and Solve the Talent Shortage
Learn the story of a simple change in alignment that saved a company
In this 75-minute interactive online training, you will learn how to:
Deepen interdepartmental insight: Gain a firm grasp of how operations, finance, and HR should collaborate for strategic planning, performance, talent management, and more.
Apply practical alignment strategies: Acquire actionable methods to harmonize goals, enhance communication, and optimize resource allocation across departments.
Understand exactly which key metric predicts success or failure: Implement insights to make informed decisions, increase efficiency, and enhance HR's role in driving sustainability.
Lead the charge to synchronize HR, finance, and operations to improve processes and reduce turnover
Join us for a fast-paced program focused on reducing the turnover of key employees and improving productivity, by aligning HR's efforts with other key departments. This discussion will reveal the synergies that emerge when operations, finance, and HR collaborate as a team. Positive outcomes include increasing efficiencies, more transparent communication, heightened employee engagement, optimal resource utilization, accelerated innovation, and increased profitability.
You'll learn how strategic planning becomes more potent when HR aligns human capital strategies with business goals and then collaborates with operations and finance. Discover how shared performance metrics, facilitated by HR's performance appraisal systems, empower cross-functional success.
Attendees will learn from case studies of success and failure, and gain practical tactics to strengthen cross-departmental communication and optimize resource allocation. Our presenter will share seven areas where aligning HR with cross-functional efforts with operations and finance can ensure greater organizational success and offer tactics for each. Take advantage of this opportunity to better understand the organizational alignment tactics needed to harness the collective power of operations, finance, and HR.
Agenda for HR Best Practices

What an alignment failure looks like. How an organization might survive but not thrive because of misalignment, producing turnover, and inefficiency.
What an alignment success looks like. A case study of a struggling firm that shifted metrics, aligned the efforts of departments, and became profitable long term due to engagement and productivity.
Performance management. Establish shared performance metrics while incorporating operational benchmarks and aligning performance goals with financial targets.
Talent management. Adopt strategies for identification and development while addressing skill gaps and utilizing budgeting insights to help address the organization's talent needs.
Budgeting and resources. Explore collaborative budget planning, then engage in resource forecasting while allocating the required funds for HR and operational initiatives.
Change management. Manage organizational change by drawing insights from operations on process improvements and guidance from finance on the associated costs.
Communication and collaboration. Foster collaboration through HR's initiatives while optimizing processes with operations and working with finance to quantify impacts.
Interactive Q&A time included
In addition to providing training, Karl will be available to answer your questions about HR best practices and aligning departments in the dedicated live Q&A time.

Karl Ahlrichs, SHRM-SCP, SPHR, is a senior consultant at Gregory and Appel and a leading thought leader, author and speaker on human capital issues. Karl is an often-quoted expert on workplace topics and has significant experience as a management consultant with dozens of organizations, including Boeing, Apple, Wellpoint and Frito Lay. He was the founding partner of HR services firm ExactHire and also held senior-level positions with Marsh & McLennan, Professional Staff Management and Right Management Consultants.

Karl Ahlrichs

Gregory and Appel
Professional Certification Credit Hours Included With This Webinar
Business Management Daily is recognized by SHRM to offer Professional Development Credits (PDC) for SHRM-CP® or SHRM-SCP® recertification activities.
The use of this official seal confirms that this Activity has met HR Certification Institute's® (HRCI®) criteria for recertification credit pre-approval.
Register now and receive these free bonuses!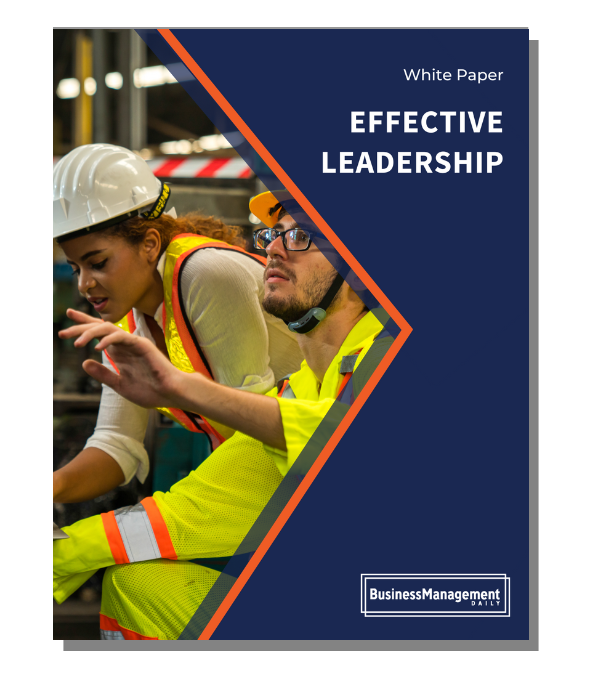 Effective Leadership
Simply being in a management position doesn't make someone an effective leader. Leaders shape the culture, practices, and communication styles of the organizations and teams they lead. It takes more than just good intentions to be an effective leader, it takes the right skills. Learn the basics with this new white paper and discover how to be an effective leader.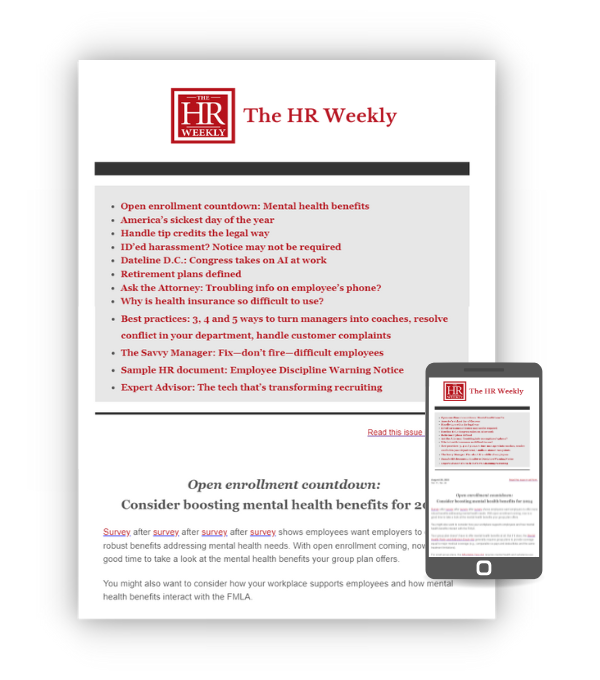 4 free issues of The HR Weekly
You'll also receive one month of exclusive access to The HR Weekly – our comprehensive service with all the HR advice and compliance tools to simplify your job … and to keep your organization out of court. So that you continue to benefit from The HR Weekly, we will continue your subscription after that for the then current rate, unless you tell us "no, thanks" – your choice.
We promise you'll be satisfied.
If HR Best Practices fails to meet your needs in any way, we will refund 100% of your tuition – every penny you paid – but your course materials and registration bonuses will be yours to keep. No hassles, no questions asked.