Thursday, Oct. 12

1:00 ET
10:00 PT
Step Up and Stop Under-Managing
Leading through accountability to drive yourself and your team to greatness

In this 75-minute interactive online training, you will learn how to:
Spot the signs that you are under-managing, make the appropriate changes, and improve employee productivity and engagement.
Navigate conflict and feedback to drive behavior and performance
Implement tools to help you and your team better prioritize, align, and collaborate
Driving self and team accountability to enhance effectiveness, happiness, and productivity
You may think it's easier to under-manage your employees and ignore issues that need your attention than to step up and remedy the situation. But utilizing this management practice, or lack thereof, causes more harm than good.
Learn how to spot your management red flags, then ramp up your skills in the key areas of prioritization, collaboration, and alignment while also self-assessing where you may need to step up as a leader. After this session, you'll be equipped to map a plan to improve your mindset as a leader while also gaining easy-to-use tools to implement immediately.
Agenda for Step Up and Stop Under Managing
Spot the signs that you are under-managing employees and how this impacts the team
Assess where you may have conflict avoidance and how you can address it to calmly resolve issues
Address goal setting to ensure team members are aligned and collaborating
Learn ways to navigate competing priorities so you and your team are focused on the right things
How to flawlessly discuss employee goals and aspirations and then delegate accordingly
How your engagement and satisfaction impacts those around you and those you lead. Plus, discover ways to recharge
Interactive Q&A time included
How can you improve your under-managed team? Bring your specific leadership questions and Catherine will offer help during the Q&A time.
Catherine M. Rymsha, EdD, knows what makes a leader, a leader. Based on her years of training, research and consulting, she's determined how a person becomes one: they make the decision to lead. She details this further in her recent book, The Leadership Decision. Catherine is a lecturer at the University of Massachusetts, Lowell, where she teaches courses on leadership. Catherine spent over ten years in marketing/communications leadership roles and now leads learning and development for a software company. Between her academic and professional experience, she has taught thousands of courses on leadership, feedback and career to global leaders across an array of industries.

Her TEDx Talk, "Want to Become a Better Leader? Here's How. Just Listen," focuses on the importance of listening to leadership. She holds a master of science in leadership and a doctorate of education with a focus on organizational leadership from Northeastern University in Boston and received her bachelor of arts in English/ communications from the Massachusetts College of Liberal Arts in North Adams, Massachusetts.

Catherine M. Rymsha, EdD

leadership expert and educator
Register now and receive these free bonuses!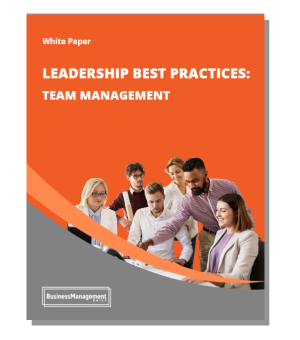 Leadership Best Practices: Team Management
Discover how businesses of all sizes are getting creative with team-building icebreakers and fun team-building activities. Don't forget to take the leadership assessment exercise to gauge your own performance as a team manager.
With this white paper, you will learn 15 eye-opening tips on how to improve your leadership team management and motivate your employees. Read case studies of team-building exercises on what has worked and what hasn't.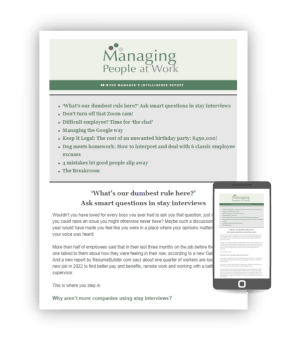 30-Day Free Trial to Managing People at Work
You'll also receive one month of exclusive access to Managing People at Work — our comprehensive online resource designed to make you a stronger, better-prepared manager. So that you continue to benefit from Managing People at Work, we will continue your subscription after that for the then current rate, unless you tell us "no, thanks" — your choice.
We promise you'll be satisfied.
If Step Up and Stop Under Managing fails to meet your needs in any way, we will refund 100% of your tuition – every penny you paid – but your course materials and registration bonuses will be yours to keep. No hassles, no questions asked.