Friday, Oct. 6

1:00 ET
10:00 PT
Advanced Interviewing Tactics:
Leverage Résumé Analysis, Artful Questioning to Increase Quality of Hire
Build your reputation as a "talent finder" with a unique ability to assess and select high-quality applicants for your company's highest-impact jobs

In this 75-minute interactive online training, you will learn how to:
Apply the three keys to effective interviewing: Detail orientation, engaged listening, and artful questioning.

Remain laser-focused on the job's critical success factors, and identify and screen for the hard and soft skills indicative of high performers.

Avoid the high-risk mistakes made by many interviewers, including poor questioning techniques and allowing bias to skew your decisions.
Interviewing is the most intense and costly part of the candidate selection process. Learn how to get it right and hire the high performers — the first time
Interviewing takes skill. After all, research shows that one in three Americans admit to lying on their résumés. Eighty percent of those who lied were hired by the employers who interviewed them. Candidate selection now involves journalistic-style probing skills and being a savvy investigator to uncover candidate skills conducive to job excellence. 
Learn how to examine résumé information gaps, how to stray from the interview script by asking behavioral questions aligned with the job's critical success factors, and how to identify résumé anomalies that could lead to a mis-hire. Use your curiosity to personalize each interview, enabling you to learn what makes each candidate unique. Apply a résumé-based agenda to confirm résumé details and gaps, and identify the highest-risk résumé red flags.
Discover how to evaluate the top five soft skills, when to use each of  the varying types of interview questions — situational, self-assessment, behavioral, probing — and how to fine-tune and polish your remote interviewing skills.
Agenda for Advanced Interviewing Tactics
Learn how to navigate the candidate interview process by taking notes, and making data- and fact-driven decisions.
Analyze candidate résumés assessing the professional look and feel, job gaps, short job stints, and other vital factors.
Use insightful questioning to ask behavioral questions, go off script, and get answers to that missing 10% of information candidates don't share.
Participate in engaged listening, including tactics such as paraphrasing and allowing moments of silence to make the candidate feel heard.
How to use the job description as your ADA guide: what are the job's "essential job functions"?
Why confirming résumé data is crucial, and the key areas to corroborate.
Interactive Q&A time included
Julius will answer all your questions regarding taking your interview skills to the next level.

Julius Schillinger is senior advisor to the CEO and is Human Resources Leader for Kyo Autism Therapy, LLC. Previously, Schillinger was VP of Business Development for the Behavioral Health unit of Fortune 200 health insurer Health Net Inc., Chief HR Officer for NextCard, and CHRO for C-Change. Julius spent 7 years as VP of Global Human Capital for Ernst & Young's Human Capital unit. Julius received his M.S. from the University of Southern CA, and completed his Ph.D. work at Kent State University. He is an Adjunct Professor in the Business Management department at UC Santa Cruz.

Julius Schillinger

Human Resources Leader for Kyo Autism Therapy, LLC
Professional Certification Credit Hours Included With This Webinar
Business Management Daily is recognized by SHRM to offer Professional Development Credits (PDC) for SHRM-CP® or SHRM-SCP® recertification activities.
The use of this official seal confirms that this Activity has met HR Certification Institute's® (HRCI®) criteria for recertification credit pre-approval.
Register now and receive these free bonuses!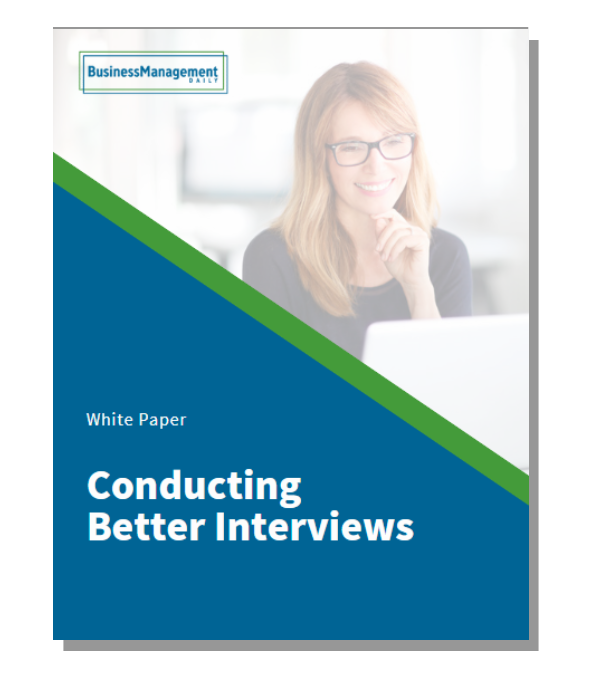 Conducting Better Interviews
How well do you really get to know a candidate in an interview? Are you certain your favorite candidate had the perfect skills or do you just remember how charming they were? Picking the right candidate is crucial, as making the wrong choice could mean restarting the hiring process in six months.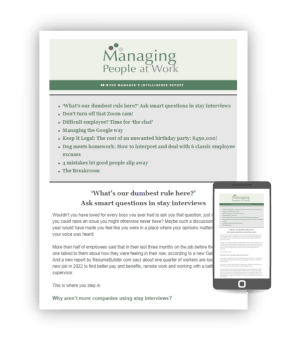 30-Day Free Trial to Managing People at Work
You'll also receive one month of exclusive access to Managing People at Work — our comprehensive online resource designed to make you a stronger, better-prepared manager. So that you continue to benefit from Managing People at Work, we will continue your subscription after that for the then current rate, unless you tell us "no, thanks" — your choice.
We promise you'll be satisfied.
If Advanced Interviewing Tactics fails to meet your needs in any way, we will refund 100% of your tuition – every penny you paid – but your course materials and registration bonuses will be yours to keep. No hassles, no questions asked.