Wednesday, Sept. 20

1:00 ET
10:00 PT
Attendance Policies:
How to Structure an Enforceable Plan


How to build and enforce a legally compliant attendance policy (that complies with the FMLA and ADA too)
In this 75-minute interactive online training, learn how to:
Create a policy statement and outline an attendance policy. Emphasize the importance of regular attendance while accommodating employees' medical and family-related needs.
Determine eligibility and coverage. Specify who is eligible for FMLA and clarify what the ADA and PWFA cover.
Outline the potential consequences for noncompliance with the attendance policy, ensuring all disciplinary actions will be within legal regulations.
When attendance expectations clash with employee rights
As an employer, you expect those you hire to show up when scheduled. After all, that's the whole point of hiring — to get work done. For employers, attendance is an essential function of jobs. But there are exceptions. People get sick. Dental appointments happen. Young employees start families, older employees end up caring for their parents. Workers with disabilities encounter setbacks. Religious beliefs and practices require occasional time off even during busy seasons. Reservists are called to active duty during military engagements and weather emergencies. And laws protect all these workers, within limits. Knowing those limits is key to balancing the need to get work done with your legal obligations.
Learn how to build an attendance program that encourages regular attendance, but with built-in checks that ensure you're not illegally enforcing attendance rules. Always start with a declaration that attendance is an essential job function. Then look to exceptions to that rule — either provided through your benefits program like sick, vacation or paid-time-off policies or legally protected absences like FMLA leave, ADA and religious accommodations, military leave and many other state, local and federal laws.
Your attendance program should clarify exactly what employees need to do before they miss a scheduled shift — like calling off well ahead of time or facing the assumption that the missed time means a voluntary quit. It should also tell managers when they can and cannot count an absence against the missing worker and exactly how to adjust workplace expectations when the absence is protected by law. A no-fault point-based system may work if you're willing to let an otherwise good employee go and you build in a way to earn point reductions.
Agenda for Attendance Policies: How to Structure an Enforceable Plan
Why you need a formal attendance policy that makes attendance an essential job function and how to create it.
How the FMLA impacts absenteeism and when intermittent absences are a protected right.
How to account for FMLA absences when evaluating employee performance and tallying missed days under your no-fault or point-based attendance rules.
What to do when a disabled worker misses work and how to prove attendance is an essential job function.
How to reasonably accommodate pregnancy-related absences and restrictions before and after birth under the new Pregnant Workers Fairness Act.
Managing unlimited milk expression breaks under the brand-new PUMP Act rules.
How USERRA impacts attendance, including extended absences when called to active duty.
Tell-tale signs that employees are abusing leave and what to do about it.
How to accommodate conflicting requests for religion-based time off under the new stricter Supreme Court rules on religious reasonable accommodations.
Interactive Q&A time included
Get answers to your specific questions from a true expert on the issue.
Anniken Davenport is a noted employment law attorney and the editor of the HR Specialist: Employment Law newsletter series. She has authored several books, including Bullet-Proof Your Employee Handbook and Overtime & Other Tricky Pay Issues, published by HR Specialist. She is the co-author of the upcoming Labor & Employment Law for the 21st Century by Prentice Hall. Anniken has served as a professor at Penn State University, where she taught business law and HR management, and she directed the Legal Studies Program at Wilson College. Her legal career includes representing government units in discrimination and other employment law cases and representing school districts in labor negotiations.

Anniken Davenport

Attorney and author
Professional Certification Credit Hours Included With This Webinar
Business Management Daily is recognized by SHRM to offer Professional Development Credits (PDC) for SHRM-CP® or SHRM-SCP® recertification activities.
The use of this official seal confirms that this Activity has met HR Certification Institute's® (HRCI®) criteria for recertification credit pre-approval.
Register now and receive these free bonuses!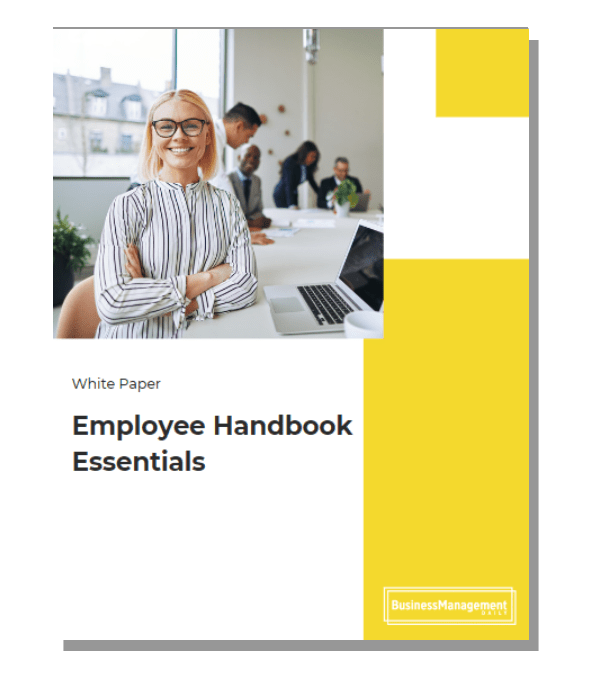 Employee Handbook Essentials
Whether you're starting from scratch or simply updating your handbook, this white paper will walk you through a foolproof process and provide 20 customizable sample policies. The Employee Handbook Essentials white paper will provide the essentials you need to know, without bogging you down. Take the guesswork out of one of the most important documents for your organization.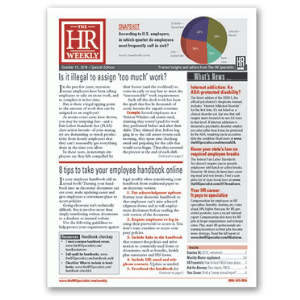 4 free issues of The HR Weekly
You'll also receive one month of exclusive access to The HR Weekly — our comprehensive service with all the HR advice and compliance tools to simplify your job … and to keep your organization out of court. So that you continue to benefit from The HR Weekly, we will continue your subscription after that for the then current rate, unless you tell us "no, thanks" — your choice.
We promise you'll be satisfied.
If Attendance Policies: How to Structure an Enforceable Plan fails to meet your needs in any way, we will refund 100% of your tuition — every penny you paid — but your course materials and registration bonuses will be yours to keep. No hassles, no questions asked.