Wednesday, Nov. 1

1:00 ET
10:00 PT
Complying with New Pregnancy and Postpartum Accommodation Rules
EEOC announces coming expansive pregnancy regulations
In this 75-minute interactive online training, you will learn how to:
Accommodate pregnant and postpartum workers

Arrange for (unlimited) workplace milk expression breaks

Adjust your reasonable accommodation rules to include pregnancy and recovery
Are you ready for menstruation and menopause leave and accommodations?
Employers have brand-new legal obligations to reasonably accommodate workers expanding their families. The EEOC just announced expansive new proposed regulations that may require leave for everything pregnancy-related. Think infertility, stillbirth, abortion, menstruation, and maybe menopause leave. Plus, there's a requirement that your pregnant employees be provided with reasonable accommodations that allow them to continue working up to giving birth. These reasonable accommodations can be something as simple as allowing late arrival for scheduled shifts due to morning sickness or providing unpaid leave after giving birth even if no paid leave is available or the employee isn't eligible for unpaid FMLA leave. If a reasonable accommodation is available, you can't choose to send the employee home on unpaid leave instead if she wants to work.
In addition, you must reasonably accommodate postpartum conditions and complications until the new parent is ready to resume work. That's true whether she's out of FMLA leave or not entitled to it. For example, an employee who undergoes a cesarean section and has complications from that surgery may have to be allowed more time off than she has available as a reasonable accommodation. Think of it as a new form of maternity leave.
Then, when she does return, you're also required to provide a facility where, for up to a year following birth, she can safely and privately express milk for the new infant and do so as often as she needs to. That means unlimited breaks during the workday are now a federal requirement — with some specific provisions for when that time must be paid. What's more, you have only 10 days after a request for a milk expression break room to provide one. On day 11, the employee can file her federal lawsuit. The litigation has already started with a class action for allegedly forcing new mothers to express in the breakroom or the back of a truck.
Agenda for Complying with New Pregnancy and Postpartum Accommodation Rules
Pregnancy, missed work, and attendance programs: When can you discipline for missed work during pregnancy?
Why forcing a pregnant worker to take leave isn't a reasonable accommodation under the new PWFA if she could feasibly continue working.
Whether the PWFA creates a de facto unpaid maternity leave and what you risk if you turn down a request for time off following birth.
The four accommodations the EEOC says you can't even question.
Eliminating essential functions entirely may be a reasonable accommodation for pregnancy.
Whether and when you have to provide time off for fertility treatments, abortion care, stillbirth or miscarriage recovery, and even menstruation and menopause leave.
What sort of accommodations you are required to make for common pregnancy-related problems like morning sickness, lifting restrictions, and bed rest orders.
Easy-to-implement, practical accommodations that won't unduly disrupt the workplace while complying with the new law.
How the FMLA interacts with the PWFA and the PUMP Act to create an entirely new entitlement program.
How to set up a PUMP Act-compliant breakroom or area, and what to include.
A comprehensive, single policy for reasonable accommodations, including pregnancy.
Interactive Q&A time included
Anniken will answer all questions surrounding the PWFA, Pump Act, and postpartum requirements.

Anniken Davenport is a noted employment law attorney and the editor of the HR Specialist: Employment Law newsletter series. She has authored several books, including Bullet-Proof Your Employee Handbook and Overtime & Other Tricky Pay Issues, published by HR Specialist. She is a co-author of the upcoming Labor & Employment Law for the 21st Century by Prentice Hall. Anniken has served as a professor at Penn State University, where she taught business law and HR management, and she directed the Legal Studies Program at Wilson College. Her legal career includes representing government units in discrimination and other employment law cases and representing school districts in labor negotiations.

Anniken Davenport

Attorney and author
Professional Certification Credit Hours Included With This Webinar
Business Management Daily is recognized by SHRM to offer Professional Development Credits (PDC) for SHRM-CP® or SHRM-SCP® recertification activities.
The use of this official seal confirms that this Activity has met HR Certification Institute's® (HRCI®) criteria for recertification credit pre-approval.
Register now and receive these free bonuses!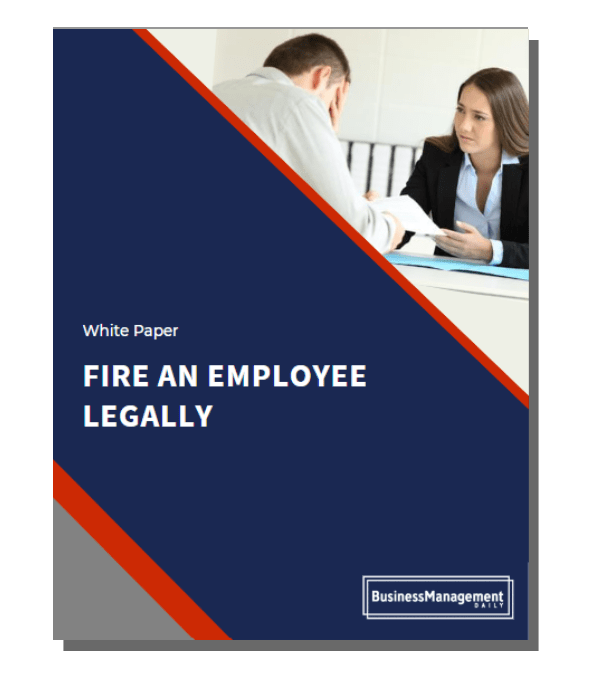 Fire an Employee Legally
Everyone who registers will receive our new white paper, Fire an Employee Legally. Your company may need to downsize for economic reasons. Or perhaps you're looking to get rid of a problem employee with behavioral/performance issues. Terminating someone is never pleasant or easy. That doesn't mean you can't let an employee go, but you must do it the right way.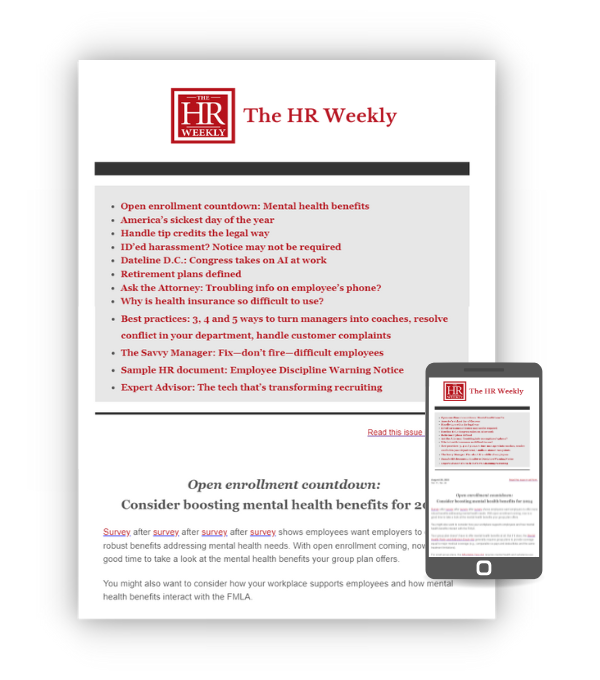 4 free issues of The HR Weekly
You'll also receive one month of exclusive access to The HR Weekly – our comprehensive service with all the HR advice and compliance tools to simplify your job … and to keep your organization out of court. So that you continue to benefit from The HR Weekly, we will continue your subscription after that for the then current rate, unless you tell us "no, thanks" – your choice.
We promise you'll be satisfied.
If Complying with New Pregnancy and Postpartum Accommodation Rules fails to meet your needs in any way, we will refund 100% of your tuition – every penny you paid – but your course materials and registration bonuses will be yours to keep. No hassles, no questions asked.