Friday, June 9

1:00 ET
10:00 PT
Managers as Mediators: Resolving Conflicts & Communication Breakdowns
Align your team by setting expectations and reinventing the way your department conducts business
In this 75-minute interactive online training, you will learn how to:
Broker employee disputes

by providing a safe place for team members to be heard while resetting go-forward expectations.

Hold team members accountable

for both their performance and conduct to ensure a healthier work space for your staff members to do their very best work every day with peace of mind.

Avoid communication breakdowns

by facilitating conversations, resetting goals and expectations, and addressing minor issues before they become major impediments.
Managers: Meet the challenges of daily leadership with 'constructive confrontation'
Day in and day out, frontline operational leaders look to bring out the best in their team members. But when employees sometimes don't seem to want to get along with one another, managers must reset their expectations and share their values to realign the team back to the organization's mission and purpose. To do that, managers must learn to "constructively confront" problematic performers who fail to demonstrate role-model behavior. 
If your team is bogged down with employee disputes, communication isn't flowing properly and work is likely falling through the cracks. Don't sweep things under the rug, look the other way, or hope issues fix themselves. Effective leaders proactively mediate employee disputes and demonstrate a healthy willingness to make things better. And that's the message strong managers want to project to the entire team.
Conflict resolution is a critical skill set to add to every manager's toolbox. In this engaging session, you'll learn to address performance issues in real time—by listening to the employee's side of the story, while holding the individual accountable for their own perception management. Managers will be given the communication tools to build team consensus in changing business environments, overcome change resistance, enhance team self-confidence, and celebrate successes. 
Mediating employee disputes requires managers to possess a high level of self-awareness and emotional intelligence—skills that can be grown and developed with the help of a seasoned mentor and coach.
Agenda for Managers as Mediators
Conflict resolution: when team members refuse to recognize one another.
Performance and conduct accountability and growing employees' EQ (Emotional Quotient).
Practicing role-model leadership in addressing minor issues before they fester and become major impediments.
Staff agility and change readiness: eliminating obstacles that stifle performance or create a toxic or hostile environment.
Developing a reputation as a hands-on, effective leader no matter what types of changes or deadlines come your way.
Interactive Q&A time included
Paul can address your questions related to problematic performance or conduct challenges, and how to build teamwork among your employees.

Paul Falcone is the principal of Paul Falcone Workplace Leadership Consulting, LLC, specializing in leadership and management training, executive coaching, keynote speaking, and facilitating corporate offsite retreats. Paul is the former CHRO of Nickelodeon, a long-term columnist for SHRM, and a bestselling author of 15 books with HarperCollins Leadership and the American Management Association, including the new five-book Paul Falcone Workplace Leadership Series, 101 Tough Conversations to Have with Employees, 101 Sample Write-Ups for Documenting Employee Performance Problems, 96 Great Interview Questions to Ask Before You Hire, and 2600 Phrases for Effective Performance Reviews.

Paul Falcone

author, former CHRO of Nickelodeon, and a long-term columnist for SHRM
Professional Certification Credit Hours Included With This Webinar
Business Management Daily is recognized by SHRM to offer Professional Development Credits (PDC) for SHRM-CP® or SHRM-SCP® recertification activities.
The use of this official seal confirms that this Activity has met HR Certification Institute's® (HRCI®) criteria for recertification credit pre-approval.
Register now and receive these free bonuses!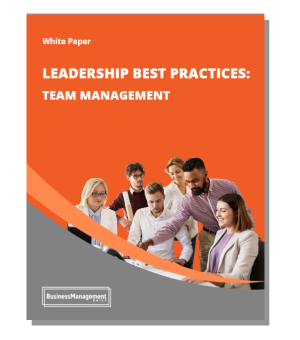 Leadership Best Practices: Team Management
Discover how businesses of all sizes are getting creative with team-building icebreakers and fun team-building activities. Don't forget to take the leadership assessment exercise to gauge your own performance as a team manager.
With this white paper, you will learn 15 eye-opening tips on how to improve your leadership team management and motivate your employees. Read case studies of team-building exercises on what has worked and what hasn't.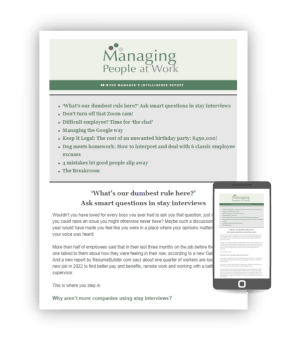 30-Day Free Trial to Managing People at Work
You'll also receive one month of exclusive access to Managing People at Work — our comprehensive online resource designed to make you a stronger, better-prepared manager. So that you continue to benefit from Managing People at Work, we will continue your subscription after that for the then current rate, unless you tell us "no, thanks" — your choice.
We promise you'll be satisfied.
If Managers as Mediators fails to meet your needs in any way, we will refund 100% of your tuition – every penny you paid – but your course materials and registration bonuses will be yours to keep. No hassles, no questions asked.