Monday, May 29

1:00 ET
10:00 PT
Managing Difficult People
Regain control of your office and get your difficult workers back on track.
In this 75-minute workshop, you'll learn how to:
Identify the varying types of difficult employees you may encounter.

Correct problem behavior and why it's important for your sanity and employee morale.

Understand the root cause of the toxic behavior.
How to Manage Difficult People While Maintaining your Sanity
Managing difficult people doesn't have to induce headaches. With the right techniques and a good sense of humor, managers can turn difficult situations into opportunities for growth and development for themselves and their team.
Leaders and managers will learn the skills and techniques necessary to effectively manage difficult people in a positive and constructive manner, while also maintaining team productivity and morale, and keeping their sense of humor intact.
Discover concrete strategies, like active listening and showing empathy, while still acting assertively to take control of the situation. Also, learn how to de-escalate tense situations and conflicts and problem-solve like a pro.
Agenda for Managing Difficult People
How to listen and respond to difficult employees with proven strategies.
Understand the employee's perspective and needs, instead of telling them to get over it.
Learn how to de-escalate tense situations and conflict without causing a scene.
Communicate expectations and boundaries clearly, without losing your cool.
Collaborate with employees to find solutions.
Explore real-world scenarios to help with your next employee dilemma.
Interactive Q&A time included
In addition to her interactive session, Diana will be available to answer your questions about challenges faced by managers and leaders.
Diana Weiss is a professional speaker, coach, trainer and author specializing in topics including leadership and personal development, business, customer service, communication and more. She has worked with and spoken before companies including Wells Fargo, Morgan Stanley, The US Air Force, The American Heart Association and several healthcare groups, among others. Diana graduated with a BA in Communications from Lindenwood University in Saint Charles, Missouri, and has co-authored two books.

Diana Weiss

International Speaker, Consultant & Leadership Trainer
Professional Certification Credit Hours Included With This Webinar
Business Management Daily is recognized by SHRM to offer Professional Development Credits (PDC) for SHRM-CP® or SHRM-SCP® recertification activities.
The use of this official seal confirms that this Activity has met HR Certification Institute's® (HRCI®) criteria for recertification credit pre-approval.
Register now and receive these free bonuses!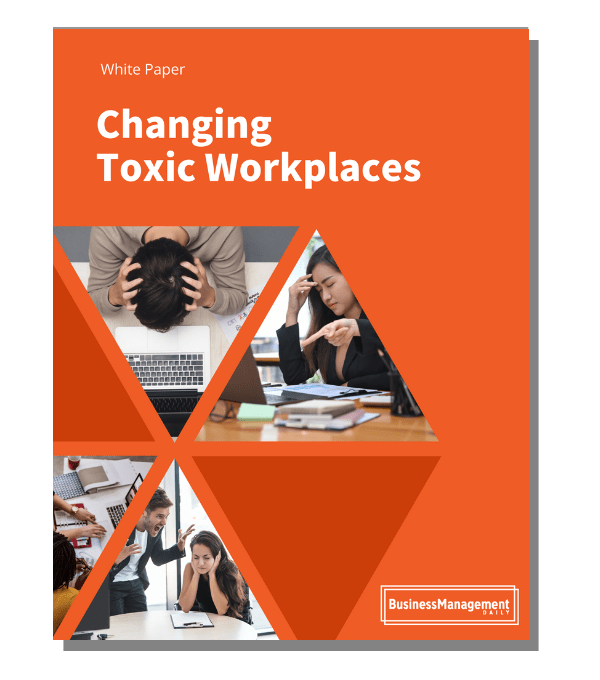 Changing Toxic Workplaces
Identifying, changing, and preventing toxicity in the workplace is a difficult and draining responsibility. With this white paper, learn how to promote positive mindsets and why it is important to include negative emotions.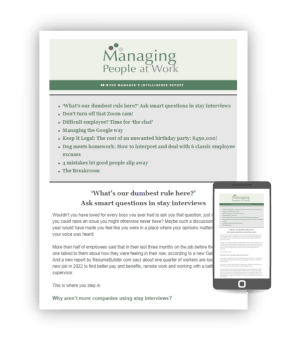 30-Day Free Trial to Managing People at Work
You'll also receive one month of exclusive access to Managing People at Work — our comprehensive online resource designed to make you a stronger, better-prepared manager. So that you continue to benefit from Managing People at Work, we will continue your subscription after that for the then current rate, unless you tell us "no, thanks" — your choice.
We promise you'll be satisfied.
If Managing Difficult People fails to meet your needs in any way, we will refund 100% of your tuition – every penny you paid – but your course materials and registration bonuses will be yours to keep. No hassles, no questions asked.