Wednesday, April 5

1:00 ET
10:00 PT
Employment Update: Noncompete Agreements
Noncompete agreements are dead; here's how to stay protected
In this 75-minute interactive online training, you will learn:
What immediate action you must take.

How to undo existing noncompete agreements legally while protecting trade secrets and other confidential information

Why the FTC banned noncompetes.

The FTC wants you to give workers the right to job-hop easily. Learn how to use that to your advantage

Independent contractor agreements are at risk, too.

Learn how to renegotiate these agreements also
Help legally protect your business: Train your supervisors
Chances are, you have employees bound by noncompete agreements. The reason is obvious — you don't want a key employee defecting to the competition, taking valuable information and critical expertise with them, leaving you at an acute disadvantage.
But the FTC doesn't view noncompete agreements that way. Instead, it sees a sustained effort by employers who use them to suppress wages, kill competition and hold down innovation. That's why it has new rules that severely limit when and how you can tell employees they can't take a job with another company or launch their own competing enterprise. 
When the proposed rules go into effect, you will have just a few months to undo every noncompete agreement you have in place — for current employees as well as former ones. Join employment lawyer Anniken Davenport for a step-by-step guide to dismantling those noncompete agreements and replacing them with something protective and legal before it's too late.
Agenda for Employment Update: Noncompete Agreements
What noncompete agreements are and why the FTC hates them.
Why you should never have required them for low-wage workers.
How to track down current and previous employees who signed noncompete agreements and let them know they're no longer valid.
Don't have a noncompete but do require new employees to reimburse for training costs if they quit? The FTC is also proposing banning training reimbursement agreements as non-competitive.
Why it's more important than ever to include trade secrets and confidentiality provisions when hiring independent contractors or agreeing to take on volunteers or interns.
Why the new rules may be good for some employers looking to hire applicants. You no longer have to worry about "poaching" from the competition if you follow a few simple rules.
Learn about the positive side of the FTC's new rules — like reducing red tape for licensing "professions" that don't need to be regulated and allowing employers to train their own workers without onerous testing and educational requirements.
Interactive Q&A time included
Don't miss the opportunity to have Anniken answer all your questions about the FTC's radical new rules in the live Q&A session
Anniken Davenport is a noted employment law attorney and the editor of the HR Specialist: Employment Law newsletter series. She has authored several books, including Bullet-Proof Your Employee Handbook and Overtime & Other Tricky Pay Issues, published by HR Specialist. She is a co-author of the upcoming Labor & Employment Law for the 21st Century by Prentice Hall. Anniken has served as a professor at Penn State University, where she taught business law and HR management, and she directed the Legal Studies Program at Wilson College. Her legal career includes representing government units in discrimination and other employment law cases and representing school districts in labor negotiations.

Anniken Davenport

Attorney and author
Professional Certification Credit Hours Included With This Webinar
Business Management Daily is recognized by SHRM to offer Professional Development Credits (PDC) for SHRM-CP® or SHRM-SCP® recertification activities.
The use of this official seal confirms that this Activity has met HR Certification Institute's® (HRCI®) criteria for recertification credit pre-approval.
Register now and receive these free bonuses!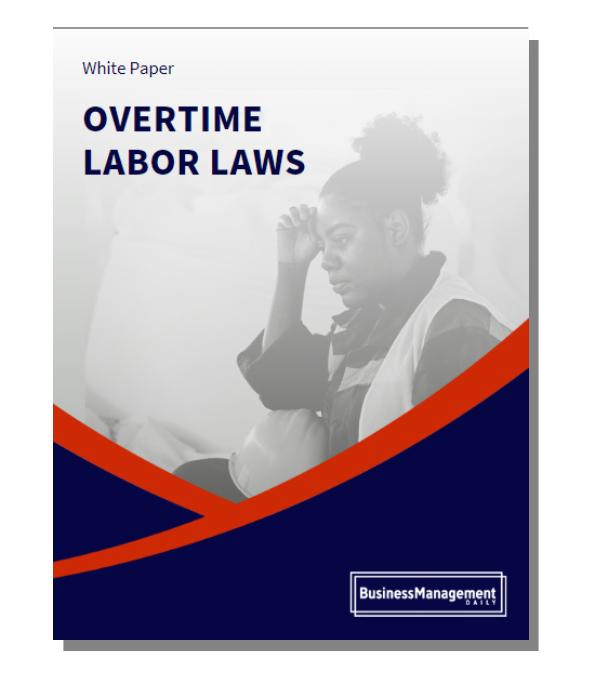 Overtime Labor Laws
Everyone who registers will receive our new white paper, Overtime Labor Laws, which explains how overtime is covered by the federal Fair Labor Standards Act. The FLSA has been updated and amended numerous times since being implemented in 1938 and now incorporates more rights like protections against discrimination, the Equal Pay Act, and more.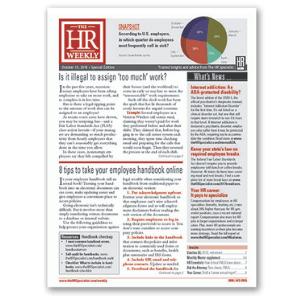 4 free issues of The HR Weekly
You'll also receive one month of exclusive access to The HR Weekly – our comprehensive service with all the HR advice and compliance tools to simplify your job … and to keep your organization out of court. So that you continue to benefit from The HR Weekly, we will continue your subscription after that for the then current rate, unless you tell us "no, thanks" – your choice.
We promise you'll be satisfied.
If Employment Update: Noncompete Agreements fails to meet your needs in any way, we will refund 100% of your tuition – every penny you paid – but your course materials and registration bonuses will be yours to keep. No hassles, no questions asked.