Friday, Feb. 24

1:00 ET
10:00 PT
How to be a Five-Star Employer (Where All the All-Star Employees Want to Work)
If you are not a five-star employer, you will not be able to win the war for workers and attract and retain all-star employees.
In this timely 75-minute training session, you will learn:
The key characteristics that give employers the five-star edge

How to capitalize on being a five-star employer

Strategies to retain an all-star team
Missing the target has never been the target's fault. If you are satisfied being a three-star employer, you will never reach the pinnacle of success.
In today's turbulent, economically-challenging, and hyper-competitive times, organizations are only as good as the people who work for them. This is why the #1 key to success in any industry is to be a five-star employer. 
Five-star employers are those who naturally attract, hire, and retain all-star employees who do ordinary jobs extraordinarily well and who consistently exert the kind of extra effort that separates the best from the rest. Learn how to use your company's unique employment proposition to navigate unpredictable environments with flexibility and innovation to better adapt to the ever-changing competitive landscape. 
On February 24th, discover the tools you need to become a five-star employer staffed by an all-star team. With speaker Mel Kleiman, understand the importance of building a unique selling and employment proposition, how to practice the law of reciprocity, and how to build a culture of recognition.
Agenda for How to be a Five-Star Employer
Why you need to be a five-star employer
How to implement a five-star plan to gain a competitive advantage
What qualities does your all-star employee bring to the workplace?
The importance of having a unique employee proposition
Why you need to set a target of becoming a five-star employer and how to benchmark your success
Interactive Q&A time included
In addition to providing proven strategies to gain a competitive advantage as a five-star employer, Mel will be available to answer any questions you may have in the dedicated live Q&A time.
Mel Kleiman is a popular, energetic speaker and a leading authority on employee recruiting, selection and retention. Mel has trained thousands of HR pros and supervisors, and he's the author of seven books, including the best-selling Hire Tough, Manage Easy. He is the onetime owner of three businesses, including the largest Hertz franchise in the country. Mel's expertise and creative insights give HR and managers dozens of new ideas about how to select and retain quality people.

Mel Kleiman

speaker and author
Professional Certification Credit Hours Included With This Webinar
Business Management Daily is recognized by SHRM to offer Professional Development Credits (PDC) for SHRM-CP® or SHRM-SCP® recertification activities.
The use of this official seal confirms that this Activity has met HR Certification Institute's® (HRCI®) criteria for recertification credit pre-approval.
Register now and receive these free bonuses!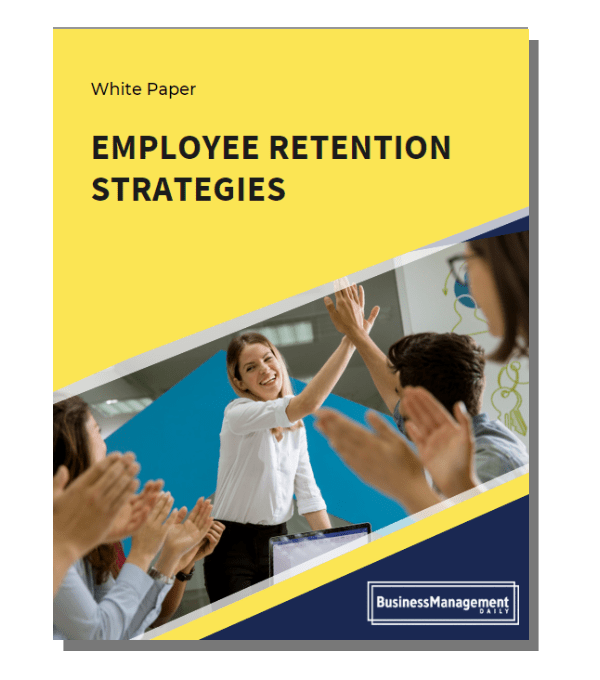 Employee Retention Strategies
Hiring is expensive, timely, and harms productivity. That's why employee retention is so vital. Keeping employees on staff and engaged helps productivity, saves money, and keeps valuable institutionalized knowledge within the organization.
However, as companies struggle to maintain employees, what can you do to set your organization apart and keep talent on staff? Employers need to work harder than ever to retain their current staff. Some solutions include improving employee benefits, allowing telecommuting, and optimizing the onboarding process.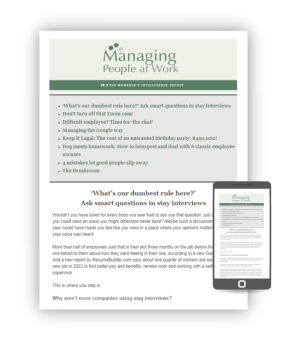 30-Day Free Trial to Managing People at Work
You'll also receive one month of exclusive access to Managing People at Work — our comprehensive online resource designed to make you a stronger, better-prepared manager. So that you continue to benefit from Managing People at Work, we will continue your subscription after that for the then current rate, unless you tell us "no, thanks" — your choice.
We promise you'll be satisfied.
If How to be a Five-Star Employer fails to meet your needs in any way, we will refund 100% of your tuition – every penny you paid – but your course materials and registration bonuses will be yours to keep. No hassles, no questions asked.