Friday, Feb. 10

1:00 ET
10:00 PT
Leadership Defense: Verbal & Documented Disciplinary Interventions
Turn around employee performance and insulate your company from liability
In this 75-minute webinar training, explore creative approaches to constructive confrontation with employees, including:
Constructive conversations that demand greater accountability and raise employee awareness, both in terms of performance and conduct

Formal progressive disciplinary documentation techniques to reset expectations and accord due process

Structuring terminations or layoffs based on the written record at hand
It's time to align your leadership team and provide them with the leadership tools for holding their team members accountable.
Whether your managers require additional support with verbal engagement or formal corrective action delivery, this workshop will make it easier for them to confront problems at work head-on and in a more strategic yet compassionate and supportive way. The goal will be to shift responsibility for improvement away from your organization and back to the employee—where it rightfully belongs—all the while protecting your company from the liability inherent in the discipline and termination process.
Great leaders aren't simply born—leadership is a muscle that can strengthen over time. It's time to align your leadership teams with your expectations of how they treat their employees, spike performance, protect the organization, and exercise leadership wisdom that gets their teams to deliver consistently at a higher performance level.
On February 10, learn how to conduct tough conversations, document a foolproof corrective action, and create "clean" terminations. Join leadership expert Paul Falcone to discover front-line strategies and tactics regarding leadership defense. Most importantly, focus on leadership wisdom to align your frontline operational leadership team surrounding this challenging engagement.
Agenda for Leadership Defense
The core elements of workplace due process and the importance of the written record in the discipline and termination processes
Tough conversations to have with employees that invite them to involve themselves in their performance improvement
Structuring disciplinary documentation that is constructive and that insulates the organization from legal liability
Alternatives to formal progressive discipline that re-engage employees without the formal trappings of "being written up"
Leadership landmines to avoid under all circumstances, especially regarding tricky situations that may miss awareness with good natured yet unsuspecting managers
Interactive Q&A time included
Get solutions to your own leadership dilemmas from a true expert during our Q&A session.
Paul Falcone is the principal of Paul Falcone Workplace Leadership Consulting, LLC, specializing in leadership and management training, executive coaching, keynote speaking, and facilitating corporate offsite retreats. Paul is the former CHRO of Nickelodeon, a long-term columnist for SHRM, and a bestselling author of 15 books with HarperCollins Leadership and the American Management Association, including the new five-book Paul Falcone Workplace Leadership Series, 101 Tough Conversations to Have with Employees, 101 Sample Write-Ups for Documenting Employee Performance Problems, 96 Great Interview Questions to Ask Before You Hire, and 2600 Phrases for Effective Performance Reviews.

Paul Falcone

author, former CHRO of Nickelodeon, and a long-term columnist for SHRM
Professional Certification Credit Hours Included With This Webinar
Business Management Daily is recognized by SHRM to offer Professional Development Credits (PDC) for SHRM-CP® or SHRM-SCP® recertification activities.
The use of this official seal confirms that this Activity has met HR Certification Institute's® (HRCI®) criteria for recertification credit pre-approval.
Register now and receive these free bonuses!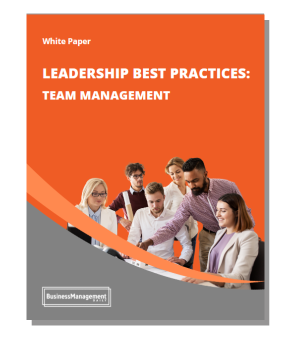 Leadership Best Practices: Team Management
Discover how businesses of all sizes are getting creative with team-building icebreakers and fun team-building activities. Don't forget to take the leadership assessment exercise to gauge your own performance as a team manager.
With this white paper, you will learn 15 eye-opening tips on how to improve your leadership team management and motivate your employees. Read case studies of team-building exercises on what has worked and what hasn't.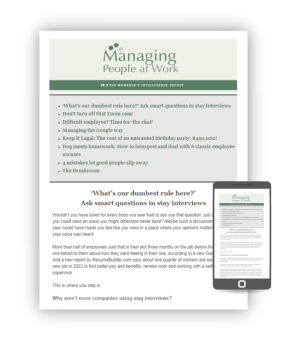 30-Day Free Trial to Managing People at Work
You'll also receive one month of exclusive access to Managing People at Work — our comprehensive online resource designed to make you a stronger, better-prepared manager. So that you continue to benefit from Managing People at Work, we will continue your subscription after that for the then current rate, unless you tell us "no, thanks" — your choice.
We promise you'll be satisfied.
If Leadership Defense fails to meet your needs in any way, we will refund 100% of your tuition – every penny you paid – but your course materials and registration bonuses will be yours to keep. No hassles, no questions asked.