Friday, Jan. 20

1:00 ET
10:00 PT
New Overtime Rules: Prepare Now for Compliance
In this 75-minute workshop, you'll learn:
Who is eligible to receive overtime?

Understand how to review your employee compensation data

Who is considered a contractor?

Determine when to convert employees from salaried exempt to hourly

Calculate overtime pay.

Know when to apply the FSLA's formula for eligible employees.
There are big federal changes to overtime law

More than 70% of employers are currently violating the Fair Labor Standards Act (FLSA) in one way or another, according to the U.S. Department of Labor. It's best to identify your mistakes BEFORE a government agency or employee lawsuit does it for you! With overtime changes expected in May, salary thresholds are likely increasing. Are you absolutely sure you understand how to accurately classify employees, track hours, pay overtime, keep records and comply with other federal and state wage laws?
The bottom line: All overtime audits depend on the quality of your records. Bad records will sink you every time. And while it's more important than ever to stay in compliance, it's also more complex.
On January 20, join to discover how to master all these complex pay regulations in this newly updated overtime rules webinar. Learn how to find and defuse wage mistakes before they trigger legal trouble.
Agenda for New Overtime Rules
Exempt vs. non-exempt employees. Learn the requirements and responsibilities for both
Employee vs. independent contractor. What factors determine whether a worker is an employee or independent contractor?
How to calculate the regular rate of pay. Overview of the regular rate of pay under the FLSA
Defend against a claim of unauthorized overtime. What employers can do under the FLSA
Interactive Q&A time included
Nationally recognized attorney Jon Hyman will train your team and answer your overtime questions during the Q/A time.
Jon Hyman is Shareholder and Director at Wickens Herzer Panza, where he is the Chairperson of the firm's Employment & Labor Practice Group, co-chairperson of its Craft Beer Practice Group, and member of its Litigation Department. Jon is the author of the renowned and award-winning Ohio Employer Law Blog, which he updates daily to provide businesses and human resources professionals breaking news and other updates on the ever-changing landscape of labor and employment law.

Jon Hyman

Attorney and author
Professional Certification Credit Hours Included With This Webinar
Business Management Daily is recognized by SHRM to offer Professional Development Credits (PDC) for SHRM-CP® or SHRM-SCP® recertification activities.
The use of this official seal confirms that this Activity has met HR Certification Institute's® (HRCI®) criteria for recertification credit pre-approval.
Register now and receive these free bonuses!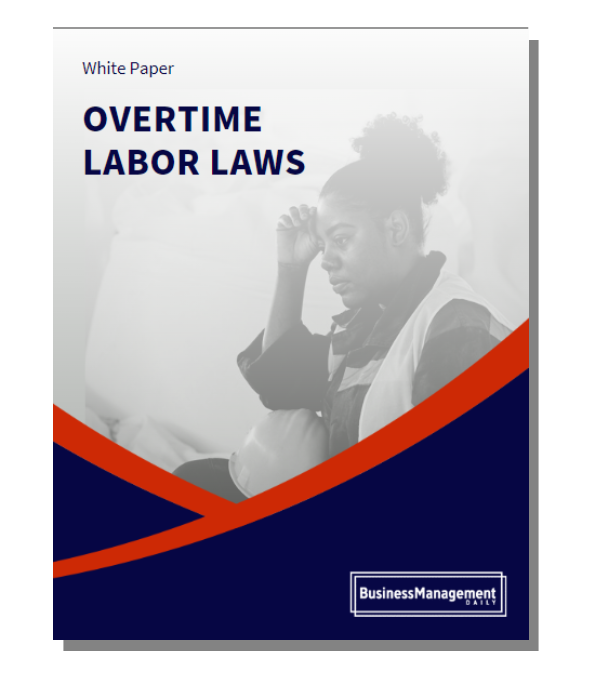 Overtime Labor Laws
Everyone who registers will receive our new white paper, Overtime Labor Laws, which explains how overtime is covered by the federal Fair Labor Standards Act. The FLSA has been updated and amended numerous times since being implemented in 1938 and now incorporates more rights like protections against discrimination, the Equal Pay Act, and more.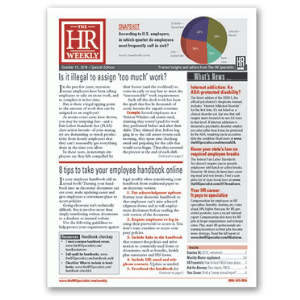 4 free issues of The HR Weekly
You'll also receive one month of exclusive access to The HR Weekly – our comprehensive service with all the HR advice and compliance tools to simplify your job … and to keep your organization out of court. So that you continue to benefit from The HR Weekly, we will continue your subscription after that for the then current rate, unless you tell us "no, thanks" – your choice.
We promise you'll be satisfied.
If New Overtime Rules fails to meet your needs in any way, we will refund 100% of your tuition – every penny you paid – but your course materials and registration bonuses will be yours to keep. No hassles, no questions asked.