Wednesday, Nov. 30

1:00 ET
10:00 PT
Quiet Quitters: How to Re-engage Underperforming Employees
In this timely 75-minute virtual session, you will learn:
How to recognize signs of a possible quiet quitter.

How to identify whether your talent may be coasting on the job due to burnout, exhaustion or poor management.

How to address a quiet quitter with the right conversation.

Take that feedback and put it into action to increase productivity and morale.

Steps managers can take now to re-engage a quiet quitter.

Practical advice from a leadership expert.
Why are people suddenly quiet quitting?
"Quiet quitting" describes the practice of employees doing the bare minimum required of their jobs, not answering emails after work or on weekends and generally sticking to their job description.
According to Gallup's survey in June of over 15,000 full-time and part-time U.S. workers, some 50% of respondents met the definition of quiet quitting, a term that has bubbled up to describe a prevalent worker mindset at a moment when the pandemic has upended employees' priorities.
The Gallup study also noted a 29% engagement for those who worked onsite, compared to 37% engagement for those who had either worked remotely or within a hybrid schedule.
What started as a TikTok rant against the "hustle culture" has ricocheted across social media. It's the latest sign that employees are setting stricter boundaries around the work/life balance: not taking on new assignments, shutting their laptop off at 5 p.m. on the dot and generally slacking off.
In this informative webinar, leadership expert Catherine Rymsha, lecturer and TEDx speaker, identifies ways to turn quiet quitters into "wow" workers.
Agenda for Quiet Quitters
Managers need to engage. Increase your own motivation. At this point, only about a third of managers are engaged in their jobs. Set the example.
Improve your social and interpersonal skills so that employees feel more valued. Such engagement will lead to higher levels of productivity at work and less inclination towards quiet quitting.
Prepare the discussion. The best questions to ask.
Sit down with your employees individually and in teams, and have an open, candid dialogue about what is and isn't working for them.
Show you care. Show interest in people's lives. Ask questions and really listen. Remember important information such as birthdays, anniversary dates, the names of family members and important events in the lives of your team.
People want to be part of something bigger than themselves. Your job as a leader is to help make that link.
Slacking off vs. quiet quitting. Identify what your employees need to keep them engaged and energized.
Interactive Q&A time included
As part of the live Q&A time, Catherine will provide expert advice and answer your questions about increasing employee engagement.
Catherine M. Rymsha, EdD, knows what makes a leader, a leader. Based on her years of training, research and consulting, she's determined how a person becomes one: they make the decision to lead. She details this further in her recent book, The Leadership Decision. Catherine is a lecturer at the University of Massachusetts, Lowell, where she teaches courses on leadership. Catherine spent over ten years in marketing/communications leadership roles and now leads learning and development for a software company. Between her academic and professional experience, she has taught thousands of courses on leadership, feedback and career to global leaders across an array of industries.

Her TEDx Talk, "Want to Become a Better Leader? Here's How. Just Listen," focuses on the importance of listening to leadership. She holds a master of science in leadership and a doctorate of education with a focus on organizational leadership from Northeastern University in Boston and received her bachelor of arts in English/ communications from the Massachusetts College of Liberal Arts in North Adams, Massachusetts.

Catherine M. Rymsha, EdD

leadership expert and educator
Professional Certification Credit Hours Included With This Webinar
Business Management Daily is recognized by SHRM to offer Professional Development Credits (PDC) for SHRM-CP® or SHRM-SCP® recertification activities.
HRCI has pre-approved this activity for recertification credit toward the aPHR®, PHR®, PHRca®, SPHR®, aPHRi™, PHRi™, GPHR® and SPHRi™ certifications. The content of the activity submitted has met the criteria of the Approved Provider Program.
Register now and receive these free bonuses!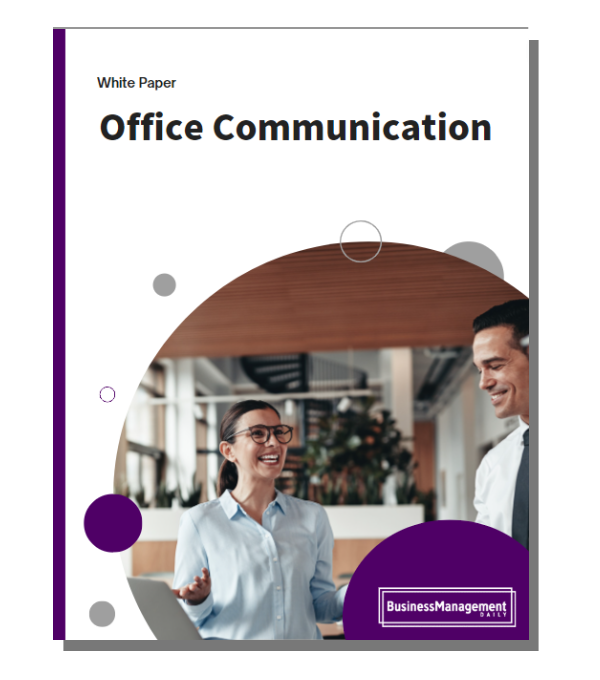 Office Communication
10 tips for managers on active listening skills, motivating employees, workplace productivity, employee retention strategies and change management techniques. A manager's job is 100 times easier and more rewarding when his or her employees are performing like a well-oiled machine. But when that machine runs slowly or breaks down entirely, a manager's job becomes exponentially harder. The Office Communication white paper offers 10 tips for managers on how to maximize their office communication skills and bolster workplace productivity.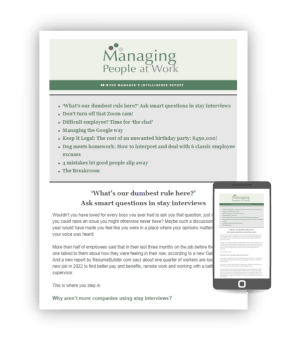 30-Day Free Trial to Managing People at Work
You'll also receive one month of exclusive access to Managing People at Work — our comprehensive online resource designed to make you a stronger, better-prepared manager. So that you continue to benefit from Managing People at Work, we will continue your subscription after that for the then current rate, unless you tell us "no, thanks" — your choice.
We promise you'll be satisfied.
If Quiet Quitters fails to meet your needs in any way, we will refund 100% of your tuition – every penny you paid – but your course materials and registration bonuses will be yours to keep. No hassles, no questions asked.