Tuesday, Nov. 1

1:00 ET
10:00 PT
Crash Course to Effectiveness
In this 75-minute interactive online training, learn how to:
Overcome mental roadblocks and increase your productivity

Be clear in your priorities and follow through

Use 10 tips to implement immediately to get back your time and sanity
Go from Super Stressed to Superhero
In today's business environment, you are being asked to do more than ever before. You have clients, deadlines, bosses, employees, marketing, and projects — all demanding your time and attention and pulling you in every direction! 
​Are you putting out fires started by other people? Do you take on more than you reasonably have time for because you don't want to say no or let anyone down? Have you ever written a daily to-do list and worked like a dog all day only to realize you didn't get to complete even one thing on your list? Have you ever felt like you spend your day in deadline-driven, crisis mode? And justify it by saying you work better under pressure?
​If you can relate to any of these scenarios, then don't miss this event! Time management is a crucial business skill successful people must master. Don't miss this chance to go from super stressed to superhero!
Agenda for Crash Course to Effectiveness
Understand the 4 destructive time management styles
Stop feeling like you spend your day in deadline-driven, crisis mode
Don't justify your stress by saying you work better under pressure
Stay sane with a daily to-do list that you will actually complete
Communicate with tact, professionalism, and diplomacy
Productivity and priorities: Stop tearing your hair out
Interactive Q&A time included
Use the interactive Q&A time to ask Julie questions on how to improve time management skills and become more effective.
Julie Burch is the coauthor of three books including two motivational books for women "The Princess Principle: Women Helping Women Discover Their Royal Spirit" and "Every Heart Has a Gift" as well as a business book "Success Simplified: Simple Solutions Measurable Results." Julie has designed programs for industry leaders such as Texas Tech University, Fidelity Investments, Kaiser Permanente, the Social Security Administration, the IRS, The Department of Defense, The Society for Human Resource Management, and many more.

Julie Burch

author and professional speaker
Register now and receive these free bonuses!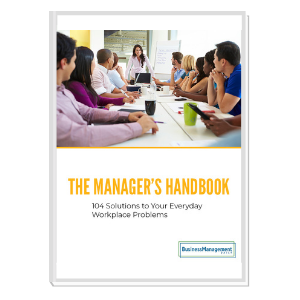 The Manager's Handbook: 104 Solutions to Your Everyday Workplace Problems
Everyone who signs up will receive a downloadable copy of The Manager's Handbook: 104 Solutions to Your Everyday Workplace Problems. This comprehensive 198-page reference (a $65.00 value) is filled with practical advice to help managers do their jobs better. No lofty theories or buzzwords. Just concrete tips to help you improve performance, stay out of legal trouble and become an even more valuable member of the management team.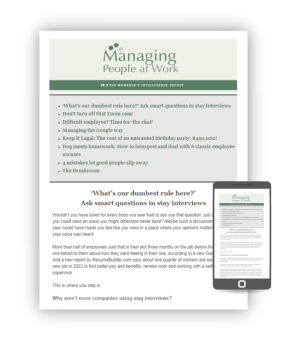 30-Day Free Trial to Managing People at Work
You'll also receive one month of exclusive access to Managing People at Work — our comprehensive online resource designed to make you a stronger, better-prepared manager. So that you continue to benefit from Managing People at Work, we will continue your subscription after that for the then current rate, unless you tell us "no, thanks" — your choice.
We promise you'll be satisfied.
If Crash Course to Effectiveness fails to meet your needs in any way, we will refund 100% of your tuition – every penny you paid – but your course materials and registration bonuses will be yours to keep. No hassles, no questions asked.