Thursday, Oct. 13

1:00 ET
10:00 PT
Create a Compensation Program that Recruits, Retains & Motivates
In this 75-minute interactive online training, learn how to:
Set the right base pay for any job.

Create a simplified salary structure using benchmarks, surveys, and more.

Use variable pay correctly and legally.

Extra compensation is essential to motivation and retention. Learn how to deliver the right mix.

Improve recruiting and cut turnover.

Dollars make all the difference—especially during these high-inflation times.
How to create a motivational cash compensation program — base and variable pay — for your organization
Base pay and variable pay are the two anchors that hold down your entire strategy for recruiting, retaining, and motivating employees. Get those wrong and your organization's HR strategy is adrift—and possibly at a big legal risk.
In this dynamic new webinar, national compensation expert John Rubino will walk you through a step-by-step approach to set the perfect "Goldilocks" pay levels—not too big, not too small. Learn how to use benchmark jobs, salary survey market pricing, and job evaluation techniques to create a simplified and legally defensible, base salary structure. Plus, discover the optimal way to develop a variable pay program to reward employee goal achievements.
This webinar will provide a workable step-by-step template to obtain the maximum employee motivation value from your compensation program.
Dollars make all the difference these days. Rising inflation, increased salary demands, and the tight labor market are putting a new focus on employee compensation. If your compensation strategy is on auto-pilot or simply left in the hands of individual managers, this training session will help simplify your job and make your company an employer of choice.
Agenda for Create a Compensation Program that Recruits, Retains & Motivates
Receive a proven step-by-step method for creating a total cash compensation program from scratch
Learn the process for identifying benchmark jobs, as well as salary survey market pricing and job evaluation techniques
Create a simplified base salary structure that is fair, legally defensible and successfully recruits the best
Discover the best way to structure a results-oriented variable pay program
Learn the when, where, how, and why of performance bonuses, signing bonuses, and more
Define, apply, and administer your base salary structure and variable pay program to obtain the maximum motivational value.
Interactive Q&A time included
Get expert solutions to your organization's compensation questions during the dedicated Q&A segment.
John A. Rubino, SHRM-SCP, CCP, CBP, GRP, WLCP, is founder and president of Rubino Consulting Services, a New York-based global human resources consulting company. An internationally acclaimed lead speaker on compensation issues for SHRM, John is also the author of two books and numerous articles, and he is frequently quoted in professional publications. John travels around the world training organizations on how to maximize their compensation incentive plan design and performance management.

John A. Rubino

founder and president of Rubino Consulting Services
Professional Certification Credit Hours Included With This Webinar
Business Management Daily is recognized by SHRM to offer Professional Development Credits (PDC) for SHRM-CP® or SHRM-SCP® recertification activities.
HRCI has pre-approved this activity for recertification credit toward the aPHR®, PHR®, PHRca®, SPHR®, aPHRi™, PHRi™, GPHR® and SPHRi™ certifications. The content of the activity submitted has met the criteria of the Approved Provider Program.
Register now and receive these free bonuses!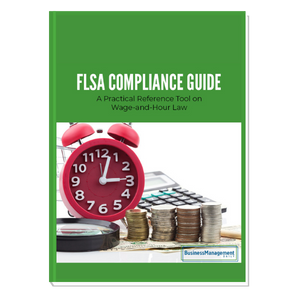 FLSA Compliance Guide: A Practical Reference Tool on Wage-and-Hour Law
It's important to get compensation right, but it's also important to do it legally. The FLSA Compliance Guide has saved many confused and frustrated HR, payroll and business leaders from expensive, unnecessary lawsuits involving overtime pay, travel pay, inclement weather closings, even smoking breaks and jury duty. Plus, you'll learn how to navigate the gray areas of timekeeping and paying independent contractors.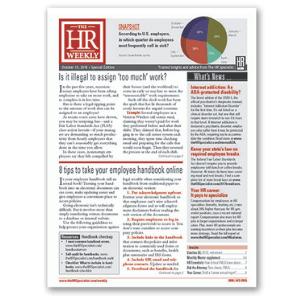 4 free issues of The HR Weekly
You'll also receive one month of exclusive access to The HR Weekly – our comprehensive service with all the HR advice and compliance tools to simplify your job … and to keep your organization out of court. So that you continue to benefit from The HR Weekly, we will continue your subscription after that for the then current rate, unless you tell us "no, thanks" – your choice.
We promise you'll be satisfied.
If Create a Compensation Program that Recruits, Retains & Motivates fails to meet your needs in any way, we will refund 100% of your tuition – every penny you paid – but your course materials and registration bonuses will be yours to keep. No hassles, no questions asked.