Friday, Oct. 7

1:00 ET
10:00 PT
Confronting Loveable Underperformers and Landmine Employees
In this 75-minute interactive online training, you and your management team will learn:
How to have courageous conversations.

Discover a 6-step strategy for holding employees accountable—without hurt feelings or turnover.

How to set measurable benchmarks.

Clear metrics make subsequent coaching and/or discipline easier and legally safe.

When (and how) to draw the 'line in the sand.'

Learn simple strategies and scripts for the hardest conversations.
Ignoring underperformance will destroy morale and create a "mediocrity mindset" among employees
Many managers find it difficult to effectively correct underperformance. That's especially true with two kinds of chronic underperformers—the really nice or popular team member and the angry, defiant one. Too often, their poor performance is ignored under the guise of "preserving peace." Ignoring underperformance, however, will destroy morale, crush productivity and drive good employees away.
High performers often abandon organizations where average/poor performance is excused. Those who stay may adopt a "mediocrity mindset" and see no reason to work hard if others aren't held accountable for their poor work.
This dynamic webinar will teach managers and leaders how to facilitate a constructive initial conversation, create a coaching strategy that directly ties performance to key objectives, and hold the person accountable with quantifiable metrics. If you or some of your managers are avoiding having difficult conversations, these strategies will help improve results and ensure progress.
Agenda for Confronting Loveable Underperformers and Landmine Employees
A 6-step strategy to conduct an accountability conversation that gets to the heart of the matter (without the emotion)
4 questions to investigate the root cause of underperformance
How to design an action plan to help employees begin performing at an acceptable level
When to draw a "line in the sand," what it should look like and how it should sound
2 questions to answer before having any performance conversation
How to create clear benchmarks that will keep the employee on task and focused
The single best way to change employee behavior
Interactive Q&A time included
Get answers on handling YOUR loveable underperformers and landmine employees during the dedicated Q&A session.
Randy Anderson is co-founder of E3 Professional Trainers, a training firm providing workplace training for individuals, teams and companies. Before starting E3 in 2005, Randy spent 20 years in sales and management with virtually every type of business and in every industry. It is from that experience that he drew the strategies and tools he now uses to help people be more engaged in their job, better equipped to produce more, and fully empowered to accomplish more at work and enjoy more fulfillment in life.

Randy Anderson

co-founder of E3 Professional Trainers
Professional Certification Credit Hours Included With This Webinar
Business Management Daily is recognized by SHRM to offer Professional Development Credits (PDC) for SHRM-CP® or SHRM-SCP® recertification activities.
HRCI has pre-approved this activity for recertification credit toward the aPHR®, PHR®, PHRca®, SPHR®, aPHRi™, PHRi™, GPHR® and SPHRi™ certifications. The content of the activity submitted has met the criteria of the Approved Provider Program.
Register now and receive these free bonuses!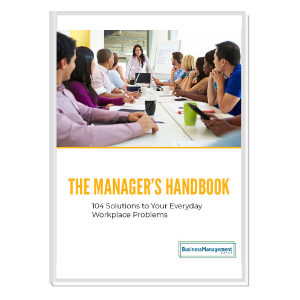 The Manager's Handbook: 104 Solutions to Your Everyday Workplace Problems
Everyone who signs up will receive a downloadable copy of The Manager's Handbook: 104 Solutions to Your Everyday Workplace Problems. This comprehensive 198-page reference (a $65.00 value) is filled with practical advice to help managers do their jobs better. No lofty theories or buzzwords. Just concrete tips to help you improve performance, stay out of legal trouble and become an even more valuable member of the management team.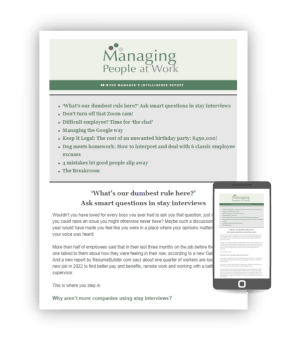 30-Day Free Trial to Managing People at Work
You'll also receive one month of exclusive access to Managing People at Work – our comprehensive online resource designed to make you a stronger, better-prepared manager. So that you continue to benefit from Managing People at Work, we will continue your subscription after that for the then current rate, unless you tell us "no, thanks" – your choice.
We promise you'll be satisfied.
If Confronting Loveable Underperformers and Landmine Employees fails to meet your needs in any way, we will refund 100% of your tuition – every penny you paid – but your course materials and registration bonuses will be yours to keep. No hassles, no questions asked.