Wednesday, Oct. 5

1:00 ET
10:00 PT
How to Build an Effective Employee Recognition Program
In this 75-minute interactive online training, you and your management team will learn:
Why recognition is more vital than ever.

With employee quit rates at all-time highs, lack of recognition (not just pay) is a key reason.

Practical tips to master appreciation.

Learn how to create a "recognition culture" with a series of simple yet important changes.

Real-life strategies at the best companies.

Learn what's really driving retention and engagement at Zappos, LinkedIn, Heineken and more.
A recognition program is no longer a nice-to-have feature—it's a "must" for engagement and retention
Two-thirds of American employees say they don't feel appreciated at work, and 87% says their employers' recognition program is "stale and outdated." That's critical because employees are quitting their jobs in record numbers this year—often because of non-financial reasons like "not feeling appreciated."
Clearly something isn't working. Now's the time for your organization to get serious about showing employees the recognition and appreciation they deserve.
On October 5, receive practical tips, tools and inspirational case studies to help your organization build an innovative and effective recognition program.
In this new webinar, Debra Corey, author of the best-selling book, Appreciate It! The Playbook for Employee Recognition, will highlight the best practices that will help you improve employee engagement and reduce turnover. Debra will introduce you to the "Recognition Pyramid" model, share practical tips and provide inspirational case studies that you can adapt in your own organization.
Agenda for How to Build an Effective Employee Recognition Program
The need for a recognition program. Explore the superpowers of a structured recognition program—from engagement to retention to all-important "good vibes"
How to structure it for maximum retention and engagement. Learn the practical steps to show praise and thanks in the most effective way
Where recognition goes wrong. Explore the reasons for the "recognition gap," the difference between what employees are getting and what they want
The 4 golden rules of recognition. Guidelines to keep your appreciation on the right track
How to build a "recognition pyramid." A simple tool to build (or rebuild) your recognition program to capture all the moments that matter
Learn who's doing it right—and who's not. Get real-life examples of how companies like LinkedIn, Atlassian and Zappos are maximizing recognition
Interactive Q&A time included
Get answers to your specific questions about employee recognition and appreciation from an international expert.
Debra Corey is a highly experienced and award-winning HR leader, author and world-class speaker, and has been named one of the top 101 HR Most Influential Thinkers. She has more than 30 years' experience in senior-level HR roles with various global companies, including Gap and Honeywell. Debra has founded her own HR consulting company, DebCo HR, where she's helping others to bring out their inner rebel and drive business change. Debra has published four best-selling books, including Effective HR Communication and Appreciate it! The Playbook for Employee Recognition.

Debra Corey

HR leader, author and world-class speaker
Professional Certification Credit Hours Included With This Webinar
Business Management Daily is recognized by SHRM to offer Professional Development Credits (PDC) for SHRM-CP® or SHRM-SCP® recertification activities.
HRCI has pre-approved this activity for recertification credit toward the aPHR®, PHR®, PHRca®, SPHR®, aPHRi™, PHRi™, GPHR® and SPHRi™ certifications. The content of the activity submitted has met the criteria of the Approved Provider Program.
Register now and receive these free bonuses!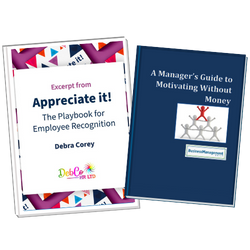 Excerpt from Debra's book, Appreciate it! and Business Management Daily's A Manager's Guide to Motivating Without Money
Everyone who signs up will receive the following: Free document containing excerpts from Debra's book titled Appreciate it! The Playbook for Employee Recognition. Created to start you on your journey to drive change at your company, sharing with you the "four golden rules," a model called the 'recognition pyramid,' and examples to bring it all to life.
Plus, you'll receive a copy of Business Management Daily's special report, A Manager's Guide to Motivating Without Money, which offers 60 creative suggestions for motivating employees to go the extra mile without busting the budget.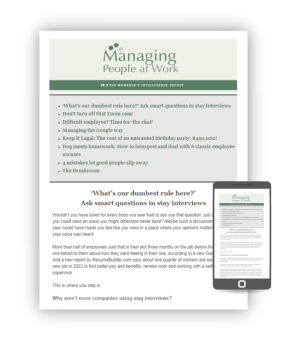 30-Day Free Trial to Managing People at Work
You'll also receive one month of exclusive access to Managing People at Work – our comprehensive online resource designed to make you a stronger, better-prepared manager. So that you continue to benefit from Managing People at Work, we will continue your subscription after that for the then current rate, unless you tell us "no, thanks" – your choice.
We promise you'll be satisfied.
If How to Build an Effective Employee Recognition Program fails to meet your needs in any way, we will refund 100% of your tuition – every penny you paid – but your course materials and registration bonuses will be yours to keep. No hassles, no questions asked.