Wednesday, Sept. 7

1:00 ET
10:00 PT
Creative Employment Relationships & Compensation Strategies for a Tight Labor Market
In this 75-minute interactive online training, you will learn:
Solutions for the Great Resignation.

Discover the right mix of creative compensation, benefit and incentive strategies for today.

What works, what doesn't.

Learn what employers are doing (and avoiding) to make themselves an employer of choice.

Legal and tax best practices.

You need to understand the legal and tax implications for those creative comp & benefit strategies.
Fix your recruiting and retention woes with creative comp, benefit and employment options
"Help Wanted" signs are everywhere. Job postings are up 30% in the past two years, and there are more than 11 million open jobs in the United States.
The tight labor market has employers rethinking how to structure compensation and benefits to attract and retain the best employees. Also, employers are looking closer at different employment relationships, including independent contractor status and revising job classifications.
On September 7, discover the best (and most legally sound) practices to entice the top candidates and keep them around. This dynamic training session will walk you through the best solutions that HR departments and employers can use to succeed in this difficult new environment.
This presentation drew rave reviews at our recent LEAP conference in Las Vegas … "Great suggestions for proactive hiring and retention" … "Fantastic examples and ideas" …  "I learned better methods to recruit new employees."
Agenda for Creative Employment Relationships & Compensation Strategies for a Tight Labor Market
Understand today's job market—why employees are leaving, and what's attracting the best candidates
How to expand your recruitment pool
Which hiring barriers to remove and which to keep (education levels? marijuana tests?)
Should you hire independent contractors—or convert current staff?
Compensation changes: Which are valuable, which are a waste of money?
Maximizing signing bonuses, referral bonuses
The legal risks of protected concerted activity
Rethinking the employee experience—where, when and how work gets done
Creative benefits that appeal to today's employees
Understand the tax implications of your comp/benefit changes
Interactive Q&A time included
Get answers to your specific questions about hiring and recruiting in this tight labor market.
Molly Rezac is an attorney in the Reno office of Ogletree Deakins, where she advises employers on various employment matters, including formulating employment policies and drafting employee handbooks. She regularly presents workplace seminars regarding federal and state HR issues, and she represents employers in court on all types of employment litigation matters, including wage-and-hour claims, wrongful termination and discrimination.

Molly Rezac

Attorney and speaker
Professional Certification Credit Hours Included With This Webinar
Business Management Daily is recognized by SHRM to offer Professional Development Credits (PDC) for SHRM-CP® or SHRM-SCP® recertification activities.
HRCI has pre-approved this activity for recertification credit toward the aPHR®, PHR®, PHRca®, SPHR®, aPHRi™, PHRi™, GPHR® and SPHRi™ certifications. The content of the activity submitted has met the criteria of the Approved Provider Program.
Register now and receive these free bonuses!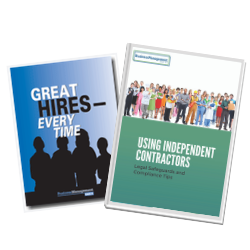 Great Hires, Every Time and Using Independent Contractors
Everyone who signs up will receive our two popular special reports: Great Hires, Every Time guides you through the whole hiring process—from navigating the interview process to choosing the top candidate—and includes several checklists and model forms. Using Independent Contractors offers step-by-step instructions on how to comply with the IRS requirements for hiring and using contractors in your workplace.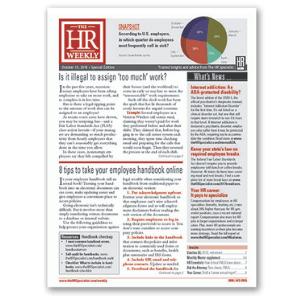 4 free issues of The HR Weekly
This newsletter is your best source for all the HR advice and compliance tools to simplify your job … and to keep your organization out of court.
So that you'll continue to benefit from this service, we'll continue your subscription automatically for just $79 per quarter, unless you tell us "no, thanks" – your choice.
We promise you'll be satisfied.
If Creative Employment Relationships & Compensation Strategies for a Tight Labor Market fails to meet your needs in any way, we will refund 100% of your tuition – every penny you paid – but your course materials and registration bonuses will be yours to keep. No hassles, no questions asked.