Friday, September 2

1:00 ET
10:00 PT
Preventing Retaliation: Employees' #1 Workplace Complaint
In this 75-minute interactive online training, you will learn:
What counts as retaliation.

Courts have made it easier for employees to bring retaliation claims, making it the #1 complaint to the EEOC.

Why it matters.

Retaliation cases are tougher to defend, easier to prove and jurors tend to believe them more often.

How to stay in compliance.

It's your job to train managers on these risks and set up the right procedures to avoid legal trouble.
Avoid becoming the latest statistic in 'Retaliation Nation'
"Don't get mad, get even" may be a good action-movie slogan, but it's a terrible management style. Yet American bosses continue to respond to employee complaints (of discrimination, safety, etc.) by punishing complainers with discipline or termination.
Last year, more than half (56%) of employee job-discrimination complaints filed with the EEOC included a claim that they were also retaliated against for their complaint. That's an all-time high.
On Sept. 2, discover what constitutes retaliation in the workplace … what doesn't … and how your organization can avoid being hauled into court for one dumb manager mistake.
Why is this important now? The U.S. Supreme Court rewrote the definition of "retaliation" a few years ago, making it easier for employees to get their retaliation claims into court—even if it's only for a subjective "feeling" of retaliation. And the Biden administration is cracking down on employers who punish workers in any way for exercising their legal rights to file (or voice) a complaint.
Stop ignoring this "hidden" legal risk. On Sept. 2, discover the practical, battle-tested strategies for preventing (and responding to) retaliation in your workplace.
Agenda for Preventing Retaliation
What counts as unlawful retaliation … and what doesn't
How to send the "hands off complainers" message to managers
Why juries love to award huge damages for retaliation
The impact of Supreme Court action and recent EEOC guidance
2 key questions to always ask yourself before disciplining or terminating any employee
Why complainers are not untouchable—and where to draw the line
The "code words" that can trigger a retaliation claim
And much more!
Interactive Q&A time included
Get your question answered about how to prevent retaliation complaint in your workplace during the dedicated Q&A time.
Jennifer Trulock is a partner at Baker Botts in Dallas, where she is chair of the firm's Labor and Employment Practice Group. Jennifer graduated from Georgetown University Law Center and she represents management in all aspects of labor and employment law. Jennifer also counsels and trains employers on managing workplace issues and preventing employment lawsuits.

Jennifer Trulock

Baker Botts
Professional Certification Credit Hours Included With This Webinar
Business Management Daily is recognized by SHRM to offer Professional Development Credits (PDC) for SHRM-CP® or SHRM-SCP® recertification activities.
HRCI has pre-approved this activity for recertification credit toward the aPHR®, PHR®, PHRca®, SPHR®, aPHRi™, PHRi™, GPHR® and SPHRi™ certifications. The content of the activity submitted has met the criteria of the Approved Provider Program.
Register now and receive these free bonuses!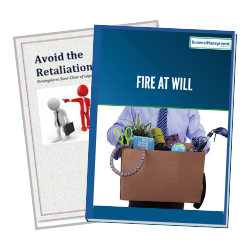 Avoid the Retaliation Trap and Fire at Will
Everyone who orders will receive a downloadable copy of our special report, Avoid the Retaliation Trap: Strategies to Steer Clear of Legal Danger. This 15-page report explains in English (not legalese) which type of actions trigger unlawful retaliation claims and how your company can prevent this expensive trap. You'll also receive a downloadable copy of Fire at Will, our all-time bestselling book that will show you how to legally terminate poor-performing employees free from any legal fear.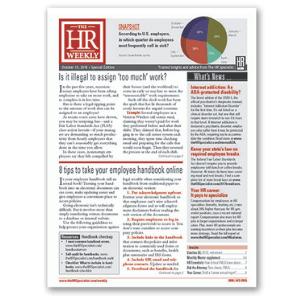 4 free issues of The HR Weekly
This newsletter is your best source for all the HR advice and compliance tools to simplify your job … and to keep your organization out of court.
So that you'll continue to benefit from this service, we'll continue your subscription automatically for just $79 per quarter, unless you tell us "no, thanks" – your choice.
We promise you'll be satisfied.
If Preventing Retaliation fails to meet your needs in any way, we will refund 100% of your tuition – every penny you paid – but your course materials and registration bonuses will be yours to keep. No hassles, no questions asked.