Wednesday, July 13

1:00 ET
10:00 PT
Pregnancy & Parenting: Legal Accommodations and Best Practices for HR
In this 75-minute interactive online training, you will learn how to:
Navigate the laws & your responsibilities.

One bad HR or management decision can trigger huge liability under the FMLA, ADA, PDA and state/local laws.

Draw the line on accommodations.

Find out when to say "yes" or "no" to leave (paid or unpaid), accommodations or light-duty work.

Comply with the new rules on caregiver & parental leave.

New EEOC guidelines on caregiver and parental leave make your decisions even more difficult.
Learn how to comply with confidence when it comes to employees' pregnancy, childcare and caregiving issues
An employee's pregnancy can bring lots of joy to a workplace. But it also triggers a complex maze of questions (and legal risks) related to accommodations, benefits, pay, leave and return-to-work.
Every HR professional needs to get up to speed on the new laws and best practices for accommodating employees who are pregnant, are parents or have other caregiving responsibilities. You need to know how to deal with issues like:
• How to handle leave requests
• How to accommodate the employee's physical limitations
• When discipline and discharge are appropriate (and legal)
• When you can require pregnant employees to return
And those decisions have gotten more difficult with two recent developments: a Supreme Court precedent requiring light-duty accommodations for pregnant workers, and new federal guidelines on the legal rights of employees who care for their aging parents and other family.
Compliance mistakes can be expensive. One company paid a $185 million jury verdict for getting their maternity-leave policy wrong. On July 13, discover the changes needed NOW to your policies and practices regarding expectant employees and parents.
Agenda for Pregnancy & Parenting: Legal Accommodations and Best Practices for HR
Understand the laws, including the FMLA, ADA, Pregnancy Discrimination Act and recent agency activity and court rulings
Understand your responsibilities. When you must offer leave, accommodations or light-duty work—and; when you can say "no"
Necessary policy changes. When you must adapt your policies to aid employees seeking to become pregnant, or who are new parents
FMLA and ADA triggers. The type of pregnancy-related ailments (morning sickness, etc.) that are considered FMLA "serious health conditions" or ADA "disabilities"
Hiring risks. How to avoid pregnancy- and parenting-discrimination claims during recruiting (and during layoffs)
What are "reasonable" accommodations for pregnant employees and new mothers, especially in light of recent landmark federal court decisions?
Real-world scenarios on light-duty assignments, parental leave and lactating employees that you can apply to your own workplace right away
Best practices to keep you out of court, related to pregnancy- and parent-related issues
Interactive Q&A time included
Get your specific question about how to handle employees' pregnancy and parenting issues during the Q&A time
Lara de Leon is a partner with the employment law firm Constangy, Brooks, Smith & Prophete. Her extensive legal career has involved representing companies of all sizes, across many industries, in all aspects of employment law. Lara has successfully defended clients in the courtroom and before administrative agencies. In addition to litigation, Lara partners with clients to counsel them through complex issues involving discrimination, retaliation, accommodation, leaves of absence and wage-and-hour compliance.

Lara de Leon

Constangy, Brooks, Smith & Prophete
Professional Certification Credit Hours Included With This Webinar
Business Management Daily is recognized by SHRM to offer Professional Development Credits (PDC) for SHRM-CP® or SHRM-SCP® recertification activities.
HRCI has pre-approved this activity for recertification credit toward the aPHR®, PHR®, PHRca®, SPHR®, aPHRi™, PHRi™, GPHR® and SPHRi™ certifications. The content of the activity submitted has met the criteria of the Approved Provider Program.
Register now and receive these free bonuses!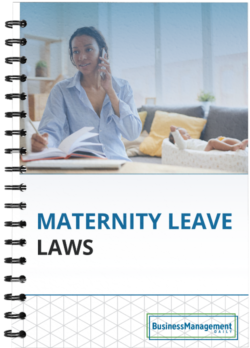 Maternity Leave Laws
Babies are cute. But landing in court because you messed up your maternity leave policy or decisions is not. Our new special report, Maternity Leave Laws, explains what you must do – and what you can't do (or say) – under federal anti-discrimination and maternity leave laws, as well as state maternity leave statutes.
You'll also get a free sample maternity leave policy you can customize for your own company.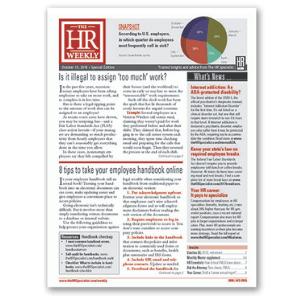 4 free issues of The HR Weekly
This newsletter is your best source for all the HR advice and compliance tools to simplify your job … and to keep your organization out of court.
So that you'll continue to benefit from this service, we'll continue your subscription automatically for just $79 per quarter, unless you tell us "no, thanks" – your choice.
We promise you'll be satisfied.
If Pregnancy & Parenting: Legal Accommodations and Best Practices for HR fails to meet your needs in any way, we will refund 100% of your tuition – every penny you paid – but your course materials and registration bonuses will be yours to keep. No hassles, no questions asked.