Thursday, July 7

1:00 ET
10:00 PT
The Termination Workshop: How to Fire Without Drama or Lawsuits
During this 75-minute live and interactive online training, learn how to:
Prepare for legally safe terminations.

Discover the step-by-step process and airtight documentation you need.

Conduct lawsuit-proof (and peaceful) meetings.

Learn where, when, with who and what to say in termination meetings.

Ease the stress for you and the employee.

Your actions make the difference between a calm, amicable exit and a bitter, litigious headache.
Definitive, practical guidance on how to avoid the negative legal and emotional fallout of terminations.
Terminations of any kind are the biggest legal flash points for employee lawsuits. Just one mistake in the process—a discipline error, documentation slip-up or the wrong words in a termination meeting—can cost millions. Recent examples: A North Carolina hospital paid a $10 million verdict in a wrongful-termination lawsuit. A California pharmacy paid $6 million for its firing mistakes. 
Plus, you have to deal with the emotional fallout … risk of violence … and the response of co-workers.   
Do you and your management team know all the correct steps to avoid this trouble? 
On July 7, put an end to termination anxiety by participating in the newly updated Termination Workshop webinar. Attorney Anniken Davenport will provide a clear explanation of what HR and supervisors must do to prepare for and carry out a termination, including the particularly delicate handling of remote employee terminations. 
Don't wait for a lawsuit to learn how to fire. Now is the time to prepare yourself and your supervisors to avoid the legal risks and emotional fallout that inevitably follow terminations. 
Agenda for
The Termination Workshop
The best way for supervisors to document discipline and performance to support legal terminations.
How to terminate nonperforming teleworkers, even if they're working from home as a disability accommodation.
The correct step-by-step protocol for termination meetings (where, when, with who and what to say)
How to use (and write) severance agreements to avoid lawsuits
The specific steps in terminating remote workers—it's different for these employees
Correcting termination mistakes—correctly and quickly
How to comply with WARN and mini-WARN laws when laying off employees
When and how to contest unemployment benefits—and when to skip this step for strategic reasons
When to leave the door open for rehiring and when not to
Comprehensive advice on creating airtight termination policies and procedures.
Interactive Q&A time included
Get answers to your own tough questions about terminations, RIFs and layoffs.
Anniken Davenport is a noted employment law attorney and editor of the HR Specialist: Employment Law newsletter series. She has authored several books, including Bullet-Proof Your Employee Handbook and Overtime & Other Tricky Pay Issues, published by HR Specialist. She is a co-author of the upcoming Labor & Employment Law for the 21st Century by Prentice Hall. Anniken has served as a professor at Penn State University, where she taught business law and HR management and also directed the Legal Studies Program at Wilson College. Her legal career includes representing government units in discrimination and other employment law cases and representing school districts in labor negotiations.

Anniken Davenport

Attorney and author
Professional Certification Credit Hours Included With This Webinar
Business Management Daily is recognized by SHRM to offer Professional Development Credits (PDC) for SHRM-CP® or SHRM-SCP® recertification activities.
HRCI has pre-approved this activity for recertification credit toward the aPHR®, PHR®, PHRca®, SPHR®, aPHRi™, PHRi™, GPHR® and SPHRi™ certifications. The content of the activity submitted has met the criteria of the Approved Provider Program.
Register now and receive these free bonuses!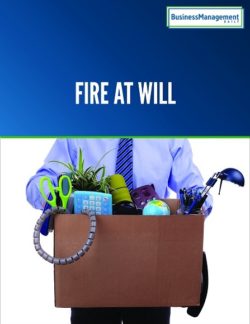 Fire at Will: Terminating Your Employees Legally
Everyone who signs up will receive our top-selling, newly updated special report, Fire at Will: Terminating Your Employees Legally. Packed with 60 pages of valuable advice, it shows simple techniques that give you a concrete legal position in any termination situation.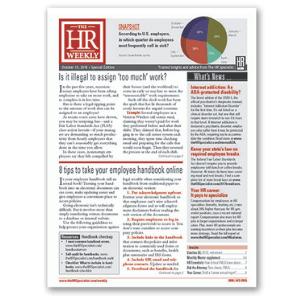 4 free issues of The HR Weekly
This newsletter is your best source for all the HR advice and compliance tools to simplify your job … and to keep your organization out of court.
So that you'll continue to benefit from this service, we'll continue your subscription automatically for just $79 per quarter, unless you tell us "no, thanks" – your choice.
We promise you'll be satisfied.
If The Termination Workshop fails to meet your needs in any way, we will refund 100% of your tuition – every penny you paid – but your course materials and registration bonuses will be yours to keep. No hassles, no questions asked.