Tuesday, June 28

1:00 ET
10:00 PT
Data Everywhere: How to Put it All Together in Excel
In this 75-minute interactive online training, learn how to:
Maximize the value of Excel and your data.

You're barely scratching the surface of what this powerful program can do for you.

Gain confidence & new skills.

Learn how to merge various data sources into a single spreadsheet to produce information-rich reports.

Spot problems and solutions.

Detect dirty data in your sources and learn how to get data to work together seamlessly.
Jumpstart your Excel skills with training from a true guru
It's 2022 but we still can't agree on data formatting and analysis! We get data from many sources in various ways, and then face the nightmare of analyzing it and extracting meaningful, actionable information.
Tired of all that time tearing your hair out? On June 28, discover how to save hours and stress and get the maximum value from your software and your data. This advice-packed webinar will show you the best ways to get your data into Excel and how to use it to correlate and analyze it to make important business decisions. 
Stop being a "victim" of technology. In this valuable workshop, Microsoft training legend Melissa Esquibel will help you to master all the features of Excel that you've been missing. Gather all your employees who use Excel to learn how to make better sense of your business information and make better decisions.
Agenda for Data Everywhere
New skills to improve your Excel confidence and results
The best formats for data analysis and reporting
Quick tips to clean up poorly formatted data
How to connect data sources to each other
Produce reports and graphics from your data
Master important tools like lookup functions, text functions, text-to-columns, power queries, and pivot tables.
Interactive Q&A time included
Use the interactive Q&A time to ask Melissa your questions on how to put it all together in Excel.
Melissa Esquibel is a Microsoft Certified Trainer. She combines her 25 years' experience in information technology with a background in training, technical writing and business risk analysis. Her goal is to help you understand the amazing workflow benefits of Microsoft Office.

Melissa Esquibel

Microsoft Certified Trainer
Register now and receive these free bonuses!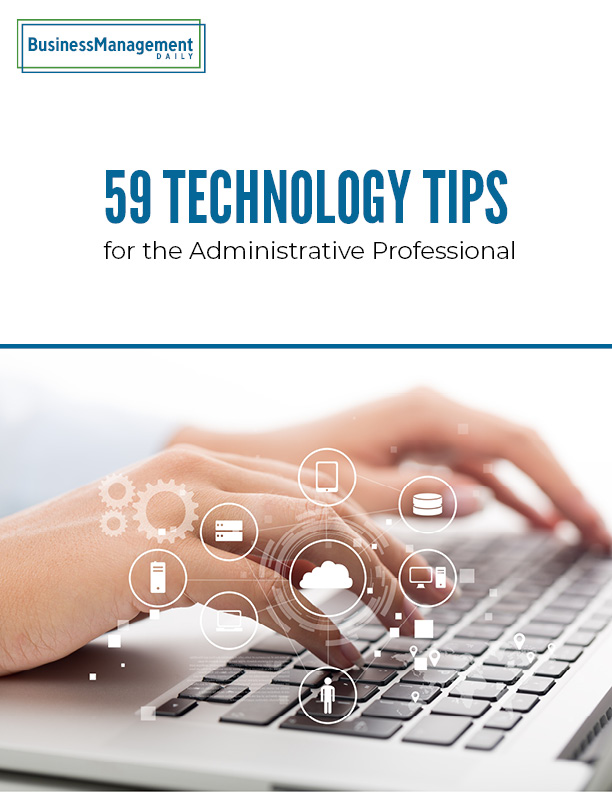 59 Technology Tips
Everyone who signs up will receive a copy of 59 Technology Tips for the Administrative Professional. Armed with 59 Technology Tips, do more than harness the latest office technology – make it work to your advantage. You'll enhance your value to your organization and dramatically increase your marketability.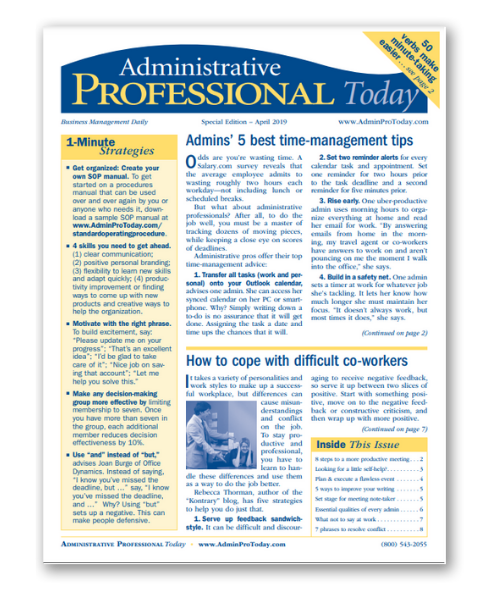 One month of members-only access to AdminProToday.com
This career-boosting website gives you tips on how to succeed in your job – and in your career – offering daily tips, helpful tools, and thousands of informative articles.
So that you continue to benefit from AdminProToday.com, we'll continue your members-only access for just $59 per quarter, unless you tell us "no, thanks" – your choice.
We promise you'll be satisfied.
If Data Everywhere fails to meet your needs in any way, we will refund 100% of your tuition – every penny you paid – but your course materials and registration bonuses will be yours to keep. No hassles, no questions asked.