Friday, Oct. 13

1:00 ET
10:00 PT
Strategies for Managing Malcontents and Toxic Employees
10 tips for handling toxic employees
In this 75-minute interactive online training, learn how to:
Diagnose and fix toxic employees.

Identify toxic employee types and learn the correct, legally safe language for these difficult discussions.

Document for the maximum legal protection.

Focus on the basics: clear, behavior-based, and consistent recordkeeping.

Decide when to say "enough."

Learn 10 simple tips for dealing with malcontents, managing strategies, and the challenges of legal risk.
Stop toxic and discontented workers from infecting your company
It only takes a few toxic employees to make a workplace challenging for others. What's an employer to do to maintain a great workplace for all while dealing properly and effectively with difficult employees? 
In today's legal environment, employers can't simply cast off every "difficult" employee or those who have personality clashes with co-workers. Such employees may still be adding great value to your organization.
But quietly tolerating toxic and malcontented employees is just begging for an employment lawsuit, and is guaranteed to lead to low morale and high turnover for your non-toxic workers. Stress to your HR team and managers that ignoring the problem is not a valid solution. 
Some of your competent-but-disruptive people should be terminated, but others simply need feedback, consequences, and follow-through. On October 13, gather your HR and management teams to learn 10 simple strategies for managing the challenges and minimizing the legal risk.
Agenda for Workplace Detox
Identify the types of toxic employees
Review hiring policies for early diagnosis
How to listen, act, and set limits
Manage performance
Train managers on deadline with this behavior
Support or change management
Document the behavior
Develop an exit strategy
Interactive Q&A time included
Get answers to your specific questions on how to legally document, communicate with, and terminate toxic employees at the dedicated Q&A session.
Ms. Morinelli is the Office Managing Shareholder of Ogletree's Tampa office. As a former General Counsel and Vice President of Human Resources, she brings a strong business perspective to both client relations and in her approach to manage client issues.

Karen Morinelli

Ogletree
Ms. Jozsi is an Associate in Ogletree's Tampa office, where she represents employers in labor and employment matters, including discrimination, retaliation, FMLA, and whistleblowing cases. Ms. Jozsi also provides counsel regarding handbooks, employment policies, employment and separation agreements, and general employment advice.

Elizabeth Jozsi

Ogletree
Professional Certification Credit Hours Included With This Webinar
Business Management Daily is recognized by SHRM to offer Professional Development Credits (PDC) for SHRM-CP® or SHRM-SCP® recertification activities.
The use of this official seal confirms that this Activity has met HR Certification Institute's® (HRCI®) criteria for recertification credit pre-approval.
Register now and receive these free bonuses!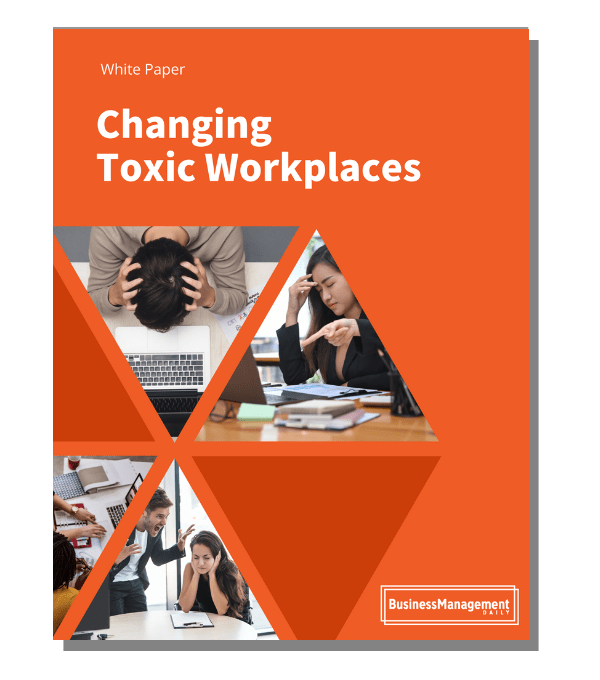 Changing Toxic Workplaces
Identifying, changing, and preventing toxicity in the workplace is a difficult and draining responsibility. With this white paper, learn how to promote positive mindsets and why it is important to include negative emotions.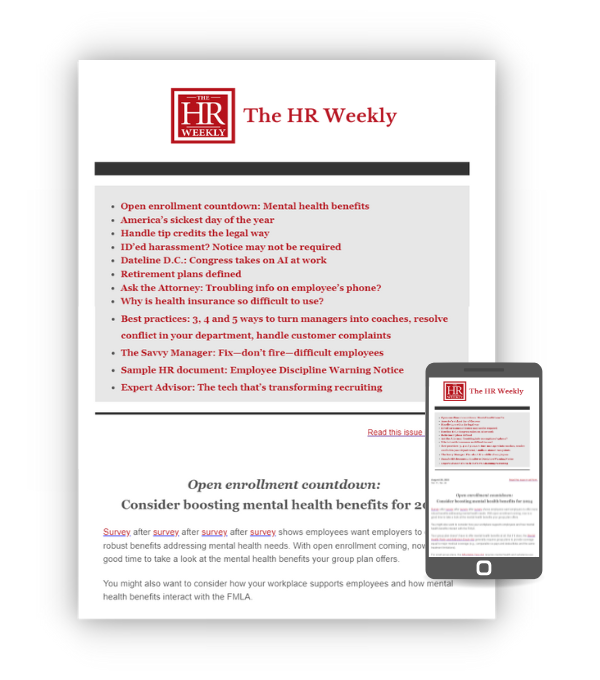 4 free issues of The HR Weekly
You'll also receive one month of exclusive access to The HR Weekly – our comprehensive service with all the HR advice and compliance tools to simplify your job … and to keep your organization out of court. So that you continue to benefit from The HR Weekly, we will continue your subscription after that for the then current rate, unless you tell us "no, thanks" – your choice.
We promise you'll be satisfied.
If Workplace Detox fails to meet your needs in any way, we will refund 100% of your tuition – every penny you paid – but your course materials and registration bonuses will be yours to keep. No hassles, no questions asked.