Thursday, June 30

1:00 ET
10:00 PT
Hiring 2022: How to Recruit & Retain the Best Talent
In this 75-minute interactive online training, you will learn how to:
Upgrade your recruiting and selection.

Switch from a "post & pray" method to a proven, step-by-step recruiting plan.

Keep current staff engaged (and in place).

The retention game has changed; learn what works in today's one-foot-out-the-door environment.

Make your job and life easier.

Hiring is your most important duty. Discover best practices that are working for other employers.
The hiring and retention game has changed—stop trying to use your same old playbook!
"If you beat the competition to the best employees, the best employees will help you beat the competition." – Mel Kleiman
Hiring and retaining employees is the single most critical factor in the success of your organization—and it's the most important task on your to-do list. But in the past year, it's become more difficult than ever.
There's an insatiable demand for employees. Workers are quitting in record numbers. And that leaves organizations like yours scrambling to fill open spots and retain your current employees before they bolt, too.
On June 30, take 75 minutes to discover an arsenal of easy-to-implement tools, tips and techniques being used by the most successful companies to recruit, hire and retain top talent.
In this fast-paced, high-energy training session, Mel Kleiman, a leading authority on hiring in North America, will walk you through solutions that companies can (and do) use to succeed in this difficult new environment.
Don't recruit another employee until you know what you're doing wrong … and how to do it right!
Agenda for Hiring 2022: How to Recruit & Retain the Best Talent
Where to find the talent you need and how to attract it
Replace your "post and pray" strategy with a recruiting strategy for today's environment
How to identify S.T.A.R.S. in the recruiting process (Self-motivated, Talented and trainable, Accountable, Responsible and Stable)
Questions to ask in rethinking your hiring and retention strategy
The #1 most overlooked source for great, proven employees
Why you need to have a UEP and how to promote that Unique Employment Proposition to the world
How to keep 'em from jumping ship. Learn what every employee—of every generation—wants from their job
How to stop hiring the best applicants and start hiring the best employees instead. (Tip: People who interview best are often people who've interviewed most.)
Interactive Q&A time included
During the Q&A period, get answers to your specific questions on hiring and retention from a true expert.
Mel Kleiman is a popular, energetic speaker and a leading authority on employee recruiting, selection and retention. Mel has trained thousands of HR pros and supervisors, and he's the author of seven books, including the best-selling Hire Tough, Manage Easy. He is the onetime owner of three businesses, including the largest Hertz franchise in the country. Mel's expertise and creative insights give HR and managers dozens of new ideas about how to select and retain quality people.

Mel Kleiman

speaker and author
Professional Certification Credit Hours Included With This Webinar
Business Management Daily is recognized by SHRM to offer Professional Development Credits (PDC) for SHRM-CP® or SHRM-SCP® recertification activities.
HRCI has pre-approved this activity for recertification credit toward the aPHR®, PHR®, PHRca®, SPHR®, aPHRi™, PHRi™, GPHR® and SPHRi™ certifications. The content of the activity submitted has met the criteria of the Approved Provider Program.
Register now and receive these free bonuses!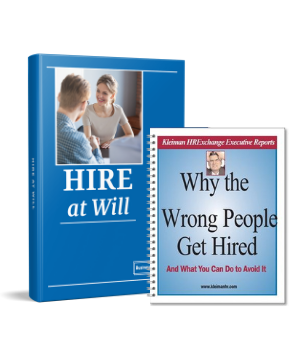 Why the Wrong People Get Hired, and What You Can Do to Avoid It & Hire at Will
All attendees will receive Mel Kleiman's executive report, Why the Wrong People Get Hired, and What You Can Do to Avoid It, which is packed with tips to improve your hiring system to eliminate bad hires. Plus, you'll receive our popular book, Hire at Will, which is filled with advice and real-life examples that show you exactly what you can (and cannot) do to hire legally.
30-Day Free Trial to Managing People at Work
One month of members-only access to Managing People At Work – our comprehensive subscription designed to make you a stronger, better-prepared manager.
So that you continue to benefit from Managing People At Work, we'll continue your access automatically for just $89 per quarter, unless you tell us "no, thanks" – your choice.
We promise you'll be satisfied.
If Hiring 2022: How to Recruit & Retain the Best Talent fails to meet your needs in any way, we will refund 100% of your tuition – every penny you paid – but your course materials and registration bonuses will be yours to keep. No hassles, no questions asked.