Wednesday, Oct. 27

1:00 ET
10:00 PT
Employee Leave Policies:
How to Revise Your Handbook for 2021-22
In this 75-minute interactive online training, you will learn how to:
Revise (or draft) the best handbook policies.

From the FMLA to ADA to telework, too many leave policies still carry outdated 2019 language.

Make stress-free leave decisions.

Easily—and legally—decide who gets time off, why and for how long.

Integrate federal and state laws.

Learn why separate handbook sections for different kinds of leave are dangerous.
Expert advice to update your leave policies and get in full legal compliance
If you haven't revised the employee leave policies in your handbook in the past two years, you may have missed important updates that you need to fix—pronto. Your leave policies and practices need to comply with a host of new laws (including paid leave) from Congress as well as state and local governments. And with so many employees working remotely, it's more important than ever to clarify the rules.
In this timely new webinar, you'll learn how to revise your handbook language to get in compliance and make it easy to understand who gets time off, for what reason and for how long. In addition to expert advice, you'll get concrete examples of necessary edits and sample wording for you handbook. Discover how to integrate all these new obligations into one set of easy-to-understand handbook leave rules.
Agenda for Employee Leave Policies
The FMLA. What your handbook has to say about FMLA leave, including the often-misunderstood rules on who qualifies.
The ADA. Learn about the unwritten ADA provisions that may require you to provide open-ended time off and why you need a policy telling workers how to request this "secret" leave.
Telework and leave. If you offer remote work, you must also include certain handbook rules to avoid big-time liability.
Call-off rules. Why every handbook needs clear rules on when and how to call, who to call and most importantly, how NOT to call off.
COVID-19 and other emergency rules. Does your handbook have rules on how to handle emergencies like pandemics, natural disasters and other emergencies?
Termination. What rules do you need to make sure that firing an employee for absenteeism will stick? Tip: Those rules must be included in the handbook leave section as well as the discipline section.
Leave abuse. How to clarify what constitutes leave abuse, and educate managers on how to implement those rules.
Rules for leave before any is earned. If you haven't already included reasonable-accommodations leave in your handbook, now is the time.
State and local rules. Should you create a supplemental handbook for employees in different work locations so they know about additional leave?
Interactive Q&A time included
Bring your trickiest leave and handbook questions, as an interactive Q&A session is included.
Anniken Davenport is a noted employment law attorney and the editor of the HR Specialist: Employment Law newsletter series. She has authored several books, including Bullet-Proof Your Employee Handbook and Overtime & Other Tricky Pay Issues, published by HR Specialist. She is the co-author of the upcoming Labor & Employment Law for the 21st Century by Prentice Hall. Anniken has served as a professor at Penn State University, where she taught business law and HR management, and she directed the Legal Studies Program at Wilson College. Her legal career includes representing government units in discrimination and other employment law cases and representing school districts in labor negotiations.

Anniken Davenport

Attorney and author
Professional Certification Credit Hours Included With This Webinar
Business Management Daily is recognized by SHRM to offer Professional Development Credits (PDCs) for the SHRM-CP® or SHRM-SCP®.
The use of this official seal confirms that this Activity has met HR Certification Institute's® (HRCI®) criteria for recertification credit pre-approval.
Register now and receive these free bonuses!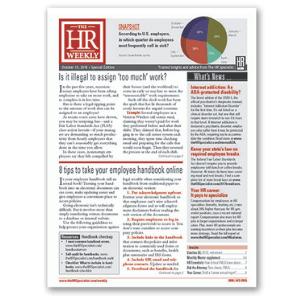 4 free issues of The HR Weekly
This newsletter is your best source for all the HR advice and compliance tools to simplify your job … and to keep your organization out of court.
So that you'll continue to benefit from this service, we'll continue your subscription automatically for just $79 per quarter, unless you tell us "no, thanks" – your choice.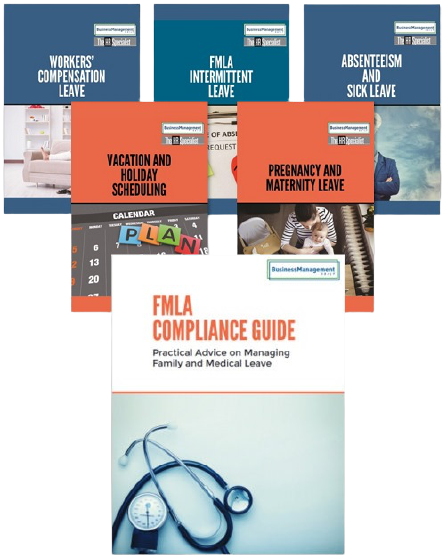 Employee Leave Mini-Library & FMLA Compliance Guide
Everyone who signs up will receive our handy Employee Leave Mini-Library, which includes five executive briefings of advice on today's most important employee leave issues: FMLA Intermittent Leave, Absenteeism & Sick Leave, Pregnancy & Maternity Leave, Workers' Compensation Leave and Vacation & Holiday Scheduling. Plus, you'll receive the newly updated FMLA Compliance Guide, our top-selling book that provides step-by-step compliance guidance on the law.
We promise you'll be satisfied.
If Employee Leave Policies fails to meet your needs in any way, we will refund 100% of your tuition – every penny you paid – but your course materials and registration bonuses will be yours to keep. No hassles, no questions asked.