Thursday, Sept. 30

1:00 ET
10:00 PT
Project Management for Administrative Professionals
In-demand consultant Ayanna Castro will guide you through the project management jungle – giving you the essential skills you MUST have. In 75 fast-paced minutes, Ayanna will help you:
Understand the anatomy of a project

Learn how to keep projects on track

Master the five stages of a project life cycle
You may not think of yourself as a project manager. But you ARE one.
The truth of the matter is that administrative professionals probably spend more time on project management during their workday than any other task. Coordinating teams?  Dealing with budgets?  Meeting deadlines?  Check, check, and check.  There's not an administrative professional I know who doesn't deal with these situations – and most do so every single day.  But for all you're doing, I guarantee you can do it BETTER.
There's no single way to manage projects successfully.  The other side of the coin is that there are many ways to mismanage projects.  And getting the training you need on this critical skill can spell the difference between success and failure.
We want you to succeed.  And that's why Business Management Daily and Administrative Professional Today are once again teaming up with a true project management genius to help you not just survive, but thrive.
Employers crave project management skills.  With Ayanna Castro's expertise leading the way, Project Management for Administrative Professionals will help you make great strides not just with your company, but your CAREER.
I look forward to welcoming you on September 30th.
Agenda for Project Management for Administrative Professionals
Understand the anatomy of a project
Learn how to keep projects on track
Master the five stages of a project life cycle
Document every stage of the project
Define what constitutes a successful project
And much, much more!
Interactive Q&A time included
Our interactive format allows you to ask Ayanna Castro your questions, and get specific solutions to the challenges you're facing. And because this is a webinar, THERE IS NO LIMIT to the number of colleagues – assistants AND executives – you can invite to join you in this exciting workshop.
Ayanna Castro is an international speaker, author, and Founder and Chief Maven of Work Your Package™ and producer/host of the Work Your Package™ Experience. Her mission is to educate, encourage, and equip women from all walks of life to enhance what they already have to become the "total package" and be extraordinary. A natural-born Maven, Ayanna has selfless passion to gather and share information with women to help them become the "total package" by connecting them with subject matter experts.

Ayanna has degrees in Deviant Behavior and Social Control and Business Administration. She is a certified Project Management Professional (PMP), Certified Government Meeting Planner (CGMP) and a Certified Administrative Professional – Organizational Management (CAP) with over 25 years of experience in city government, law, public relations, private equity, utilities, and media.

Ayanna Castro

project management expert, international speaker, author
Register now and receive this free bonus!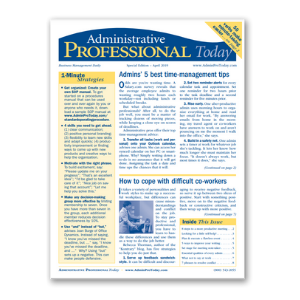 Admin Pro Today
Administrative Professional Today is your guide to sending your career into the stratosphere. Each month you'll receive ideas, tips and advice on every aspect of your job – often from admins who face the same issues you do.
We promise you'll be satisfied.
If Project Management for Administrative Professionals fails to meet your needs in any way, we will refund 100% of your tuition – every penny you paid – but your course materials and registration bonuses will be yours to keep. No hassles, no questions asked.