Friday, March 24

1:00 ET
10:00 PT
The Magnetic Manager:
Be the Best Boss You Can Be
Better managers = Better retention

Have you worked on your management skills lately?

In this 75-minute dynamic online training, your managers will learn how to:
Become the boss no one wants to leave

By leveraging simple, practical management tips that are proven to help retain your best team members.

Get the "5 Firsts" right

The right moves at key checkpoints (first hour, first paycheck, etc.) can lock in employees or drive them away.

Manage people the way they need to be managed

By giving managers the right tools, this training will cut down on stress for both management and staff.
"People join companies, but leave managers"
Your managers are more important now than ever. These days, you can't afford to lose good employees because of bad managers. The No. 1 reason employees leave is the way they're supervised. 
On March 24, gather your management team to learn the secrets of becoming a "Magnetic Manager." This popular training course is packed with practical tips to immediately power-boost managers' skills. Your management team will discover dozens of take-home techniques to create a positive work environment, retain your best employees and make everyone's job easier and more enjoyable.
Managers won't learn good habits by continuing to repeat bad ones. They need training. This high-energy, high-impact presentation always wins rave reviews. Trainer Mel Kleiman is a nationally recognized authority on recruiting and retention and has trained thousands of managers to be their best.
Agenda for The Magnetic Manager
How "Magnetic Managers" create a culture that naturally attracts and retains the best
Simple management tips to keep employees engaged in their jobs (and off the job boards)
Best practices for connecting with (and giving feedback to) remote employees
Why an employee's "5 Firsts" are important—and how to get them right
How to leverage the Law of Reciprocity with employees
How to manage people the way they want to be managed
The changing way managers communicate these days, and the most effective tools
Easy ways to create a culture of accountability and respect
How to use the often-overlooked tools of recognition
How and why to make work fun … even in a pandemic world
Interactive Q&A time included
Get answers to your specific management questions at the dedicated Q&A session.
Mel Kleiman is a popular, energetic speaker and a leading authority on employee recruiting, selection and retention. Mel has trained thousands of HR pros and supervisors, and he's the author of seven books, including the best-selling Hire Tough, Manage Easy. He is the onetime owner of three businesses, including the largest Hertz franchise in the country. Mel's expertise and creative insights give HR and managers dozens of new ideas about how to select and retain quality people.

Mel Kleiman

speaker and author
Register now and receive these free bonuses!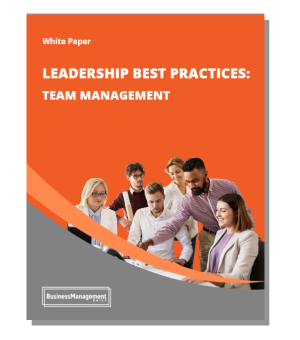 Leadership Best Practices: Team Management
Discover how businesses of all sizes are getting creative with team-building icebreakers and fun team-building activities. Don't forget to take the leadership assessment exercise to gauge your own performance as a team manager.
With this white paper, you will learn 15 eye-opening tips on how to improve your leadership team management and motivate your employees. Read case studies of team-building exercises on what has worked and what hasn't.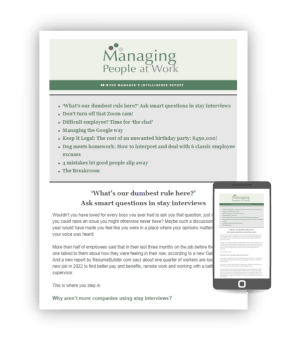 30-Day Free Trial to Managing People at Work
You'll also receive one month of exclusive access to Managing People at Work — our comprehensive online resource designed to make you a stronger, better-prepared manager. So that you continue to benefit from Managing People at Work, we will continue your subscription after that for the then current rate, unless you tell us "no, thanks" — your choice.
We promise you'll be satisfied.
If The Magnetic Manager fails to meet your needs in any way, we will refund 100% of your tuition – every penny you paid – but your course materials and registration bonuses will be yours to keep. No hassles, no questions asked.