Thursday, Sept. 16

1:00 ET
10:00 PT
On the Road Again: How to Manage & Pay for Employee Travel in 2021
In this 75-minute interactive online training, you will learn:
Your payroll responsibilities.

Learn when and how to pay workers (remote and in-house) for travel, on-call, meals and waiting time.

Your legal responsibilities.

From accommodations to vaccines to data security, the pandemic changed your legal duties for road warriors.

How to avoid an FLSA lawsuit or IRS audit.

Both are huge expenses and black marks on your record.
Planes, trains and the IRS … How to manage this emerging liability risk
After a pandemic-induced hiatus, employees are hitting the road again. But the world has changed, and you need to update your travel and reimbursement policies to cover new and emerging issues.
Can you require employee to travel or fly for business? What accommodations must you offer? What about vaccine or mask mandates?
At the same time, you need to figure out how to pay employees for travel and deal with subsequent reimbursements and deductions—one of the most confusing parts of HR and Payroll.
When must you pay hourly workers for the time in cars and airplanes? What about paying for on-call time … waiting time … or rest/meal periods? And when could your travel reimbursements be considered taxable wages?
In this new workshop, you'll learn how to revamp your travel policy for the post-pandemic world and discover the legally safe steps to compensate and reimburse your traveling employees. Mistakes can lead to million-dollar class-action lawsuits … and a career black eye for you. Know the HR and payroll rules before employees head out the door.
Agenda for On the Road Again
When to pay nonexempt employees for their time spent traveling to and from company activities—and at the activity itself.
When could your travel reimbursements be counted as a commuting cost (taxable wages) instead of an allowable travel expense?
How quickly receipts must legally be provided by an employee, and how often expense reports must be submitted.
When you can pick up employees' parking costs tax-free, if employees are skittish about mass transit.
What's unpaid "commuting" time … and what are the IRS guidelines regarding commuting costs?
Common pay- and FLSA-related problems that arise with employee travel, such as meals during travel.
Pandemic issues to consider before employees travel, including safety protocols, vaccine/mask requirements, incentives, driving vs. flying, etc.
How far you must go to accommodate employees' discomfort with traveling (must you allow first-class travel, room service or more?).
Interactive Q&A time included
Get your personal question answered by Alice Gilman, a true payroll expert
Alice Gilman, Esq., is an expert in payroll and tax compliance who has covered payroll issues for more than 26 years. She's written and edited several leading payroll publications, including Payroll Legal Alert, the Research Institute of America's Payroll Guide, the American Payroll Association's Basic Guide to Payroll and the Payroll Manager's Letter.

Alice Gilman

esquire and author
Professional Certification Credit Hours Included With This Webinar
Business Management Daily is recognized by SHRM to offer Professional Development Credits (PDCs) for the SHRM-CP® or SHRM-SCP®.
The use of this official seal confirms that this Activity has met HR Certification Institute's® (HRCI®) criteria for recertification credit pre-approval.
Register now and receive these free bonuses!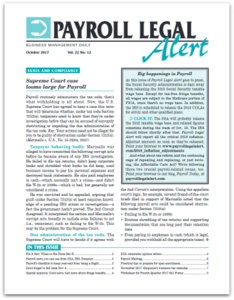 A full month of access to PayrollLegalAlert.com
PayrollLegalAlert.com is our exclusive, members-only website. Our helpful articles, forms, tables and charts will help you improve every aspect of your payroll operation.
So that you continue to benefit from PayrollLegalAlert.com, we'll continue your access automatically for just $89 per quarter, until you tell us "no, thanks" – your choice.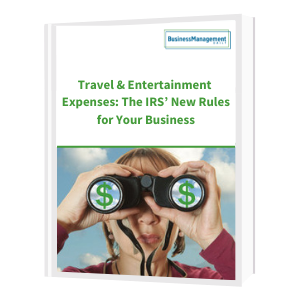 Travel & Entertainment Expenses: The IRS' New Rules for Your Business
Every attendee to this webinar will receive our recently updated special report, Travel & Entertainment Expenses: The IRS' New Rules for Your Business. Using easy-to-understand descriptions and checklists, this 21-page report explains how to keep your organization on the right side of the law when it comes to paying, reimbursing and deducting every type of travel, meal and entertainment cost.
We promise you'll be satisfied.
If On the Road Again fails to meet your needs in any way, we will refund 100% of your tuition – every penny you paid – but your course materials and registration bonuses will be yours to keep. No hassles, no questions asked.