Thursday, Jan. 27

1:00 ET
10:00 PT
Handbook Checklist 2022: Required Changes and Common Mistakes
In this 75-minute interactive online training, you will learn:
"Must do" handbook changes for 2022.

Discover the new or changed compliance requirements for the start of 2022.

The 12 most common mistakes.

Identify a dozen legally dangerous (but easily fixable) mistakes that are likely hiding in your handbook.

Pandemic and new law updates.

What should your handbook say about vaccines, masks, hygiene or remote work? And what new federal and state laws require changes?
HR's first task for the new year: Update your handbook for 2022
With laws and regulations changing rapidly during the pandemic, keeping your employee handbook in strict compliance has been a big struggle. Poorly worded (or missing) policies can lead to expensive lawsuits. And your C-suite expects you to keep every word in your handbook up-to-date.
Every HR department should start the new year with this simple checklist of the crucial changes you need to make to your employee handbook. From up-to-date vaccine policies and employee leave to changes to your DE&I and social media rules, this fast-paced training session will explain the things that must be in your handbook for 2022 … and the things that SHOULDN'T.
Plus, you'll discover the 12 most common legal mistakes lurking in employee handbooks this year—and how to fix them.
You can't afford to let your handbook go stale, especially as business policies are changing rapidly to operate in a post-pandemic world. Use this checklist webinar to make all the necessary handbook updates for each state you operate in.
Agenda for Handbook Checklist 2022
Essential updates. Up-to-the-minute HR changes to add to your handbooks now.
Vaccinations & documentation. Regardless of your policy, your handbook needs crystal-clear (and legally safe) wording.
COVID compliance. The correct language regarding safety, masks, hygiene, employee leave and more.
Employee leave. What to include and what to leave out regarding FMLA, ADA, reasonable accommodation and workers' comp.
Remote work and attendance. If workers have gone remote, you MUST update your policies to avoid liability. What should they say?
Diversity and inclusion. Failing to include this language can be a big red flag in bias lawsuits.
Accidental contracts. Identify wording that will tie your hands to future changes and give up your right to fire at will.
Dress and grooming, including how to set rules on appropriate attire, behavior and backgrounds during Zoom meetings.
Sexual and other harassment. Even if employees are remote, you need rules on email, telework, texting and off-site meetings.
Speech and civility rules. When you can restrict what employees say and when you can't (salaries, politics, hate speech, etc.).
Overtime. Why you need to include overtime rules in the handbook for managers and employees.
Handbook maintenance. When to review, how to update and who should approve.
The "Dirty Dozen" mistakes. 12 handbook errors that will get you creamed in court (and how to avoid them).
Interactive Q&A time included
Get your specific handbook questions answered by a nationally recognized attorney and author.
Anniken Davenport is a noted employment law attorney and the editor of the HR Specialist: Employment Law newsletter series. She has authored several books, including Bullet-Proof Your Employee Handbook and Overtime & Other Tricky Pay Issues, published by HR Specialist. She is the co-author of the upcoming Labor & Employment Law for the 21st Century by Prentice Hall. Anniken has served as a professor at Penn State University, where she taught business law and HR management, and she directed the Legal Studies Program at Wilson College. Her legal career includes representing government units in discrimination and other employment law cases and representing school districts in labor negotiations.

Anniken Davenport

Attorney and author
Professional Certification Credit Hours Included With This Webinar
Business Management Daily is recognized by SHRM to offer Professional Development Credits (PDC) for SHRM-CP® or SHRM-SCP® recertification activities.
HRCI has pre-approved this activity for recertification credit toward the aPHR®, PHR®, PHRca®, SPHR®, aPHRi™, PHRi™, GPHR® and SPHRi™ certifications. The content of the activity submitted has met the criteria of the Approved Provider Program.
Register now and receive these free bonuses!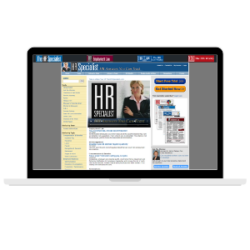 HR Specialist Premium Plus Online
One month of members-only access to Premium Plus Online at TheHRSpecialist.com.
We'll continue your access automatically for just $99 per quarter, unless you tell us "no, thanks" – your choice.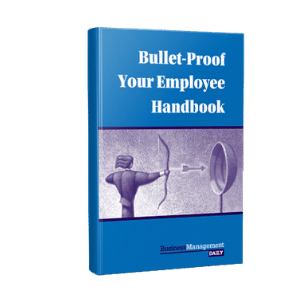 Bullet-Proof Your Employee Handbook
Sign up for this webinar and you'll receive Bullet-Proof Your Employee Handbook, our newly updated special report that shows you how to fix the errors that lurk in almost every handbook, so you can safeguard your organization against devastating litigation. Priced at $39.95, its true value is beyond calculation. And this download is yours – IF you register today.
We promise you'll be satisfied.
If Handbook Checklist 2022 fails to meet your needs in any way, we will refund 100% of your tuition – every penny you paid – but your course materials and registration bonuses will be yours to keep. No hassles, no questions asked.