Wednesday, Jan. 19

1:00 ET
10:00 PT
Workplace Poster Compliance for 2022
In this 75-minute online training, learn how to:
Comply with all federal, state, & local requirements.

Some employers must display up to 21 different posters, which change constantly.

Know your new COVID and remote-worker obligations.

Which CDC and OSHA postings are now required? And when MUST you legally send posters electronically to your remote employees?

Manage poster updates in-house or via a vendor?

Get independent advice on the simplest and least expensive way to stay in labor-law poster compliance.
New COVID and state-law requirements have made poster updates more confusing than ever.
When was the last time you did an internal audit of (or even thought about) the labor-law posters in your workplace? If the answer isn't six months or sooner, this webinar is a must for you.
Posting requirements are constantly changing, with over 100 changes in the past year. And because of the pandemic and a spike in new state and local employment laws, employers are being forced to juggle more poster updates than ever.
It's not just FMLA and minimum wage. A half-dozen federal posters, up to 15 state-specific postings, up to 10 additional local postings, industry-specific postings. Your posting obligations are anything but basic, and no two states have the same requirements. And new U.S. Department of Labor rules explain when you must send these notices to your remote employees.
Poster violations won't just earn you a slap on the wrist. They can result in huge per-day fines and increased penalties for "willful" violations. For example, an OSHA poster violation can trigger fines up to $13,653 per violation. And fines have doubled in recent years.
Most companies think they comply but studies show they're not. Don't risk it. HR needs to carefully review its posting status now to ensure it's up-to-date. Spend an hour on January 19 to learn compliance with confidence and avoid huge fines down the road.
Agenda for Workplace Poster Compliance for 2022
New poster requirements for 2022. Use this as a checklist for poster compliance, including COVID-19 and paid leave.
Digital posters for remote staff. The DOL now requires you to send certain electronic posters to certain remote employees.
Posters for applicants. Find out which posters must be available to applicants.
Strategy for updates. Learn when new posters are needed and the best strategy for updates (on your own or with a subscription service?).
Increased fines. Fines have doubled for poster mistakes such as failure to post or a wrong location, etc.
Other languages. Know when your posters must be displayed in Spanish or other languages.
State and local compliance. Find out which posters are required for state and local compliance.
Multi-state locations. Learn the best way to manage poster compliance for multi-state locations.
Conflicting laws. Which law supersedes when it comes to federal, state, and local posters?
Interactive Q&A time included
Got questions about your own poster compliance? Ask Margie during the special webinar Q&A period.
Margie Faulk, PHR, SHRM-CP, is a senior-level HR professional and the current compliance advisor for HR Compliance Solutions. Margie has worked as an HR compliance advisor for both major corporations and small businesses. She is a speaker and accomplished trainer, known for creating dynamic training for HR professionals, business owners and leaders. Margie is also a sought-after expert, having testified on compliance issues before several regulatory agencies.

Margie Faulk

HR compliance advisor
Professional Certification Credit Hours Included With This Webinar
Business Management Daily is recognized by SHRM to offer Professional Development Credits (PDC) for SHRM-CP® or SHRM-SCP® recertification activities.
HRCI has pre-approved this activity for recertification credit toward the aPHR®, PHR®, PHRca®, SPHR®, aPHRi™, PHRi™, GPHR® and SPHRi™ certifications. The content of the activity submitted has met the criteria of the Approved Provider Program.
Register now and receive these free bonuses!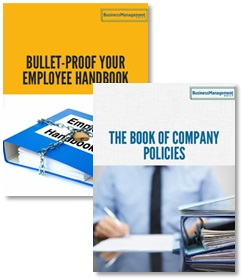 Bullet-Proof Your Employee Handbook and The Book of Company Policies
The Bullet-Proof Your Employee Handbook special report will help you fix the 10 disastrous mistakes found in almost every employee handbook and protect your organization against today's newest trends in litigation.
Plus, you will receive The Book of Company Policies, our popular book that offers expert guidance on what policies you need, how to write them and sample wording to include in your handbook.
We promise you'll be satisfied.
If Workplace Poster Compliance for 2022 fails to meet your needs in any way, we will refund 100% of your tuition – every penny you paid – but your course materials and registration bonuses will be yours to keep. No hassles, no questions asked.